The WWE has had its ups and downs this year. Finally finding the crowds back helped the product a lot, but they also fired a ton of HUGE names this year, from Bray Wyatt and Braun Strowman to the most recent Jeff Hardy.
I am a WWE fan and it is the only wrestling that I watch. I did peek in on AEW this year, especially with the return of CM Punk (which was an incredible moment), but I just am not interested in expanding outward.
So here are my choices for the WWE Awards in 2021.
Match of the Year
10. Men's War Games. Black and Gold vs. NXT 2.0. Lots of violence and good storytelling.
9. Roman Reigns vs, Cesaro (Wrestlemania Backlash). If only Cesaro would be allowed to maintain a main event push.
8. Drew McIntyre vs. Sheamus (Monday Night RAW). These two had several brutal encounters, but I liked this one most, sans stipulation.
7. Roman Reigns vs. Daniel Bryan (Fastlane). Bryan gave his all but came up short to the Head of the Table. They will appear again…
6. Sasha Banks vs. Bianca Belair (Wrestlemania 37). The highlight of night one of the two night Wrestlemania. Started the year well for Bianca Belair.
5. Men's Money in the Bank Ladder Match (Money in the Bank). Big E! Big E! Big E! Nuff Said.
4. Becky Lynch vs. Charlotte (Survivor Series). Becky's emotional promo after the match showed how this match crossed the lines.
3. Walter vs. Ciampa (NXT Takeover: Stand & Deliver). Woof. Two men just beating the crap out of each other. I really thought Ciampa had a chance.
2. Roman Reigns vs. Daniel Bryan (Smackdown). A televised match #2? When it is Daniel Bryan's last WWE match, then yeah.
#1. Walter vs. Ilja Dragunov (NXT Takeover 36). Rematch of one of the best matches from 2020, this was brutal and hard hitting. Dragunov finally ending Walter's stranglehold on the NXT European Championship is only part of the story. The ending was as dramatic as could be as he got Walter to tap out.
Male Wrestler of the Year: Roman Reigns. Runners Up: Bobby Lashley, Seth Rollins, Walter, Edge, Big E
Roman Reigns has been the most consistent performer in WWE today.
Female Wrestler of the Year: Bianca Belair. Runners-Up: Becky Lynch, Charlotte, Rachel Ginzalez, Io Sharai.
Belair was the focal point for much of the year and had great matches with everyone.
Tag Team of the Year: RK-Bro. Runners Up: Usos, The New Day, Street Profits, AJ Styles & Omos
The most unlikely duo of the year became the only reason to watch RAW during a stretch earlier this year. Randy Orton and Riddle have been gold.
Manager of the Year: MVP. Runners-Up: Paul Heyman, Scarlett
MVP was great this year, but the role of manager is a lost art.
On the Mike: Edge. Runners-Up: Paul Heyman, Roman Reigns, MVP, Seth Rollins
Edge has been amazing on promos this year against Randy Orton, Seth Rollins and now Miz.
Feud of the Year: Seth Rollins vs. Edge. Runners-Up: LA Knight vs. Cameron Grimes, Usos vs. New Day, Roman Reigns vs. Daniel Bryan.
Seth and Edge were a hoot together. When Seth went to Edge's house… top notch.
Underused Performer: Kevin Owens. Runners-Up: Cesaro, Chad Gable, Asuka
At least Cesaro got a short run this year. Owens has all kinds of starts and stops when it comes to his pushes.
Comeback of the Year: Becky Lynch. Runners-Up: Samoa Joe, Edge
Becky came back and won the title from Bianca Belair in 20 seconds. Becky had a new heel character and a renewed dedication.
Celebrity of the Year: Bad Bunny. Runners-Up: Logan Paul, John Cena
Easy one. Bad Bunny was awesome and delivered one of the best celebrity matches ever at Wrestlemania when he teamed with Damien Priest to defeat Miz and Morrison.
Face of the Year: Big E. Runners-Up: Edge, RK-Bro, King Woods
Big E cracked through that glass ceiling this year by first winning the Money in the Bank contract and then cashing it in against Bobby Lashley to win the WWE title to the joy of everybody! That is the power of positivity.
Heel of the Year: Roman Reigns. Runners-Up: Seth Rollins, Bobby Lashley, Charlotte, Jay Uso, Karrion Kross
Another easy one. Reigns has been playing his role to perfection.
Storyline of the Year: Formation of RK-Bro. Runners-Up: Roman Reigns respect,
I said it earlier, but Randy Orton and Riddle were the only bright spot on RAW for about two months.
I loved it, but the rest of the world, not so much Award: Zombies appear to have consumed Miz
I'm sorry to everyone else, but I found this to be a great time and I loved every ridiculous second of it.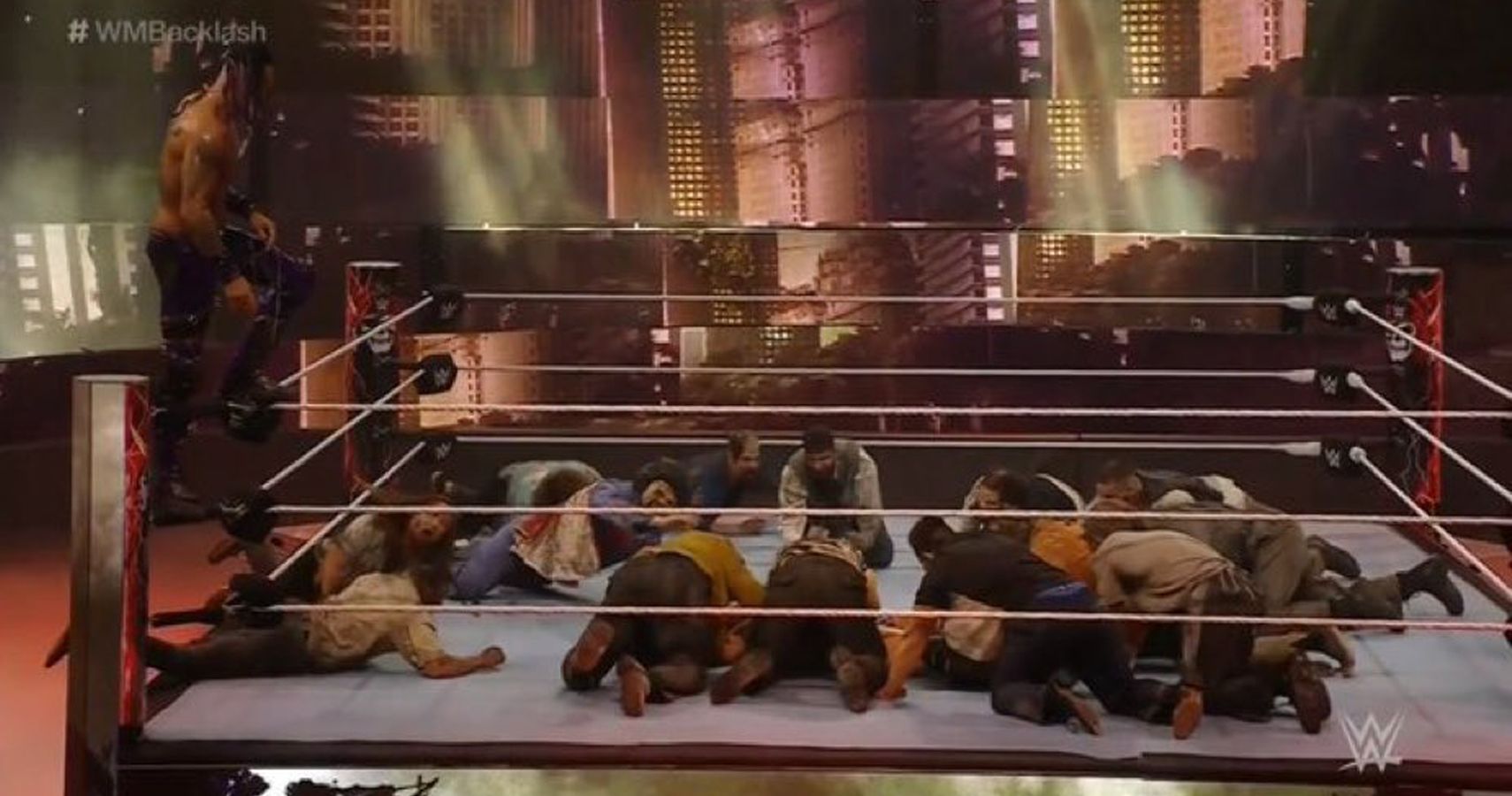 Best Broadcaster: Pat McAfee.
Pat brings an unmistakable energy to the booth and seems to have great chemistry with Michael Cole.
Breakout Star of 2022: Bron Breakker.
TERRIBLE name. Massive superstar. Son of Rick Steiner is going to be huge sooner rather than later. Of course, I thought the same thing of Karrion Kross.