2016 has been a bloody year on television as there were a ton of characters who met their untimely demise.  Some were great use of drama and well-written.  Some were nothing more than wastes of talent and grab for ratings.  Which were which?  Here is the list for best deaths for 2016.
Honorable mention:   Grant War/Hive (Agents of SHIELD), Alice (Gotham), Robin Hood (Once Upon a Time), Meecham (House of Cards), the entire cast of American Horror Story: Roanoke, a number of people from Game of Thrones.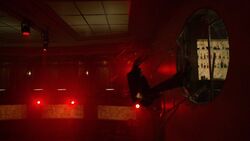 #5.  Cottonmouth (Luke Cage).  One of the best villains of the year met his death during the new Marvel Netflix series, which in itself, is not a surprise.  However, the fact that he died in episode #7 was a huge shocker.  Played perfectly by Mahershala Ali, Cornell Stokes ran a nightclub and a criminal organization in the wake of the power gap left by Wilson Fisk.  To see him die so early (and by the hand of his cousin, Mariah Dillard (Alfre Woodard) was unexpected and really kicked the series into overdrive.
#4.  Wes (How to Get Away With Murder).  All season, we wondered who was beneath the blanket.  The body that they hauled out of the fire at Annalise's house was male, but that was about all we knew.  Each week, we would discover another character who was "safe" but the producers of the show still had an ace up their sleeve.  They were not playing with normal narrative story telling.  When we thought Wes was safe, in reality, we were seeing a scene that happened before the discovery of the body.  That fake out made it all the more shocking when the cover was pulled back and there was Wes's burnt face.
#3.  Poussey Washington (Orange is the New Black).  Prison can be a dangerous place.  Even the kind-hearted inmates could find themselves on the wrong end of fate.  That is what happened to Poussey (Samira Wiley).  She had spent most of the year in a happy prison relationship with Soso (Kimiko Glenn).  Unfortunately, Poussey wound up at the wrong place at the wrong time and was accidentally suffocated by a CO during the break up of an originally peaceful protest.  Poussey's death has only started to affect the inmates on Orange is the New Black.
#2. Normal Bates (Bates Motel).  I almost made this one number one, but I just could not get it over the top.  We knew this was coming.  We know how the story ends.  Still, you couldn't help bu hope that the canon of Psycho could be adjusted a bit.  Norman (Freddie Highmore) planned on killing both himself and his mother, but only succeeded in one.  What made this worse was that Norma had become happy with Alex Romero and this became the final point a jealous Norman needed.  The "Mr. Sandman" scene was beautiful and the final breakdown of Néstor Carbonell as Alex Romero was gut wrenching.  Vera Farmiga transcended this role and made it perfection.  Norma Bates was such a damaged woman who loved her son, going as far as making several mistakes in overlooking how sick he really was, and it cost her everything. 
#1.  Glenn and Abraham (The Walking Dead).  Who did Negan kill?  The cliffhanger angered many, but it created a huge sensation for the Walking Dead premiere.  And in the episode, the writers continued to taunt the audience before they finally revealed that Abraham was the survivor to taste the barbed wire from "Lucille."  That was not unexpected and if that was it, Abraham's death would not have made this list.  But Negan wasn't done.  Thanks to a mistake in judgement by Daryl (Norman Reedus), Glenn became the second victim of Negan, and everyone lost it.  Very few if anyone expected Steven Yeun to die as well.  After Abraham's death, there was a release of tension.  I know that I thought "Okay, Glenn's safe."  The death of Glenn from the comics was at the hands of Negan and Lucille and this was going to be one of those examples of where the tv show and the comics took different paths.  Except… then we saw the brutal murder.  Glenn's death left everyone devastated and looking for answers.  These were answers that we have yet to get.
WORST DEATHS
#3.  Lincoln (Agents of Shield).  This was a who cares really.  When they promoted that someone was dying on Agents of SHIELD, I had hoped that it was Lincoln.  I got my wish.
#2.  Barb Holland (Stranger Things).  Poor Barb.  Forgotten and dismissed.  She is still in the Upsidedown and no one seems to care.
#1.  Eleven (Stranger Things).  This falls into my category because we know this death was anything but.  I hate when shows/comics/movies bring people back from the dead.  Eleven had a great, heroic send-off, but it was clear at the end of the great first season that Eleven was not gone.  It tempers what came before.
Best Couples
Honorable Mention:  Sheldon and Amy (Big Bang Theory), Penny and Leonard (Big Bang Theory), Howard and Bernadette (Big Bang Theory), Rick and Michonne (The Walking Dead), Bruce Wayne and Selina Kyle (Gotham), Jim Gordon and Dr. Leslie Thompkins (Gotham)
#5.  Luke Cage and Claire Temple (Luke Cage).  This couple came together near the end of the first season of Luke Cage and helped make Luke forget about Jessica Jones.
#4.  Matt Murdock and Elektra (Daredevil).  Elektra arrived and we learned ab0ut the past relationship between college sweethearts and how it now involves ninjas.  Just like all great love stories.
#3.  The Underwoods (House of Cards).  The President and First Lady had their ups and downs this year, but it was clear that they were always stronger together than apart.
Unfortunately, our final two couples both featured tragic losses this year and will not be among this list again.
#2.  Glenn and Maggie (The Walking Dead).  Last year's winner, Glenn and Maggie found out that they were expecting a child.  Always a dangerous occurrence during the zombie apocalypse.   However, the death of Glenn, witnessed by Maggie, sealed the couple's end.  Perhaps the baby's life can bring the hope back to the Walking Dead that the pairing of Glenn and Maggie originally covered.
#1.  Norma Bates and Alex Romero (Bates Motel).  A complete surprise.  Originally brought together for a way for Norma to get Norman into a quality mental institution, Norma and Alex blossomed together.  Both people were damaged, but together they found comfort and love and understanding.  The scene where Norma confessed her tragic backstory to Alex and he just accepts it makes you believe in love again.  I was really surprised at how much I loved these characters together which made it all the worse when Norma was killed by her son because he was afraid of losing her to Alex.  Alex's grief over the loss of this woman was amazing and brought tears to my eyes.  Alex is ready to come after Norman in season five so I worry about his own fate.
Worst couples
#3.  Anyone on Scandal.  There could not be a worse show for failed couples.  I hate Olivia and Fitz.  There is Cyrus and anyone he is involved in.  David and V-P Susan had a chance, but the writers destroyed them.  Shondaland is no place for a healthy relationship.
#2.  Mr. Gold and The Evil Queen (Once Upon a Time).  Ugh.  Villains who are both wanting someone else.  I think even the show is appalled with this pairing.
#1.  Lincoln and Daisy (Agents of SHIELD).  Inhuman love.  Aah, how nice.  Not.  These two never had a chemistry and Lincoln was a waste of a power set.  Daisy had much more chemistry with her SHIELD partner Mac, but that was never explored.  Even Lincoln's death was weak.  I have a hard time believing that Lincoln's loss affected Daisy at all.