Ryan Murphy returned to TV this week with his next anthology series.  Feud: Bette and Joan premiered Sunday night, telling the story of how film icons Bette Davis and Joan Crawford came together to film the movie "Whatever Happened to Baby Jane."  Starring Jessica Lange and Susan Sarandon, Feud pulled no punches in the display of this famous feud.  I was surprised at the level of language on display on the TV network, including several F-bombs and one very memorable use of the C-word.  Brilliant performances and an enthralling story.  Feud is the next great Ryan Murphy mini-series and this year's People vs. OJ.
FX's Legion continues to be the most trippy, psychedelic and confusing hour of television anywhere.  And that is awesome.  This week, it seems that the "Devil with Yellow Eyes" may have been identified as the X-Men baddie The Shadow King.  Although they never specifically named him Shadow King, there are plenty of hints and suggestions to infer that the psychic villain is indeed the "parasite" that has taken up root in David's brain.  The scene where the Devil With Yellow Eyes comes into the white room and stalks Syd was as frightening as it could possibly be.  This week's Legion felt much like the episodes of Twin Peaks where Agent Cooper is running around inside the Black Lodge.  You could never tell what was real and what was not.  Legion definitely has that tone to it.  The first episode of Legion was underwhelming to me, but I have really begun to dig this out-of-your-mind trip.  Plus, a haunting version of the Rainbow Connection.  Episode 5 was masterful.
Designated Survivor returned from a long hiatus to reveal the person who had been shot by the sniper's bullet in the cliffhanger during the midseason finale.  Turned out that it was President Kirkman himself.  This was a bit of a letdown, considering that really took the question out about whether or not the assassin's bullet would prove fatal.  Clearly Kiefer Sutherland was not leaving his own show.  However, the rest of the intrigue within the episode was spot on, especially with Kirkman finally coming face to face with Agent Hannah Wells.  Finally!  The treason of the Vice President is about to come out.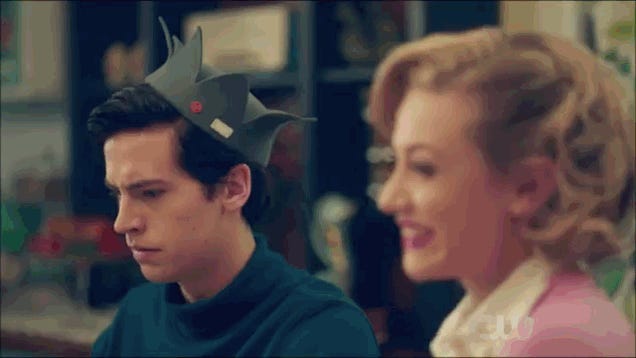 Riverdale was very solid this week as we had a Jughead-centric episode.  Jughead has become one of my personal favorite characters on Riverdale and I was happy to see more about him.  It featured a nightmare segment with Jughead picturing the crew like they are portrayed in the classic Archie comic books.  The all-American family, with Jughead sporting his comic alter ego's iconic headgear as well.  The show quickly transformed back from this dream into the strange and bizarre show that it has become.  This is another show that hearkens back to Twin Peaks, with the central mystery of who murdered Jason Blossom adding in both Jughead and his father as suspects.
The other murder mystery on television right now is over on Scandal as the "Who Killed President-Elect Frankie Vargas" got a big surprise this past Thursday.  The whole episode was making it seem as if Olivia's one time squeeze Jake was the killer after all.  The gladiators had found possible evidence that Jake was behind the explosion that killed Vargas staffer Jenny, who had tipped off that Cyrus had been behind the assassination.  Jake took Olivia and drove her to a secluded spot.  The show was doing a tremendous job of making it seem as if Olivia may have made a fatal mistake getting in the car with Jake, but instead, we discover that Jenny the Tipster was not dead after all.  That Jake only made it look as if she was to fool Rowan, Daddy-Pope.  I did not see that coming.  I must say that I approve of this season of Scandal, as it has kept me on my toes and guessing who was actually behind the death of Vargas.  However, I might be disappointed if it turns out to be Rowan.
Next week will feature the dropping of Marvel's Iron Fist on Netflix.  Early reviews indicate that the show might not be up to par with previous Marvel Netflix shows, but I am with holding my judgement until I binge it next weekend.