Boy, there was a bunch of things that happened on television this past week.  Where to start?
How about Iron Fist.  Marvel's latest series dropped on Netflix this past Friday to unmarked territory for a Marvel series… bad reviews.  The show had been panned, lambasted… dramatically by the critics leading me to wonder how bad the series could be.  The answer?  Not bad at all.  In fact, I binged the series this weekend and I enjoyed it tremendously.  I find it difficult to believe that this was a series that received 17% on Rotten Tomatoes.  Sure, it may not be up to the standards set by Daredevil, but to call this a failure is just not fair.
What could cause such issues?  Well, there is speculation that the controversy about Marvel not casting an Asian actor to play the role of Danny Rand (despite the source material featuring a white Danny) was mentioned by several critics, leading me to believe that some of them may have gone into the viewing with a less than objective viewpoint.  Maybe they only watched the first two or three episodes because these episodes are not the best of the series.  It is fairly slow paced…. as they said on Collider TV Talk, deliberately paced, and maybe that would have led some critics to blast the series as they did.  Maybe some critics were looking for better martial arts, but I don't know any different so it seemed fine to me.
In the end, all I know is that I really enjoyed Iron Fist and I am truly anxious for the next Marvel Netflix series, The Defenders, which has wrapped filming as of this week.
The next really big news happened on MSNBC where Rachel Meddow tweeted out earlier in the day on Tuesday that she had President Donald Trump's tax returns.  This created a firestorm of activity for the news network ans excited Americans tuned in for the breaking news, only to discover that the tax returns in question was two pages from 2005 that showed that Trump had paid some 35 million in taxes.  Then, it was revealed that the tax returns had been anonymously left in a reporter's mailbox, leading to the, fairly reasonable assumption, that the Trump Administration themselves had leaked this information to serve as a distraction or to show that he actually did pay taxes.  Not only that, but with Maddow stretching the reveal out into about half of her show's run time, she was criticized for trying to fool the viewers into thinking she had more than what she did.  Bill Maher even went as far as to say that Maddow's scoop had "turned out to be a big Nothing Burger. Worse than a Nothing Burger, it was a Help Trump Burger."  Maddow defended her reporting by saying that "we broke the story correctly."
Turning to a president of another type, Designated Survivor continued its sharp return with an exciting episode that saw the death of newly minted and treacherous Vice-President Peter MacLeish by the hand of his own wife, moments before she took her own.  This was after President Kirkman and FBI agent Hannah Wells had finally swapped information and had set up a trap for the sneaky Veep.  We also discovered that FBI Deputy Director Jason Atwood, who had confessed earlier in the year because the conspiracy against Kirkman had kidnapped Atwood's son Jason, was told that the FBI had found the body of Jason dead.  It was one of the most tragic aspects of the show, though a surprising one considering that the whereabouts of the boy was what kept Atwood quiet.
This week saw the premiere of the first two episodes of Trial and Error, the new comedy series on NBC starring John Lithgow.  Told in a mockumentary format, Trial and Error follows the story of the eccentric Southern poetry professor who was accused of murdering his wife by throwing her through the glass door.  The show features a crew of extremely wacky and crazy characters with many of the strange and quirkiness that one might see on this type of show.  The show has several redneck and Southern justice cliches that it milks for all its worth.  There is also a young New York lawyer who comes down to handle the case, adding to the comedy.  Honestly, Trial and Error only worked because of Lithgow and his remarkable ability to be funny with this oddball character.  I plan on giving it yet another few episodes to see if the show can catch its feet.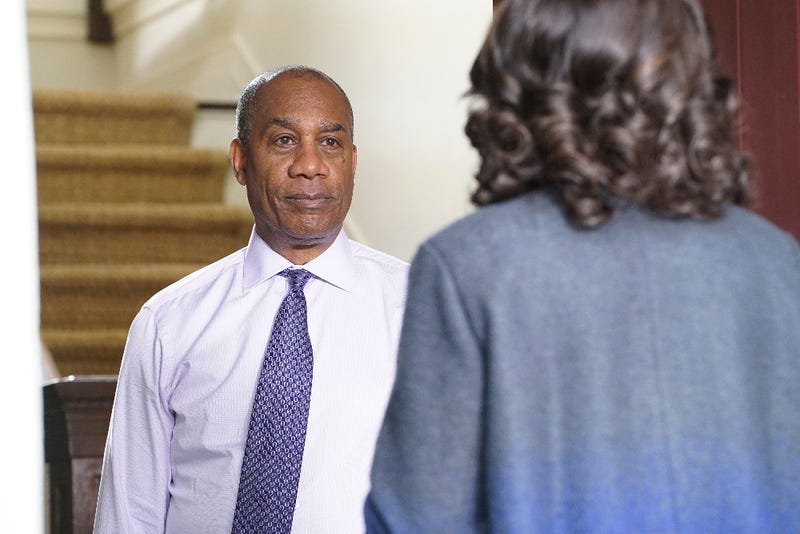 I do believe that I called this last week.  On ABC's Scandal this week, it was revealed that Eli Pope was the actual assassin behind the gun that assassinated President-elect Frankie Vargas.  In last week's column, I said, " I must say that I approve of this season of Scandal, as it has kept me on my toes and guessing who was actually behind the death of Vargas.  However, I might be disappointed if it turns out to be Rowan."  Who knew that I was prophetic.  Now, I will say that the episode was very dramatic and still did surprise me with the lengths that Papa Pope will go to for his power, but I have to say that I really believe it is past time for Papa Pope to finally pay for his crimes.
I also predicted that Caleb would not be long for the show.  Then last week, he was hit by a car and dies.  This week, they had to get rid of the body.  Norman Bates continues to race toward his insanity as he is having more and more conversations with his dead mother.  He is also dressing up a woman he is interested in in his mother's dresses.  There was so much creepy about that episode that you can't even begin explaining it.  Alex Romero continued his trek back to get his revenge on Norman for murdering Norma by picking the buckshot out of his stomach from his encounter at a farm.  Romero appears to be on a direct target for Norman and is like a Terminator in doing so.
Legion.  What. the. Heck?  I have to say… I have no idea what is going on in this show, but I am enjoying the trip (no pun intended).
On the Walking Dead last week, it seemed as if we finally have the confident Carol back and ready to fight.  Sadly, it did not come until after the death of young Benjamin.  Benjamin, shot by the Saviors when it appeared that the Kingdom had shorted them a cantaloupe, died because of Richard's attempted plot to get the Kingdom to join Rick and the others against the Saviors.  This plot led directly to Morgan strangling Richard to death in front of the Saviors and King
Ezekiel.  We saw the return of berserker Morgan.  However, the events of this episode has convinced Ezekiel that the time for fighting is here.  Morgan then revealed the truth about what Negan had done to her friends to Carol.  Things are progressing rapidly toward the season finale of the walking Dead in just three weeks.   Oh… and we all love Jerry!