Today is Wrestlemania Sunday!
The preshow for Wrestlemania 33 starts at 4 PM CST, so I am getting this column out a little sooner than I normally do.  Wrestlemania is a big day for me and I am looking forward to tonight's event.
Especially since the lead up to Wrestlemania has been excellent.  Friday night, on the WWE Network, we had the WWE Hall of Fame Ceremony.  Yes, it was long, but I really enjoyed everything about it.  From the return of Eric Bischoff and Jim Cornette to a WWE stage to the induction speeches of Beth Phoenix, Diamond Dallas Page and Kurt Angle, the Hall of Fame always delivers emotion and enjoyable stories from behind the curtain of the world of professional wrestling.  Kurt Angle celebrated by pouring two jugs of milk over himself (much like Stone Cold Steve Austin used to do with beer).  Beth Phoenix introduced her husband, the Rated R Superstar Edge (Adam Copeland) and her beautiful little daughter in a poignant moment of the night.  Also inducted were the Rock and Roll Express (Ricky Morton and Robert Gibson), Diamond Dallas Page, Eric LeGrand (received the Warrior Award), Ravishing Rick Rude, and Teddy Long.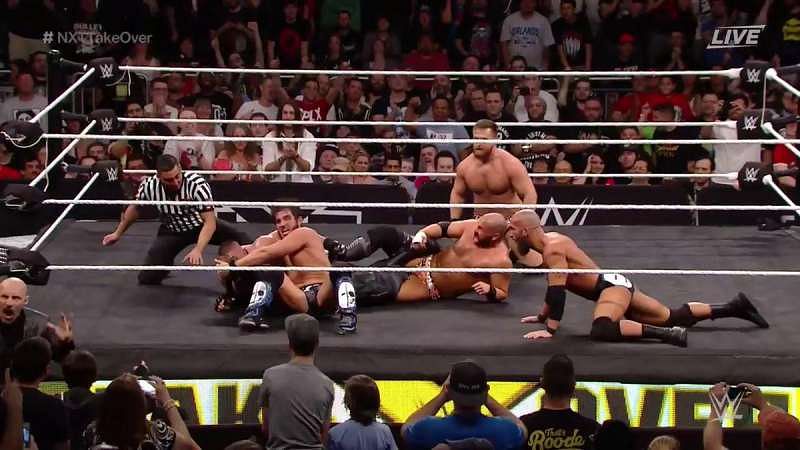 Then, Saturday night on the WWE Network, NXT presented its latest NXT Takeover Special, from Orlando.  This show is always a great night of wrestling and always has crowds way into the action, and this night was no exception. It has an early Match of the Year candidate when NXT Tag Team Champions The Authors of Pain defeated DIY and the Revival in a triple threat tag team match that was off the chart.  We also say Asuka retain her NXT Women's championship with a little dirty tactics vs. Ember Moon.  And we topped it off with "Glorious" Bobby Roode defeated Shinsuke Nakamura in the NXT Championship match.  Roode-Nakamura was hard hitting and would have been considered a brilliant match had the triple threat tag match not been on the card.  Take Over has certainly set the bar for Wrestlemania.
This past Tuesday, in preparation for Wrestlemania 33, TV Fights transformed into Wrestling Fights for one night.  Roxy Striar hosted the show that saw Billy A. Patterson defeat Joe Starr and Danielle Radford in a match of wrestling geekdom.  They fought best WWE superstar of all time, most anticipated match at Wrestlemania 33, and Worst storyline ever.  TV Fights is consistently entertaining on the Screen Junkies Plus streaming service and I really enjoyed the specialization during this week.  It was announced that they would do another wrestling themed TV Fights the week of SummerSlam.  YES YES YES YES YES YES YES!!!!
However, there was more than just wrestling themed entertainment on television this week.
Grimm brought its series run to a close on NBC with a finale called "The End."  I used to watch Grimm regularly, but it faded from my watchlist a few years ago.  I was always feeling as if the season long arcs were basically the same arcs just repeated with different characters facing basically the same challenges.  Still, I enjoyed the early years of Grimm so I wanted to check out the finale.  And, with the exception of some poor child acting, the show came to an acceptable conclusion.  Our heroes came to a happy conclusion and they showed us the future of Grimms were well in hand.  I must say, I was confused as to why they kept calling Juliette, Eve.  Of course, when I stopped watching Grimm, Juliette had just been killed so I assume some weird mojo was going on.  It was cool to see these characters one more time, especially Monroe, who was always a personal favorite.
Another show coming to an end, albeit only as a season finale, was Legion.  David was able to rid himself of the parasite known as The Shadow King, but not without a cost.  Now, the Shadow King found its way into the body of Oliver, who rode away into the world to cause problems another day.  Not killing the Shadow King is a good choice.  Many times, these super hero shows kill their villains and waste the potential for a lot of future shows.  Not Legion which ended its 8 episode season with a post credit scene that saw David being kidnapped by some flying ball/robot.  Legion has been a trippy ride all season long and I am looking forward to season two.
On Bates Motel, the show recreated the iconic shower scene, with Norman Bates going full psycho on a hotel guest.  However, as a twist, Rihanna, who was playing Marion- the victim from the 1960 movie- was not the occupant of the shower.  Instead, it was Sam Loomis, the husband of Norman's latest "love" interest. Sam had been having an affair with Marion and wound up on the other end of Norman's iconic knife.  It was a surprising twist and now opens up the remaining few episodes of Bates Motel for any sort of conclusion.  Perhaps Alex Romero can finally find some justice for poor Norma.  Also, Norman's brother Dylan FINALLY discovered that Norma had died.  The show referenced it as two years prior.  TWO F'N Years?  Come on, Dylan… pick up a phone, man.  I expect a huge finale for Bates Motel.
This upcoming week is a big one as well.  We have the Walking Dead season finale tonight.  Wrestlemania 33. The RAW after Wrestlemania is always one of the biggest shows of the year.  Tuesday will see the return of Agents of SHIELD.  Then we have Feud, Riverdale, Designated Survivor, American Crime.  Major League Baseball begins!  All kinds of excitement.