Good day all.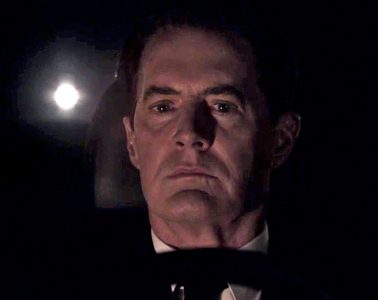 Tonight is the night.  On Showtime, Twin Peaks makes it triumphant return in a two hour debut.  The 18 episode mini-series picks up where the classic ABC series left off 26 years ago.  I am so excited for Twin Peaks that, despite having to miss American Gods and the last two hours of WWE Payback PPV, I will be front and center for the revival.  I can't wait for that damn good coffee and pie, the return of Agent Dale Cooper and the rest of the massive cast.  It is happening again.
Meanwhile, we had several season finales last week, each bringing something interesting to the table.  First, last Sunday, Once Upon A Time came to a conclusion for the season in what should have really been a series finale.  With Jennifer Morrison leaving, the series came to what could only be defined as a happily-ever-after ending after they defeated the Black Fairy and prevented Rumple and Belle's son from killing Emma.  Then, we had a strange time jump where everything seemed to become bizarrely familiar.  A little girl came to a door (room 815 by the way, hello LOST!!!) and knocked on it.  A grown up Henry answered only to have the little girl claim to be his daughter and that he needed to come with her to help save his family.  This, of course, hearkens back to the series premiere when Henry literally did the exact same thing with his mother Emma.  OUAT has been renewed for season 7, but the ending to season 6 really felt like a perfect ending.  I hope they do not spoil what could have been a magnificent way to go out for the sake of one more season.
Agents of SHIELD came to an end as Ghost Rider jumped over to Coulson so he could finish off AIDA once and for all.  Apparently, Coulson made some kind of deal with the devil to temporarily house the Spirit of Vengeance.  What that deal is, we do not know.  But Agents of SHIELD was not done yet with the questions that they left us pondering.  As the team was made to look as if they had attacked Talbot, they were fugitives.  But they had done enough running so they waited together to be arrested.  Mack had returned safely from the Framework after his daughter, sadly, disappeared.  Robbie Reyes returned to some alternate dimension (by opening up with his chain what looked like a sling ring pathway from Doctor Strange).  Then, after they were taken by some mysterious group who were (clearly) not he police, Coulson ended up somewhere in space.  Is this setting up S.W.O.R.D.?  Or will they have something to do with Avengers: Infinity War?  Who knows.  All I know for sure is that Agents of SHIELD once again brought the goods for a season finale.
Scandal also had a season finale this week, but I feel considerably less positive about this one.  The truth behind the Frankie Vargas murder was once again revealed and once more was changed.  Now it was in the hands of Frankie's wife Luna Vargas, who was manipulated into doing it by Cyrus.  Yep.  That is right.  We came back to the beginning again.  So, what happened?  Why, Olivia and Jake went to Luna with the evidence and forced her to take some pills that would kill her and make it look like she had a heart attack, of course.  Wait…what?  Olivia forced Luna to kill herself?  That is right.  Then, Olivia and Cyrus had a meeting confirming that the two of them know what the other was responsible for and neither seemed to upset. The white hat is officially gone.  Lots happened here from Mellie's inauguration to the return of Olivia's mother (tick tock).  The attempt to make Eli and crazy Maya heroic is just sickening.  But, instead of making them the heroes, the show has made Olivia just like them.  She is power hungry and willing to do anything.   She has reformed B16 and has taken the reigns for herself.   I do not know where the white hat wearing gladiator went, but I miss her.  This Olivia… well, I wish she would go off with Fitz and drive him to drink.  Or maybe the entire Pop clan could head off to go fishing off the coast of some third world country and grab control there.  Scandal is in desperate need of some heroes again.
Designated Survivor came to a more happy ending with President Kirkman showing the Scandal crew that you can still be a good person and run the country (at least for now).  The mole inside the White House was captured and President Kirkman addressed a joint session of Congress for the first time since the bomb that made him the Commander in Chief went off.  It was a nice way to bookend the season, but I was becoming somewhat frustrated with the inability of the FBI to catch anyone in connection to the conspiracy.  Thankfully, they finally did, although the main villain behind the conspiracy escaped and now has all the state secrets ready to do some dastardly plan next season.  This series really could use Jack Bauer to arrive and do some work.  I do love President Kirkman, despite how unlikely someone like him could be a president.  It has a good message for the country that is tired of all the divisiveness.
Saturday Night Live also came to the season finale, hosted by "The Rock" Dwayne Johnson.  The Rock continued to show how much talent he has as he went from skit to skit and just knocked it out of the park.  He also had a joke in the opening monologue about him running for president in 2020 and he brought out Tom Hanks as his running mate.  The best part of the bit was that it was a joke… or was it?  It played like a bit, but it had a realness to it.  SNL also featured Alec Baldwin in the cold open performing "Hallelujah" as Donald Trump.  Baldwin was joined by all of the people who played parts of Trump's administration, including Kate McKinnon as Kellyanne Conway and Scarlett Johannson as Ivanka.  Look close and you may see the Russian flag lapel pin on Baldwin.  Subtle.  Word is that Baldwin will be hanging up his platinum wig after this season and, if that is true, this is a fitting send off.
Saturday night saw the next NXT Takeover: Chicago special on the WWE Network.  These shows never fail to bring the goodness and really raise the bar to a level that the pay per view the next night could not possibly reach.  On the Takeover show, there was a possible Match of the Year candidate as Pete Dunne defeated Tyler Bate for the WWE United Kingdom Championship.  This match was just epic and went back and forth, completely engulfing
the arena with emotion.  Tyler Bate pulled out the fastest airplane spin I have ever seen and the WWE brought Jim Ross out to do commentary on the match, making it feel that much more special.  We also saw an amazing ladder match where the Authors of Pain defeated DIY, and then we saw DIY member Tommaso Ciampa turn on his partner and close friend Johnny Gargano in a brutal beat down post match.  This was made even worse after Gargano took a brutal ladder shot to the face for his friend, shoving Ciampa out of the way of the blow.  The event was wonderful from top to bottom and, again, set the bar really high for Payback.
I will also say that I was pretty engrossed with this week's Fargo.  I have not been as enamored with Fargo season three as much as I have been in the past, but this week got me.  I am really starting to get into the story and I want Varga and his men to pay for their crimes.  I am also finally starting to feel for Emmett and Nikki.  Hopefully, Fargo, which I have loved over the last two seasons, will be able to continue this momentum with me and really pick up the pace for the remainder of the season.
Not too long now until Twin Peaks!  Awesome.  See you next week!  Happy viewing!