Hey all.  A big week in TV this week.  Where should we start?
How about with Twin Peaks?  Last week was episode 14, leaving just 4 more hours of the Return left, and there were some huge things happening.  The Twin Peaks Sheriff Department's crew headed out to the forest where Andy wound up being brought to the giant's White Lodge (the giant said his name was the Fireman).  Andy got some vital info there and seemed to be more confident in his return.  We also found out that Diane is actually the half sister of Janey E, who is married to Dougie (aka Agent Cooper).  Whoa, small world.  It feels like it is just a matter of time before Agent Cole and the others with the Blue Rose finally find our wayward Dougie Cooper.  But the creepiest thing of the week was when Sarah Palmer removed her face, revealing the hand of the Mother of All Evil and a big smiling smile, and then proceeded to rip out a man's throat.  Now, the man was being very abusive toward her so no one shed a tear, but it certainly was more than what I expected. Sarah Palmer has been really weirder than usually lately and this could be the reason why.  Things are heading quickly toward the finale.
The Defenders debuted on Netflix this week and saw Daredevil, Luke Cage, Jessica Jones and Iron Fist team up to take on the Hand, in what really served as an ending to the previous story lines from their individual shows.  The 8-episode season of The Defenders was an easy watch and went extremely quickly.  By episode three, there was a tremendous fight in a high rise with all the Defenders and the show was underway.  Sigourney Weaver was the main villain as one of the main "fingers" of the Hand and she was great.  Elektra returned and was a bad ass in all of her scenes.  The end of the series seemed to be setting up Daredevil season three for the classic "Born Again" story line.  Jessica Jones was a series standout receiving most of the best lines of dialogue.  Iron Fist, who was universally disliked after his own series was panned critically, was much improved here.  Luke Cage is the moral center of the Defenders.  The show was very strong and did a great job of tying stories up.
Netflix also released a short teaser trailer of its upcoming series The Punisher with Jon Bernthal.  It looks vicious and that is great.
On Last Week Tonight with John Oliver, Oliver did a whole segment on the potential dangers with North Korea.  When President Trump claimed that North Korea would see "fire and fury", the world became a more tense place.  However, John Oliver knew what to do.  He discovered that North Koreans loved accordion music and who better to play some music to soothe the nuclear beasts than EYG Hall of Famer Weird Al Yankovic, who then played The North Korea Polka, a song also known as "Please Don't Nuke Us, North Korea."  And of course, the tensions have since gone down.  Thanks for saving the world, Weird Al.
Last week we have Pickle Rick.  This week we had Blackout Drunk Rick.  Little did we know that when Rick goes blackout drunk, he sets up death traps that could destroy the galaxy. In the episode, the Vindicators returned to the show to call for assistance from Rick and Morty and Morty convinces Rick to go along on the adventure.  However, the super team known as the Vindicators only called Rick and Morty because they had to and it was revealed that they had had another adventure and did not call them.  The episode was thus entitled Vindicators 3: The Return of Worldender.  In the end, several members of the Vindicators fall to Rick's death traps.  Rick seems to be becoming more of the villain here and it is interesting to see how Morty reacts to his grandpa's misbehavior.
This week saw two episodes of The Gong Show, one on Monday and one at its regular time on Thursday.  I am finding it amazing how much I am enjoying this show.  I did not expect to be downright giddy watching the Gong Show.  However, there was controversy this week.  On Monday's episode, Tommy Maitland called for the proper sing-a-long and asked for Albert to come out and sing Shaving Cream like he does every week.  However, the person he called Albert was NOT Albert!  It was some imposter.  I immediately took to Twitter calling this #AlbertGate.  The real Albert was back on Thursday without any explanation for why some other chap was singing our proper sing-a-long.  (Yes, the episode on Monday felt like the first one they had taped, so they had obviously replaced this guy with the new Albert, but that is not near as fun as wondering about a deep seeded conspiracy).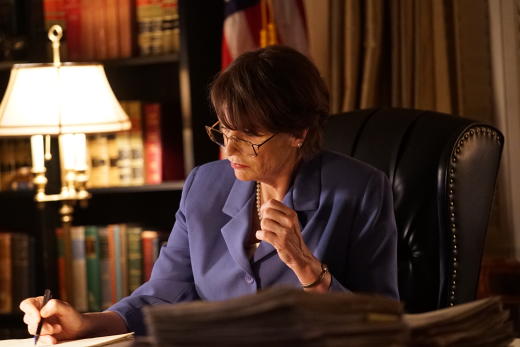 Manhunt: Unabomber continues to be tremendous.  The show this week gave us a massive FBI plot to try and draw out the Unabomber by printing the serial bomber's manifesto in the Washington Post and staking out and interviewing everyone who bought a newspaper at a certain newsstand in San Francisco.  The idea is that the Unabomber would want a copy and it was believed that he made his base in SF.  Imagine how much manpower this would have taken?  Good news and bad news.  The stakeout was a failure, but the Unabomber's brother's wife saw the published manifesto and recognized the writing style.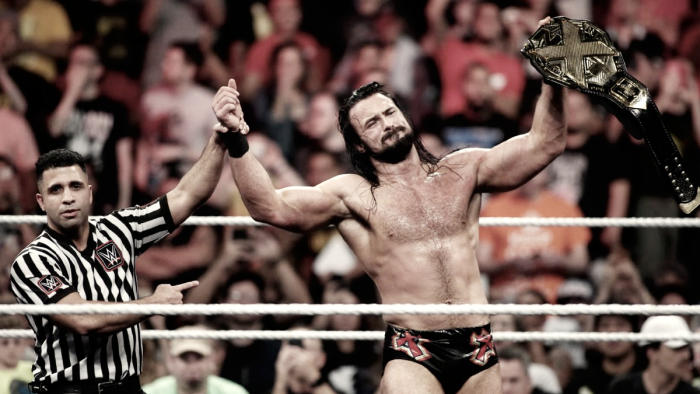 NXT Takeover Brooklyn III was on the WWE Network on Saturday and it delivered once again.  I have never seen a Takeover special that has not been just tremendous in action and wrestling drama.  Drew McIntyre defeated "Glorious" Bobby Roode to become the new NXT Champion.  Adam Cole made his NXT
debut by attacking McIntyre after the victory.  NXT Women's Champion Asuka continued her dominance by defeating and retaining her title against Ember Moon in the match of the night.  The team of Sanity defeated the Authors of Pain to become the new NXT Tag Team Champions.  Alistair Black defeated Hideo Itami one on one.  Tonight is the WWE's big SummerSlam, but it will have a challenge to stack up against NXT Takeover.
Whose Line is it Anyway continues wits run on Thursday nights on the CW.  This past week the show had a game of Hollywood Director where Wayne, Colin and Ryan had to act out a scene and Heather Anne Campbell would be the director and give them notes on how to improve the scene.  The final time, Heather Anne came on and said they should do the scene like Cabaret.  And what followed was musical genius between the three of these amazing improv performers.  Seriously, search this up if you have not seen it.  It is comedy gold.  And next week, Chip Esten returns!
SummerSlam is tonight.  So is Episode 15 of Twin Peaks.  I am a week behind Preacher and have yet to see Orphan Black's finale.
Lots of great shows to watch.  Happy viewing!