Welcome back to the TV Week That Was.  Fall TV is in full swing and I am watching my fair share of the shows to see what, if anything, I want to continue to watch.
Let's start with the most disappointing.  Inhumans.  I had seen the premiere in IMAX and it was not very good, but I had hoped for the show to improve.  Sadly, I think it may have gotten worse.  The acting is wooden.  The costumes are laughable.  The special effects are just not quality.  The story is dull and idiotic.  The new villain named Mortis was played up to be a dangerously powerful and crazed villain that even scared Maximus, but he turned out to be a whining and complaining smart ass.  There are only 8 episodes of the Inhumans and this was episode three so I will most likely continue to watch the remaining 5 episodes patiently until Agents of SHIELD returns, but for a show that could have been an epic, Inhumans has been an epic failure.
Before Inhumans, we saw the return of the seventh season of Once Upon a Time with its new story arc. We have Henry aged and there is a young girl claiming to be his daughter and that he had forgotten all of the history of the past.  Turns out, Henry's great love is Cinderella.  We see all of our favorite characters playing different characters (much like the final season of LOST in the flash sideways).  The first episode was passable, but it feels like just a publicity stunt.  Although, the fun did arrive when I saw Mr. Clucks appear in the episode.  Mr. Clucks (which I believe has been in past episodes of OUAT) was the chicken joint Hurley worked at and eventually bought on LOST.  Now, Cinderella is working there.  It was a fun little Easter egg from my favorite series of all time. As for Once Upon a Time, it still feels as if they should have ended the series last year with the happy endings, but I'll see where it goes from here.
Rick and Morty had their season finale and my thought was the same as most everybody who watched it… ALREADY???  The season of Rick and Morty just flew by and, considering we do not know exactly when the fourth season will arrive, the short season made it even worse, and the continual jokes about it in the show kept reminding us of it.  The episode itself was very funny, with the question of whether or not Beth is a clone (something that might have happened in the penultimate episode of the season).  A major face off with Rick and Morty and the President of the USA highlighted the finale, which was a typically great Rick and Morty episode, but might have been a bit lackluster for a season finale.
Scandal returned for its final season and I was immediately unimpressed.  I have grown to dislike Olivia Pope tremendously.  She does not seem to be the same woman whom I fell in love with in the first several seasons of Scandal.  To be honest, I am not sure that the show has ever truly recovered after Olivia was kidnapped.  Most of these characters are acting like completely different characters, doing things that do not seem like these characters would do. All led by the power hungry Olivia Pope.  They tried during the episode to show Olivia doing the "right thing" but it felt so far from the old days of gladiators with the white hats that it makes me sad.  This is another show that I will continue to watch because of history and because it is in its final season, but it is a shadow of its first 3 seasons.
However, the other Shondaland show that I watch, How to Get Away With Murder, seems to be better than it has been since the first season.  I am fully engaged in the new mystery, and I want to know what is going on.  I am also enjoying the cat and mouse discussions between Annalise and Dr. Roa.  Viola Davis and Jimmy Smits make an amazing pair and this episode showed what we have to look forward to this season.  This episode also included a powerhouse performance from L. Scott Caldwell (Rose from LOST) as Annalise's first defendant since being reinstated as a lawyer.  This show has started extremely compelling.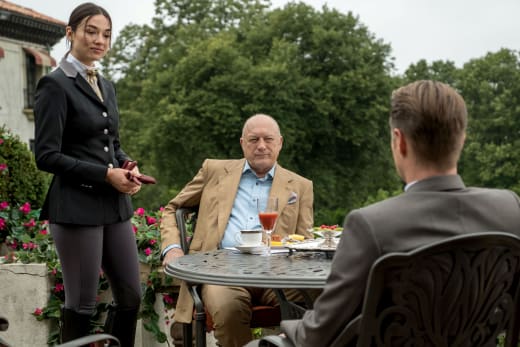 The Riddler escaped the ice on Gotham while Bruce Wayne continued to move closer to the Dark Knight persona.  Jim Gordan went to try and find help from the former gangland leader Carmine Falcone to overcome the Penguin's grip on Gotham City.  However, Carmine tells us he is dying.  Still, his daughter, Sophia, has returned to help. I don't know if this is the new love interest for Jim, but I am intrigued for sure.  Gotham continues to be a solid show and continues to be a much improved show from its first couple of seasons.
I saw four new series this week.  First one was last Sunday on ABC.  Ten Days in the Valley starred Kyra Sedgwick and told the story about her daughter  who was kidnapped.  There are several mysteries involved in the new show and there are some really strong new characters with some unknown motives.
Next show was the new X-Men universe show, The Gifted.  This one was better than I thought it would be.  We saw some cool X-Men characters including Polaris and Blink.  The heroes being chased by the Sentinal Services.  That name would make any comic fan take notice.  The effects were good too, so The Gifted has got me hooked in.
Third new show is Ghosted.  This one I had no intention of watching and I thought that I would not enjoy it.  Boy I was wrong.  This one was really enjoyable.  It was not the stupid comedic spoof that I thought it was.  It felt like an X-Files episode that leaned toward comedy.  There were plenty of those and they were some of the best.  This one has some real potential.
The fourth new show was The Mayor.  I had seen a lot of promotion for this show and so I gave it a chance.  It was okay.  I did not hate it.  I might give it another chance, but there will need to be something more than what they gave us on Tuesday for it to become a regular watch for me.
Go Dodgers!  Happy viewing