This is a new category to add to the Year in Review section of the EYG site.  That is because the Movie Trivia Schmoedown has become a huge thing on the internet and I never miss an episode. So I compiled a list of matches from 2017. I have also linked the YouTube video on the list.
After the list, I will be adding some other specific awards connected to the Schmoedown.  I know the Movie Trivia Schmoedown will be having their own winners and I have not been swayed by those (since I don't know what they are a of this writing.)
Oh … and by the way, just like all of these lists in the Year in Review, there are SPOILERS in here, especially for the Schmoedown Spectacular 2, which was just released.  Be warned.
Top 25 Matches
#1.  JTE defeats Drew McWeeny, Oct. 3.  LINK  This match up went multiple sudden death rounds and was as full of drama as any have ever been.
#2.  Star Wars Iron Man Match- Sam Witwer defeated Ken Napzok Dec. 22 LINK
#3. Rotten Tomatoes defeated IGN, May 23rd  LINK
#4.  The Patriots defeated Team Trek, Feb. 14th.  LINK
#5.  Josh Macuga defeated "Finstock" Marc Andreyko, Feb. 3rd.   LINK
#6.  Dan Murrell defeated Mark Reilly and John Rocha, Triple Threat, July 7th   LINK
#7.  The Patriots defeated Modok, August 11   LINK
#8.  John Rocha defeated Dan Murrell, Feb 17  LINK
#9.  Above the Line defeated Wolves of Steel, Sept. 12  LINK
#10.  Star Wars 5-Way Match- Sam Witwer becomes #1 contender, Dec. 8  LINK
#11.  Free for All- Samm Levine wins.  LINK PART 1   LINK PART 2
#12.  The Patriots defeated Above the Line, Dec. 22  LINK
#13.  Kristian Harloff defeated Jeff Sneider, July 7.  LINK
#14.  Jeremy Jahns wins Fatal 5-way Innergeekdom match, March 31  LINK
#15.  Manager's Bowl- Emma Fyffe wins, Dec. 22   LINK
#16.  Late to the Party defeated Critically Acclaimed, Aug. 25  LINK
#17.  Jeremy Jahns defeated Robert Meyer Burnett.  May 12  LINK
#18.  Kristian Harloff defeated William Bibbiani.  May 19.  LINK 
#19.  Top Ten defeated the Schmoes.  March 21.  LINK
#20.  Jason Inman wins Fatal 4-way match.  Nov. 24  LINK
#21.  Team Action defeated Top Ten.  Sept 13th  LINK
#22.  Jason Inman defeated Hector Navarro, Dec. 22   LINK
#23.  Blofeld's Cat defeated "Nerd's Watch" Rachel Cushing, hanidcap. Dec. 22 LINK
#24.  Hector Navarro defeated Jeremy Jahns.  July 7.  LINK
#25.  Mike Kalinowski defeated Brianne Chandler.  Oct 31  LINK
Player of the Year:  Samm Levine.  This is a no brainer.  Levine ended the year as champion after winning the Ultimate Schmoedown singles tournament, winning the Ultimate Schmoedown team tournament (with Drew McWeeny), winning the Free for All.  Quite a run this year.
Team of the Year: The Patriots.  Duh.  You may not like them, but you cannot argue with the fact that JTE and Jeff Sneider defeated everyone they faced this year.  Most of the matches were dramatic and close.  An argument could be made that Team Trek should have beaten them.  But in the end, The Patriots are 8-0.
Rookie of the Year:  Rachel "The Crusher" Cushing.  Rachel has been on the precipice of being a champion, coming up just short.  You forget that Rachel is a rookie.  Her battle against Blofeld's Cat in a handicap match showed how much heart she has.  She is a future champion without a doubt.
Best Moment:  Andrew Ghai spears John Rocha.  I almost made this Ken Napzok turning heel, but when Andrew Ghai of Team Action tackled The Outlaw after Team Action's loss was completely unexpected.  Now, it was so well done that I thought that it was maybe real.  If it were real, then I wouldn't list it here because that would have been a terrible thing.  But as a WWE style bit, this was awesome.  And big props to John Rocha for taking that spear like a champion.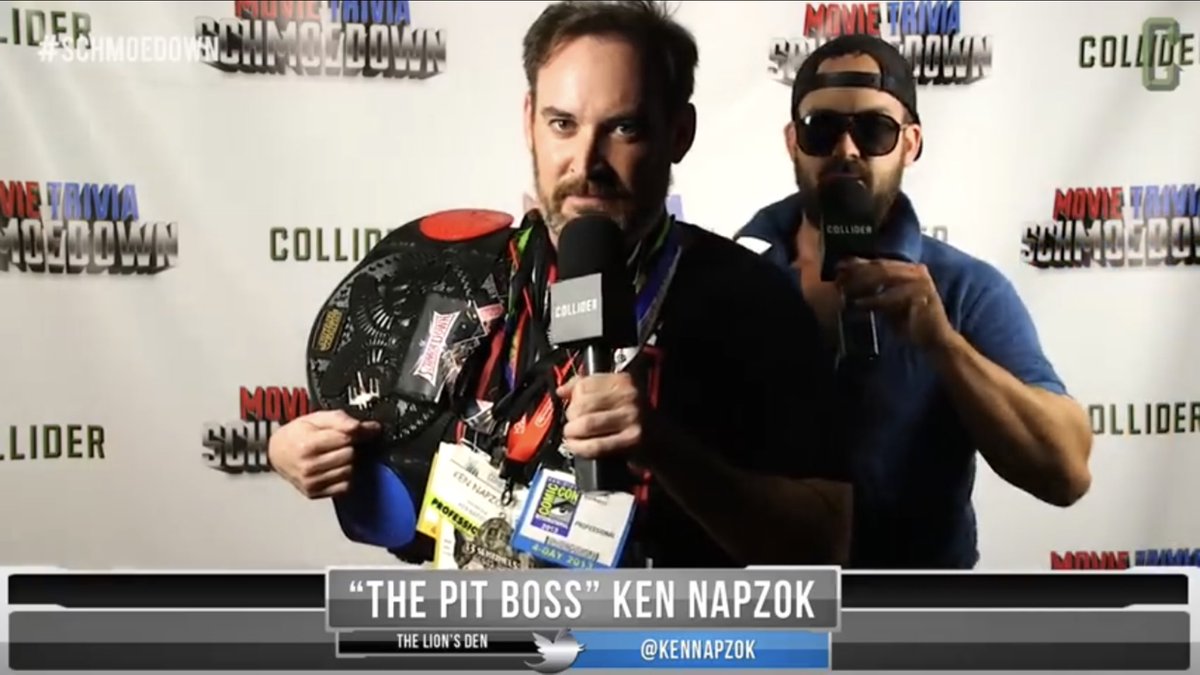 Best Turn:  Ken Napzok turns heel.  Star Wars Champion at that time, Ken Napzok turned heel and joined the group he had sworn to fight against, The Lion's Den.  Rachel Cushing talked him down and convinced him to have a match as Nerd's Watch vs. Blofeld's Cat.  Then, Ken no-showed the match, forcing Rachel into a handicap match.  Ken then arrived after her defeat to rub it in.  Just a huge heel move from a great performer.
Best Promo:  Ken Napzok and Kristian Harloff.  This was just epic.  After Ken had ditched Rachel, Kristian came into the interview area to confront Ken, and what happened was absolute gold.  Ken was absolutely on fire, spouting off perfect excuses for his turn, reasons that you could understand.  Ken even brought up Kristian not naming Ken commissioner.  It was amazing work from both of these men and it really added a gravitas to the storyline.
Best Special:  Schmoedown Spectacular 2, Dec. 22nd.  Every special has been tremendous, but this one was extra special.  Great matches, lots of storyline work, amazing graphics from Bryan Ward, every back stage vignette is great.  It was so much fun and we got a good chunk of Kristian Harloff and Mark Ellis (in the world's greatest Tetris suit).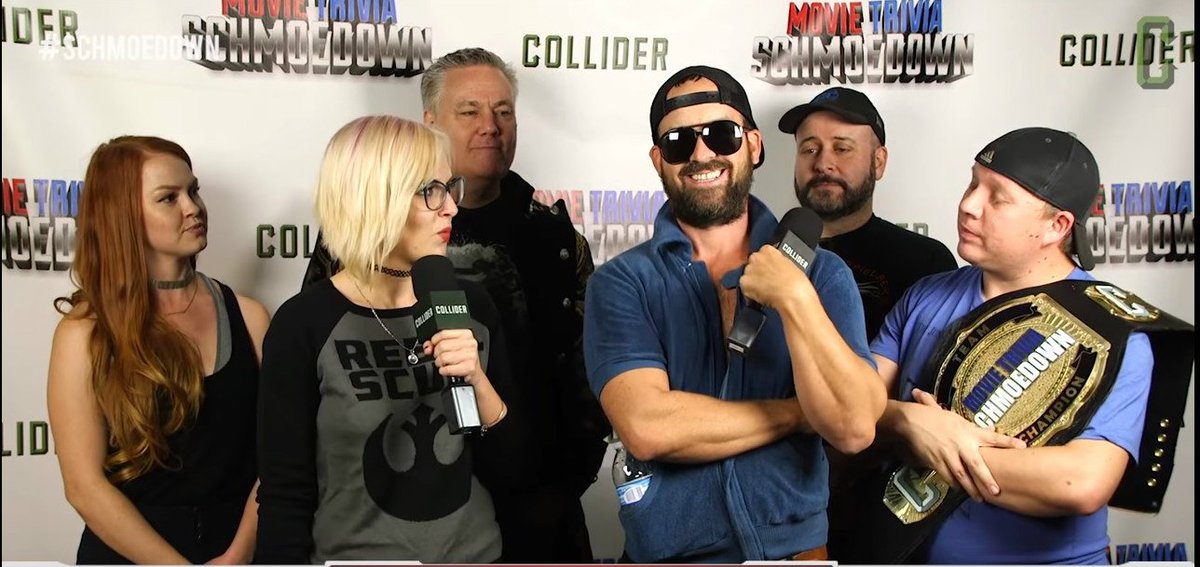 Best Faction:  The Lion's Den.  They had a tough night at the Spectacular but they are easily the one that is above the others.  Now, perhaps Emma Fyffe will put together an awesome one, but, for now, the Lion's Den continues to be the top faction.
Best Manager:  Tom Dagnino.  Another one who you may hate, but Tom Dagnino is entertaining.  He is great on the mike and just engages the audience to hate him.
Truly love the Movie Trivia Schmoedown and I am so looking forward to the next season of the show.  Congrats to Kristian Harloff and Mark Ellis and everyone else involved in creating such a fantastic program for YouTube.