It is 2018 and this is the first Top Ten Show with a list for the year.  In honor of the release of this weekend's Commuter, John Rocha and Matt Knost came up with a Top Ten List for Best Liam Neeson movies.
Good news.  I feel more confident in my own list here than I was with Clint Eastwood.  I was able to come up with over ten Liam Neeson movies that I actually have seen and liked which makes it considerably more interesting for me.
So, here are the Top Ten Liam Neeson movies at EYG.
#10.  Run All Night.  This one has fallen into Liam Neeson's ballpark- that is a father who is out trying to save a child from a dangerous world.  In this case, Liam is a former hitman whose estranged son Mike wound up involved in the death of Liam's former mob boss friend's son.  There was a really nice chemistry between Liam Neeson and Joel Kinnaman as estranged father and son.  And Liam Neeson is always a kick ass.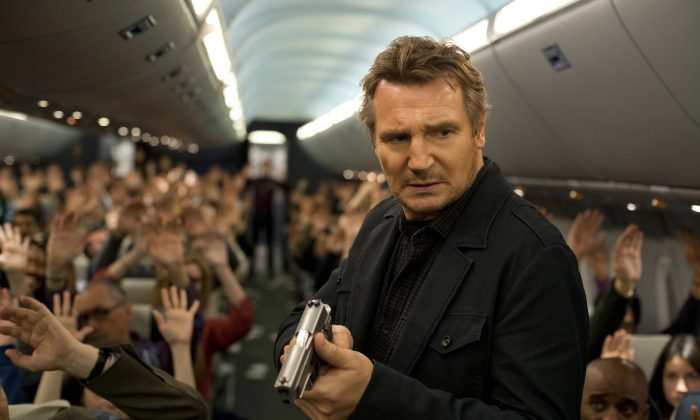 #9.  Non-Stop. This is now Liam Neeson, kick ass stud, on a plane.  This time, Liam plays an air marshal and a villain is texting him saying that if they do not wire him millions of dollars, he would start killing passengers every 20 minutes.  Liam has to find out who this nutbag is and how he is pulling off his threat.
#8.  Rob Roy.  I haven't seen this one in years.  My memories were that I enjoyed it.  However, I know that it came up on today's Top Ten Show and it received some shade from John and Matt.  This could be a situation where my memory is not as clear as what I recall.  From what I recall, I liked Rob Roy.
#7.  Darkman.  I am putting it at number 7 just like the Top Ten boys.  This was a really fun "super hero" movie prior to the outbreak of the current genre.  Co-written and directed by Sam Raimi, Darkman is a fun and exciting hero in a story that can be very dark.
#6.  A Walk Among Tombstones. This one was a real surprise.  I had gotten tired of the "Liam Neeson" type of film that had populated the last several years, especially the Taken sequels, and then this came along where he was an unlicensed private investigator, a former police officer who had a tragic event in his past.  As he is working the next case, he was making it clear that he was willing to do what it took.  This was a great surprise of a film.
#5.  The Lego Movie.  The first movie on this list where Liam Neeson provides his vocal talent is the Lego Movie.  He may not have as big of a role in the film, but his performance as Bad Cop/Good Cop was one of the film's greatest characters.  The Lego Movie was one of the best films of that year.
#4.  A Monster Calls.  Here is the other film on this list where Liam Neeson provided voice work.  Here he is the giant tree that tries to teach the lessons to the young boy in a movie that is a devastating tear jerker.  And he did it without ever saying "I am Groot."  His voice performance was beautifully done and the movie is woefully underrated.
#3.  Batman Begins.  Liam Neeson was the main villain in the first Batman movie after Batman and Robin nearly killed the genre.  And he was fantastic.  Ra's Al Ghoul was one of Batman's lesser villains to the rest of the world, but the avid comic fans knew who he was and we were extremely excited to see him in Gotham.  Neeson was great here and set the stage for one of the great films in comic book history.  Batman Begins is damn good in its own right.
#2.  Taken.  I wasn't sure where this movie would fall, because the fact is that the subsequent sequels to this film were atrocious.  I know it is not fair to hold the original to bear for the sequels, but, being honest, there is a downward trajectory when I think about Taken because Taken 2 & 3 were so bad.  However, as I thought about the list more and more, I tried to think back to how much fun and enjoyment Taken brought me.  I really loved that first film.  And I did not think I would.  Plus, there is an iconic line delivered by Liam Neeson that everyone in the world knows.  It goes like this: But what I do have are a very particular set of skills, skills I have acquired over a very long career. Skills that make me a nightmare for people like you. If you let my daughter go now, that'll be the end of it. I will not look for you, I will not pursue you. But if you don't, I will look for you, I will find you, and I will kill you. Ah…epic!
#1. Schlinder's List.  What else was going to be here?  I just saw this movie at the end of 2017 and it was haunting… beautiful… traumatic… masterful.  I absolutely loved the film despite having to then rock myself to sleep in the corner.  The black and white.  The splash of red here and there.  The amazing performances.  I was sobbing through the whole thing.  It was a masterpiece of cinema.  And easily Liam Neeson's greatest performance and movie.  When he found that gold medal that could have saved a few more lives and he broke down in tears, it ripped out what remaining heart I had.  Just an amazingly emotional film of a horrible time of the world.