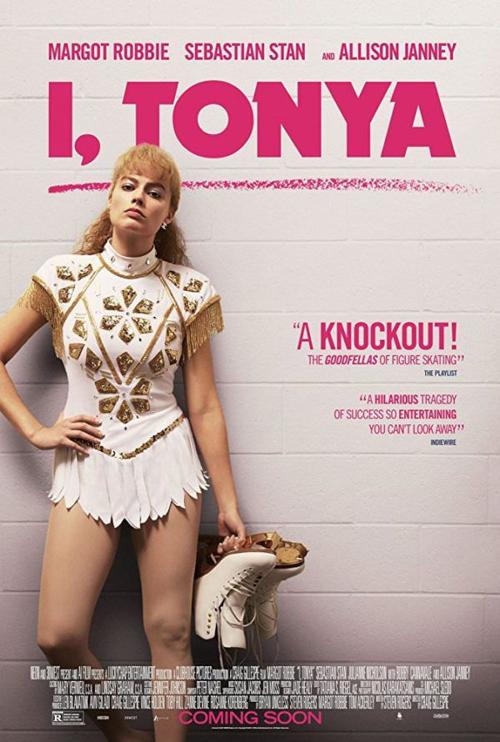 I remember watching this train wreck happen at the Olympics and like everyone else, I was amazed at the story.  Whether fair or not, Tonya Harding had become the villain, the heel of the 1994 Lillehammer Olympics.
I, Tonya brings the story of Tonya Harding to the big screen and does something that, as a viewer of those chaotic days of Olympic-non-glory, I did not believe it could do.  It humanized Tonya Harding.
We may never know for sure exactly the level of involvement or knowledge Tonya Harding had in the attack on Nancy Kerrigan, but this film painted a picture of a troubled girl from a broken background who struggled with her own feelings of inadequacy and bad decisions.
Part of the reason Tonya Harding comes off in I, Tonya in such a sympathetic light is a multilayered and emotional performance by Margot Robbie.  Robbie captures every moment as the redneck skater to perfection, showing her confusion, her anger, her angst and her violent past.  Every time Tonya was physically struck, whether it be by her mother LaVona (Allison Janney) or her husband/boyfriend Jeff Gillooly (Sebastian Stan), it makes you empathetic for the girl and the toxic environment that she lived in.  It became as much a story of abuse, abusive relationships and the victim's inability to remove themselves from the situation as it was about the attacks.
However, the film has a really neat technique to keep you from completely championing Tonya Harding.  The film continued to come back to the "present" day featuring interviews with the main players in the story, and  the current day Tonya Harding is anything but relatable.  She gives off a distinct "white trash" vibe each time the film comes back to her.  She is a beacon of negativity and excuses.  It creates a nice counter side to the person we see throughout the film.
A second technique that I was a big fan of was the breaking of the fourth wall. Within the film, characters would look to the audience and speak directly to them, emphasizing important parts of the story .  I found this to really add to the presentation and my enjoyment of the film.
Allison Janney won a Golden Globe for this role and she deserved it.  She is the most despicable character I have seen on screen in quite some time and Janney clearly is reveling in the chance to dive headlong into the cruelty of this mother.  You almost have to laugh at her, thinking that she must be a caricature of the woman, but it seems as if the film nailed her.
Sebastian Stan should be mentioned as well.  He does a great job as Gillooly, showing more than just a one note villain.  Jeff was complex and even likable.  You could understand how his charm could entice someone back to a relationship despite consistently returning to an abusive status quo.
I would like to give a shout out to Mckenna Grace, who appeared as a young Tonya Harding.  She was not in the film for very long, but her performance was exceptional.  Grace was wonderful last year in Gifted with Chris Evans and she showed once again that she is a young actress to keep an eye on.  She had some seriously difficult scenes to act through, including the day her father left her alone with her mother.  Each time, Grace made us feel for her, wishing there was a way to get her out of the clutches of her horrible mother.
I laughed several times during I, Tonya and I gasped at a few of the brazen occurrences the film showed us.  The two "hitmen" from New Jersey who came and attacked Nancy Kerrigan are as incompetent as any bungling criminal in any movie anywhere.  The fact that this was real life was even more amazing.
I, Tonya brought a new focus on one of the most infamous sport moments of the last 25 years and it does it by showing how human the characters within this moment truly were.  The film does not zoom in on the "incident" (as they call it), but presents it as a part of the story.  Yes, it had a mighty impact on her life, but it was not the only aspect that led her to the place that she wound up.  This was a strong film that felt fresh and original despite covering material the world already knew.
4.15 stars