This week's Top 10 Show features the Top 10 Cartel Movies.  This is another of those topics that I do not have a deep knowledge in.  Several of the main films that would be on most people's list are films that I have not seen.
The films Scarface, Blow, Once Upon a Time in America and Traffic are not on my list because they are films that I have not seen.   No Country for Old Men I did not like much. Honestly, cartel movies may not be my specific genre.
But I scraped together enough for a Top 10.  It is not the strongest list I have ever done, but here we go anyway.
#10.  Cartel Land.  This was the documentary that Matt Knost brought up in his #9 slot.  It is a really good look at the Mexican Cartel and the crime families that run that cartel.  This was compelling and fascinating.  Another online personality, Mark Ellis, actually is the reason I went to watch this as he recommended it one day on Movie Talk.  Good documentary.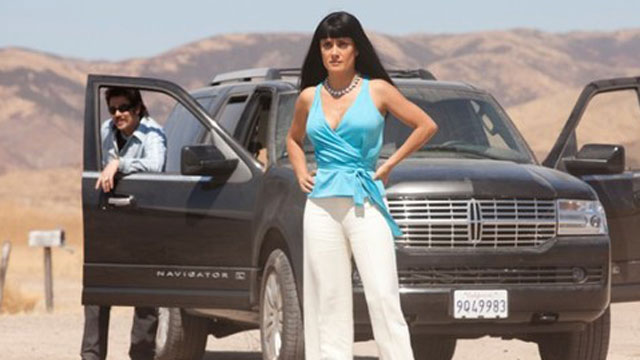 #9.   Savages.  This one made the list because I needed another movie.  It was not a great film, but I did enjoy the all-in performance of Salma Hayek as Elena.  This was an Oliver Stone movie and it included John Travolta as a crooked DEA agent.  As I said, I was not a huge fan, but Salma Hayek truly was memorable.
#8.  Sicario.  I honestly was bored during Sicario.  I hear so many other people who loved this movie so much, but I just never thought it was great.  I may revisit this film to see if it was simply the day or the moment.  I know both Top 10 guys had it at #1 so maybe I should watch it a second time prior to the release of the sequel later this year.
#7. The Last Stand.  Mentioned at the end of the Top 10 podcast as an example of some of the bad cartel films, I actually thought The Last Stand, which was like a return to the world of film for Governor Arnold Schwarzenegger was pretty good for what it was.
#6.  2 Guns.  Starring Denzel Washington and Mark Wahlberg, 2 Guns was another that I found okay.  It is a middle of the road type film that makes this list because I am not as into the genre as I could be.  I like both of the actors involved and they had a good chemistry between them which helped with the film.
#5. American Made.  Tom Cruise as Barry Seal, a TWA pilot, is recruited by the CIA to provide reconnaissance on the drug cartels in South and Central America.  This was a true story that absolutely took so many wild and bizarre turns that you find yourself thinking that there was no way this was a real story.  This was a fun story and Tom Cruise does a very solid job.
#4. Snitch.  The Rock in one of his earlier movies that shows some of the talent that the big man has to offer.  The Rock plays a businessman whose son is captured for carrying illegal drugs across the border and he receives a mandatory 10 year sentence.  The Rock wants to go undercover to help him.  Benjamin Bratt is in the film as the villain and Jon Bernthal is solid in it as well.
#3.  We're the Millers.  Here is the one that is the surprise entry on my list.  This is a comedy of a family taking a trip to Mexico.  However, they are not a real family as the kids and the wife were all hired to go along as help and the reason for the trip was to pick up a shipment of drugs so he could get out from underneath his money troubles.  This is a film that I was shocked that I enjoyed as much as I did. It really seemed like it would fall into that category of stupid comedy that I always dislike, but I laughed consistently throughout We're the Millers and it was one of the biggest surprises of the year for me.
#2.  Clear and Present Danger.  Tom Clancy's famous character Jack Ryan returned in this film, played by Harrison Ford.  Ryan is appointed as the CIA Acting Deputy Director and he finds out that there are people (friends) who are running covert war in Columbia.  Ford is in his prime here and brings the character of Jack Ryan to his peak.
#1.  End of Watch.  Jake Gyllenhaal and Michael Peña are a pair of police partners in Los Angeles in this powerful story of partnership. loyalty and the dangers they face.  It is also a "found-footage" style of film as Gyllenhaal's character carries his little camera with him as they go.  It was another create use of found footage in the genre that has since pretty much dried up.  Jake Gyllenhaal and Michael Peña art the main reasons to see this film as they are both tremendous.
There it is.  I do not have any honorable mentions this week since there are so few that I have seen.  Maybe this list is reordered if I watch some of those that I have not seen or give Sicario a second chance.  We'll see.