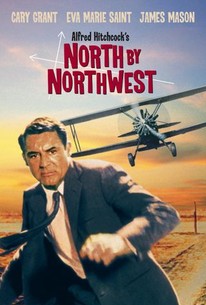 I wanted to break out of the monster rut that I had gotten myself into with the Sunday Great Easter Binge-a-Thon.  So I was looking for what I wanted to watch and I pulled up the AFI list of Top 100 movies.  There are several of these films that I have not seen that I consider holes in my film knowledge.  As I was going through them, I came across North By Northwest and, being a Hitchcock fan, I thought that was a perfect film.  I had never seen it and it was available on YouTube.
Cary Grant played Roger Thornhill, a New York advertising executive who found himself unwittingly stuck in the middle of an international espionage plot.  Finding himself as a fugitive, Thornhill jumped a train to Chicago where he met beautiful blonde Eve Kendell (Eva Marie Saint).  Eve helps him avoid capture by police and Thornhill tries to figure out exactly what happened to him.
This film is a lot of fun.  Cary Grant really goes all in on the story and the weird things that happen to his character.  You can see the character of Roger Thornhill change as the film progresses and he is placed in one dangerous and confusion situation after another. You can see Thornhill get better and better at the trickery as the film progresses.
Eva Marie Saint is great as Eve Kendell as well.  She was way more than just a pretty face in this story.
Hitchcock creates suspense throughout the entire story as the viewers try to figure out what is going on.  Hitchcock drops pieces of the truth as the film moves along.  He mixes humor in with the suspense and mystery making this very entertaining.
The suspense is at its highest peak on the top of Mount Rushmore in South Dakota.  For 1959, the effects were decent and did not take me out of the excitement of the situation.
A Hitchcock classic.  Check that box off – Have Seen.