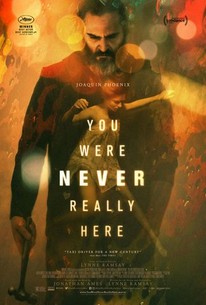 A brutal and emotional performance from Joaquin Phoenix highlights this odd and nonconformist revenge flick.  You Were Never Really Here was released earlier this year in a limited nature and has found its way onto iTunes for streaming.
Lynne Ramsay wrote and directed this movie that finds itself trying very hard to keep its main hero Joe (Joaquin Phoenix) in a dreamlike stance.  Joe was a traumatized war vet who was now a hired gun, was hired by a New York senator to bring back his daughter who had been kidnapped, but Joe was slowly descending into his own damaged psyche.
To be honest, I had a hard time following this and I was dozing off in several sections, not a good sign for a revenge movie.
Joaquin Phoenix was tremendous in this role, bringing a certain gravitas to the part.  You believed how Joe was slipping away and was on the verge of suicide the entire film.  And the fact that you are never quite sure whether or not something was real.
The imagery here seems to overpower the story and, while that can be okay, I found it a bit too artsy for my taste.
An award caliber performance from a wonderful actor does not do enough to surpass the material for me.  While I appreciate the originality, I needed more.
2.5 stars