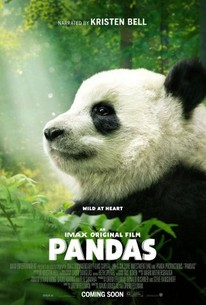 I went into this first thinking it was one of those Disneynature films that come out like once a year.  I was confused about it though since I thought that the next one of those coming was about penguins.  I dismissed that idea, but when the movie started, it was listed as being from Warner Brothers, which caught me off guard.
Truthfully, I liked this way more than those Disneynature films for a couple of reasons.  One, it was fairly short (40 minutes) and two, it was not making up a silly story with a voice over person giving names to random animals in the wilderness and pretending that they were human.
This was an educational documentary about the attempt to release pandas raised in captivity into the wild by using the process of a man who does the same thing with black bears.
The entire film was well done and the way these researchers went about preparing these bears for the return to the wilderness was eminently fascinating.  Watching the one researcher bond with the panda cub (which had grown significantly) through a style of play that could be considered roughhouse was amazing.
The film also added its share of drama as we follow this cute panda named Qian Qian on the quest to release her in the wild.
The film was spectacularly shot and the beauty of the cinematography was worth the price of admission alone.  You just cannot help but be engaged in what these remarkably cute creatures are doing.
Kristen Bell does provide a voice over, but there is nothing but reality being presented here.  Wonderfully shot and short, Pandas had a solid 3D effect in IMAX theaters as well.  A good time for the whole family.
3.7 stars