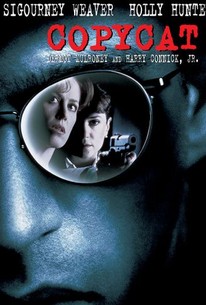 I do like serial killers.  Always have.  They fascinate me.
So with this thriller where at the heart of the story is a serial killer who was copycatting some of the most infamous serial killers inhistory, well, that film is one for me.
When you throw in the powerful casting of Sigourney Weaver and Holy Hunter into the mix, it only gets better.  Then, there is a creepy performance for the ages from Harry Connick Jr.  to make it all the more intense and suspenseful.
After being assaulted and nearly killed by obsessed killer Daryll Lee Cullem (Connick Jr), Dr. Helen Hudson (Weaver) wound up an agoraphobic.  However, Helen, a clinic psychologist specializing in serial murders, cannot stay out as she made several calls to the police, trying to give assistance on a new serial case.
Detective M.J. Monahan (Hunter) was the only one who was taking Helen's calls seriously, and enlisted the sometimes unwilling aid of Helen to find the copycat killer (William McNamara).
The first time I saw this years ago, I was on the edge of my seat.  I will admit that I was not as filled with anxiety this time around.  Age will do that to you.  However, I still enjoyed the film and the performances of these actors.
I very much liked how Weaver's character used her smarts to outwit the copycat killer at a point in the film.  She should be shown as intelligent and when she confronted him, Weaver showed how much of a bad ass she really could be.
Some of the other police officers did some really dumb things, which I felt was just because the plot needed them to be dumb.  That is a drawback to the writing.  Other than that, I liked Copycat very much and had a good time watching it.