This week, in honor of Creed 2, the Top Ten Show created the list of Top 10 Boxing Movies.  Again, as it seems like several weeks, my list was incomplete.  But since the week was busy, I was able to watch three movies that were not on the first list I wrote.  These movies make the list, I feel, more reasonable.
#10.  Grudge Match.  How could you not like seeing Stallone take on DeNiro in the boxing ring.  Two of the greatest icons of boxing movies squaring off.  This movie was okay.  Lots of people did not enjoy it, but my memory was that it was better than I expected it to be.  It could be the example of going into a movie with a real low expectation and enjoying it more than you expect.  Sure, they are pretty old in the flick, but it still is quite the moment.
#9.  Creed II.  Look.  With the later in the week Top 10 list, I got to see Creed II and it was really very good.  Yes, it feels as if Rocky III and Rocky IV were crammed together, but, as you will see, I like both and that did not feel like a negative.  I also really enjoyed how the film went into the characters of Ivan and Viktor Drago.  It gave these characters considerably more characterization with the minimal amount of screen time.  Michael B. Jordan is really great as Creed and he has become that character.
#8.  Southpaw.  This one is mostly for the acting skills of Jake Gyllenhaal.  Gyllenhaal is fantastic in the role as Billy Hope.  The relationship between Billy Hope and his daughter Leila (the fabulous Oona Laurence) is a highlight of the film too.  Problems are throughout the rest of the movie but Gyllenhaal's work is top notch and elevates the film.
#7.  Rocky.  The first Rocky movie won an Academy Award and was a great film, including the shocking moment of defeat at the end of the film.  Stallone is really great as Rocky Balboa.  This film sets up the entire series with this great film of an underdog facing off against the ultimate challenge.
#6.  The Fighter.  Mark Wahlberg and Christian Bale play the Ward brothers in The Fighter, directed by David O. Russell.  There is an ESPN documentary following Christian Bale's character's attempted comeback, but it winds up instead focusing on his cocaine habit and he winds up back in jail.  Wahlberg's character tries to break away from his family for a comeback.  This is a great look at the life of working class people and their tribulations.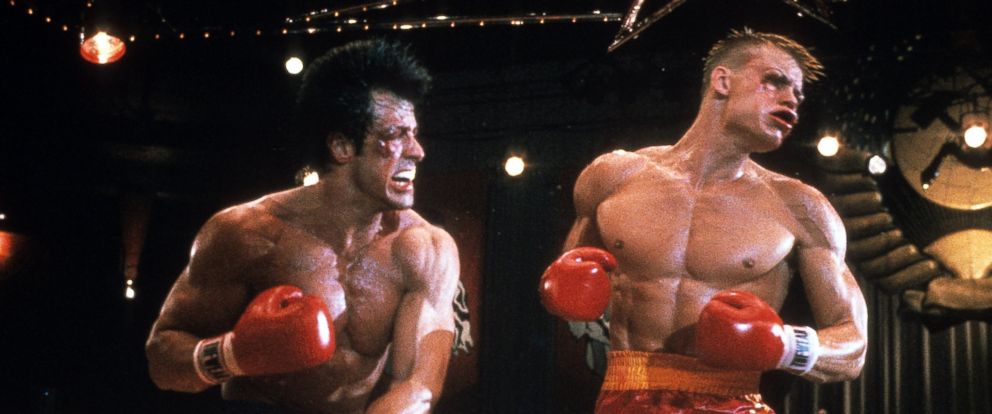 #5.  Rocky IV.  The movie where Rocky defeats Communism.  This is so silly of a concept, but the movie is cheesy greatness.  The fight between Rocky and Drago is fantastic. The death of Apollo Creed at the hands of Drago is a shocking moment and provides amazing motivation for Rocky IV (and Creed 2, by the way).  And of course, "I Guess What I'm Trying to Say, Is That if I Can Change, and You Can Change, Everybody Can Change!"
#4. Raging Bull.  Okay, I had not seen this one before this list and I know it was a hole in my cinema viewing list.  So, I got a chance to watch it on Thursday.  I know everyone and their mother love this movie, but I was not sure how I felt about it through much of the film. I really disliked DeNiro's Jake LaMotta because he was such a horrible person.  I really wanted him to get his ass handed to him.  As the film progressed, I was able to appreciate the talents that it took to create this movie.  The filming was amazing, with the black and white in particular.  DeNiro was unbelievable as Jake.  I hated Jake, but I really found DeNiro's performance near perfect and I can understand why he received an Oscar for it.
#3.  Rocky III.  I am in the minority here, but this is my favorite of the Rocky movies.  I was a fan of Mr. T and Hulk Hogan when they were in the WWE around Wrestlemania I and seeing them both in here is awesome.  I enjoyed how Rocky had to search out Apollo to help him come back and defeat the first undefeatable opponent.  This was the first Rocky movie that I saw at the time it came out and I can think back and remember how much I enjoyed the film.  And I pity the fool…
#2. Creed.  This was quite a surprise.  When we realized that this was a continuation of the Rocky universe, focusing in on Apollo's son, Adonis Creed, it was very exciting.  Then, we got an even bigger surprise.  Sylvester Stallone came back as Rocky Balboa and gave one of the best performances of the year.  In fact, his defeat in the race for the Oscar is one of the biggest mistakes the Oscars have made.  Creed revitalized the Rocky universe with some wonderful new characters, directed by the great Ryan Coogler.
#1.  Million Dollar Baby.  The Clint Eastwood directed film starring Hilary Swank was another movie that I watched for this list. Million Dollar Baby was a film that I was not that interested in seeing for the longest time, but when I saw it this Thursday, I absolutely loved it.  I was completely invested in the story of Maggie Fitzgerald, the female boxer trained by Clint Eastwood's character Frankie Dunn.  I did not know anything about the third act of the movie and it crushed me when I saw it.  I was never interested in this movie and I resisted seeing it, but that was a mistake.  This is a fabulous movie and I really loved it.  I am very glad that I watched it for this list because it feels like it should be here and the list makes more sense with it on it.
Honorable Mentions:  Rocky II is was on this list before I watched some of the others.  There were two other films that dropped off the list.  The first one was Bleed for This which included Miles Teller as Vinny Pazienza.  The other was a major cheat and I knew it was a major cheat, but I was sticking it at #10, and that was Pulp Fiction for the Bruce Willis section.  Yeah, I know.  I have not seen Cinderella Man.  Hands of Stone was another one that I considered.