My choice of programs on network television have been slowing over the last few years with most of the list being shows that come on for shortened runs and then go away.  I have very few full seasons of TV on here.
I truly believe that is the eventual way we will be moving, not only on cable and streaming but also network in the very near future.
Here are my choices for network TV
#10. Scandal (ABC).  I used to love this show.  Now, I was very thankful that it ended when it did.  There was way too much character assassination going on around Scandal as characters were doing things that I did not believe they would have.  I am not sure the show ever recovered from Olivia Pope's kidnapping.  There were still moments that kept it on this list, but certainly nowhere near where it once was.
#9.  Riverdale (CW).  This is another show that has been falling down for me.  The second season was very hit and miss (with a big miss on the Black Hood storyline) but a fun musical episode.  I have not watched much in season three at this point and so it is hard for me to say if it has improved.  I saw one episode of season three and it was uneventful.
#8.  Designated Survivor (ABC).  It started at ABC, but it was cancelled after a second season.  It was a decent show that I enjoyed.  Killing off FLOTUS was ballsy and lead to some good television.  However, the end is not the end as President Kirkman's presidency has been saved by Netflix so we will continue to see the adventures of Kiefer Sutherland in the Oval Office.
#7.  Gotham (FOX).  It was near the top of the list last season, but it slipped in the second half and the final season has yet to debut.  The whole Jeremiah story felt forced and just a way to shock us.  Bruce Wayne became even more of a jerk.  There was some decisions made that should have had more consequences than it had.  The fifth season coming up in 2019 is the final one and I think that is a positive thing.
#6.  The X-Files (FOX).  The season 11 is reportedly the final season for the FBI most unwanted.  Or at least, it is the final season that Gillian Anderson is playing Dana Scully.  She told Mulder that she was pregnant in the finale of season 11, one of several true shocks…including the apparent death of their son, who wasn't actually Mulder's son.  He was created by the Cigarette Smoking Man in a lab.  Whoa.
#5.  The Rookie (ABC).  The only new network program to make the list is here mainly on the strength of Nathan Fillion's return to TV.  I have been enjoying the story being told each week and Fillion is always charming and fun to watch.  The Rookie has a nice blend of humor and action and some interesting characters.  I am looking forward to how this continues on after the midseason break.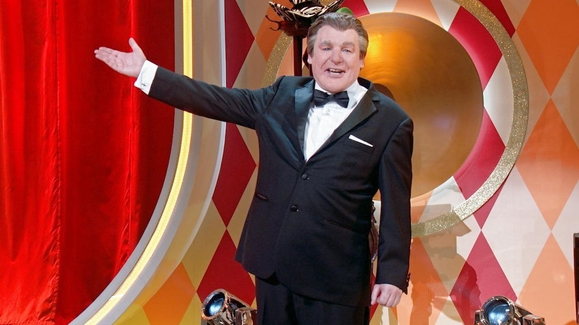 #4.  The Gong Show.  I don't know why I like this show so much.  It really is silliness, but I looked forward to it every week. Now they did make a terrible mistake by removing the Sing-a-long section with Albert (oh, how I missed Shaving Cream), but the acts were always amazing.  Michael Myers in his host costume does a great job and has a lot of fun.
#3.  Whose Line is it Anyway (CW).  An all-time classic.  This past season continued with the great comedy made up on the spot.  It was great to see old favorite return (Chip Esten made an appearance) as well as our old favorites Colin, Ryan and Wayne.
#2.  The Match Game (ABC).  Alec Baldwin is amazing as the host of Match Game.  This show is so much fun and Baldwin brings just the right amount of snark to the host gig.  The double entendres and euphemisms are really LOL but this year one contestant put Alec on the floor with her non-euphemism.  It was unbelievably hilarious.
#1. Agents of SHIELD (ABC).  This show just keeps going and getting better and better.  This year the agents found themselves in a horrific future where people believed that Quake tore the earth apart with her powers.  They had to find their way back to their world and then stop Graviton from doing just that.  Along the way, we get amazing team chemistry and the epic Phil Coulson.   With Phil and May being left off in Tahiti to await for Phil's death, the upcoming season of SHIELD could be one that makes us all sad.