Re-List!!!  Re Re Re-List!  Buzz Buzz Buzz.
The Top 10 Show provides us content that replaced the Thunderdome.  This week is the Top 10 Danny DeVito Re-List. Patreon members Ashely Prowles, Jason Bradshaw and Jake Froemsdorf provide the topic and the lists respectfully.
Interestingly enough, I have four movies on my list that are not on their of the Patreon's list… including my number 1 (that's called a tease).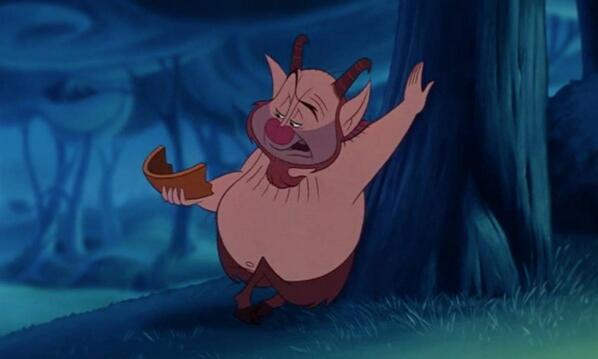 #10.  Disney's Hercules.  A great voice performance from DeVito as Phil the Satyr.  Hercules is a film that gets lost in the shuffle quite a bit, but it deserves more accolades than it receives.
#9.  Matilda.  Danny DeVito stars with his wife Rhea Perlman in this adaptation of the Roald Dahl book.  He is one of the creepiest and unlikable character in this movie and he does a great job with it.  DeVito has been typecast in part of his career playing these kind of dirtbag characters.
#8.  Johnny Dangerously.  This is a very short appearance from Danny DeVito.  He is one of the D.A's that was crooked and wound up being killed, opening the spot for Johnny's brother.  How was he killed?  He was mauled by a bull because of the red jacket he was wearing.  Insane.  This is the first of four not mentioned on the Top 10 Re-List Show.
#7.  Get Shorty.  A great movie with John Travolta, DeVito is the famous actor that criminal/mob enforcer Travolta is trying to join his movie.  This is one of the movies that Danny DeVito is producing as well.  This is quite a fun and intelligent film.
#6.  Romancing the Stone.  I cannot believe that neither person had this film on their list.  Maybe I have fond memories of seeing it when I was a kid and if I revisit it, it wouldn't be as high as I have it.  But I have not seen it for quite awhile so I only have the good thoughts.  DeVito was the slimy villain here too as he chased after Michael Douglas and Kathleen Turner.
#5.  Batman Returns.  DeVito as the Penguin was like dream casting.  The sequel to 1989's Batman was really more of a story about the villains (Penguin and the Catwoman) than it was about Batman.  And DeVito was creepy as could be as Oswald Cobblepot even while you were feeling empathy for the young and innocent baby Penguin once was.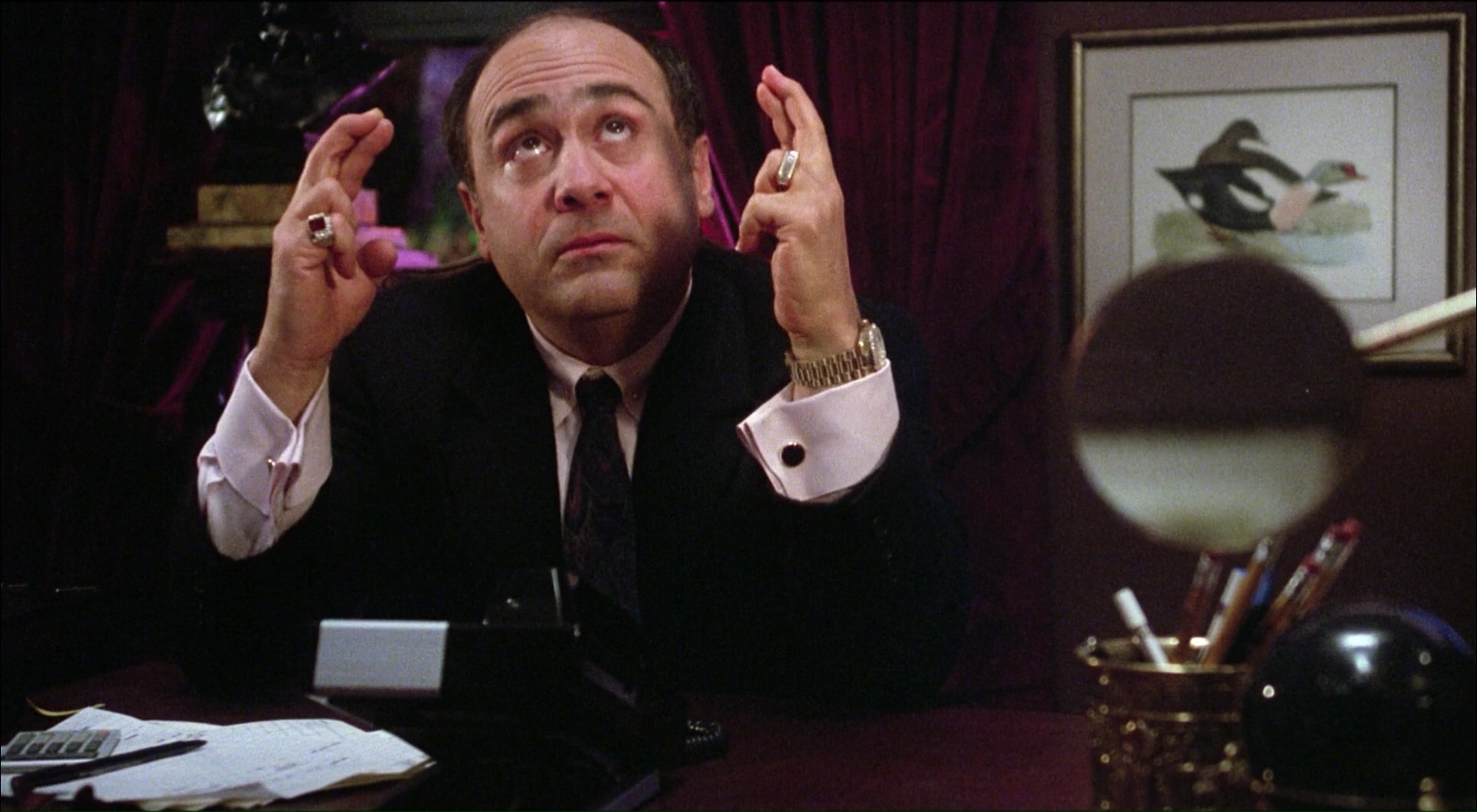 #4.  Ruthless People.  Here is the third film that was not included on anyone's list.  I love Ruthless People.  It is extremely funny and downright dark and wicked.  DeVito plays a businessman who hates his   wife and he wants to kill her.  However, she (played by Bette Midler) winds up being kidnapped by another kidnapper and all forms of craziness begins to develop.  DeVito ignores threats from the kidnappers that say if they do not receive ransom money, they would kill her.  The tables turn many times.  This is great.
#3.  Man on the Moon.  The Jim Carrey biopic about Andy Kaufman had Danny DeVito playing Kaufman's manager George Shapiro.  DeVito was, of course, one of Kaufman's cast mates on the 1970s TV show Taxi and this film gave him the opportunity to work through some lingering feeling about Andy.
#2.  One Flew Over the Cuckoo's Nest.  This is a great movie, featuring an Oscar winning performance from Jack Nicholson, and a fantastic standout performance from DeVito.  DeVito played inmate Martini.  Martini was a small role, but it was still intricate.  DeVito came right from the Broadway stage, where he had been nominated for a Tony Award, for Cuckoo's Nest.
#1.  The War of the Roses.  DeVito was the voice of the film.  He was the lawyer who was telling the sad tale of the married couple the Roses.  DeVito has been with Michael Douglas and Kathleen Turner several times and this time was a dark comedy that allowed DeVito to not be the bad guy once.  DeVito was our narrator as both friend of the Roses and as a lawyer.  His arrival at the end of the movie had me hoping he could talk some sense into the warring couple before it was too late.  Spoilers…he couldn't.  No one had The War of the Roses on their lists either and it is one of my favorites.
Honorable mentions:  Twins was good, not great.  He had great voice work in Dr. Seuss's The Lorax.  I have not actually seen L.A. Confidential as it is one of those holes in my viewing.