Finally.  We are up to the Top 30 Best Movies of 2019.
It was a great year in cinema.  Whereas I had trouble filling up the Worst Of list this year, I had plenty of choices for the Top 30.  In fact, when I started off, I had a list of 46, meaning that I had to drop 16 movies from the list.  I probably could have gone for some more too if I needed.
Honorable Mentions:  Frozen II, Motherless Brooklyn, Little Women, Harriet, Toy Story 4, Girl on the Third Floor, Eli, Luce, Glass, Fast Color, Amazing Grace, Hobbs & Shaw, Act of Self-Defense, Dark Waters, Godzilla: King of Monsters, Pet Sematary, Us, Uncut Gems.
Again, the star ratings that I give for these movies each review are not taken into consideration for placement on this list.  They do generally help me eliminate possible films, but the star rating can be so flexible and can change depending on reflection that I do not follow them.  I can also say that there are some differences on this list than on the Top 100 Best Films of the Decade.  Don't compare.  They're different lists.
Of course, I can only include movies that I have seen on the list and, while I set a record this year with 177 films, I have not seen them all.  For example, 1917 has not come here yet and, while many have that near the top of their lists, it is not on mine.
So…off we go…
#30.  The Kid Who Would Be King.  I kept this one on the list, despite there being some on the honorable mentions that I like more, because I wanted to give it some love.  It was a really decent little movie that did not get the viewership it deserved.  It was fun and smart, using the King Arthur myth in a new and original way.
#29.  Happy Death Day 2U. A sequel to a horror movie that really was not a horror movie.  It was more of a sci-fi/thriller.  This is quite uncommon to switch genres as it did and deserves credit for doing so.  It was also very funny and well written.
#28.  Hotel Mumbai.  Thrilling and intense.  The true story of how a group of terrorists seized control of a hotel in Mumbai, India and how the staff formed together to save as many people as they could.  Very violent film, but shown with great heroism.
#27.  The Lighthouse.  A beautifully shot (black and white) film with some amazing performances from Willem Dafoe and Robert Pattinson.  It was somewhat weird and out there though.  An original movie that is a real trip to watch.
#26.  Good Boys.  This movie is more than little kids swearing and talking about sexual things.  While that is part of it, the film is really more about the innocence of youth and the way that is lost as you grow.  Three young actors, Jacob Tremblay, Brady Noon and Keith L. Williams are fantastic in their roles and bring a realness to the comedy.  And it is funny.
#25.  Long Shot.  There is no way that Charlize Theron would fall for Seth Rogen, but, for some reason, it works.  You completely believe the relationship in Long Shot and this couple has amazing rooting potential.  Then, it is another really funny movie.
#24.  Judy.  I really enjoyed this movie, though it is most likely one of those movies that is enhanced by the lead acting performance.  Renee Zellweger is remarkable as Judy Garland and fills every moment on screen with her amazing portrayal.  Without her, this movie would not be nearly as great.
#23.  How to Train Your Dragon: The Hidden World.  The third film in one of the best animated trilogies of the past decade, Dragon feels like a wonderful way to tie up the story of Hiccup and Toothless.  The animation is gorgeous and the characterization is wonderful.
#22.  Parasite.  Many people have this near the top of their lists and, while I liked this a lot, I would not put it that high.  Still, it is a well done story dealing with the different class system in Korea and a mystery of exactly what was happening.
#21.  Honey Boy.  The pseudo life story of Shia LaBeouf as played by Noah Jupe.  Young Jupe had the performance of his lifetime so far and stamped himself as an actor to watch.  Shia LaBeouf, as his father, unraveled a bunch of layers to this character and continued to find amazing roles for himself.
#20.  I See You.  A film I did not expect.  I found it on Vudu and gave it a watch.  It was just amazing.  I loved the movie as it flipped my expectations several times in the movie.  As soon as I thought I knew what was happening, the film pulled the rug out from under me and I like that very much.
#19.  The Irishman.  Martin Scorsese's latest film is a deep tale of the mob and a look at a group of real life men who may have been involved in the disappearance of Jimmy Hoffa.  The de-aging involved here was amazing and we got some really strong performances from DeNiro, Pesci and Pacino.
#18.  A Beautiful Day in the Neighborhood.  This was a twist of a movie because we get Tom Hanks playing Mr. Rogers, but the movie is not really about Mr. Rogers.  While the movie is about journalist Tom Junod, but by making Tom the main character, we see more into what Mr. Rogers was like and how he had an effect on people.  A beautiful movie.
#17.  Ford v. Ferrari.  An exciting movie about auto racing, but you do not have to be a fan of auto racing to enjoy this film.  It tells the true story of how Ford Motor Company decided to try and compete with Ferrari at the 24 Hours of Le Mans in France in 1966.  Though honestly the movie is more about the Ford Company vs. its own workers.  Great performances from Christian Bale and Matt Damon.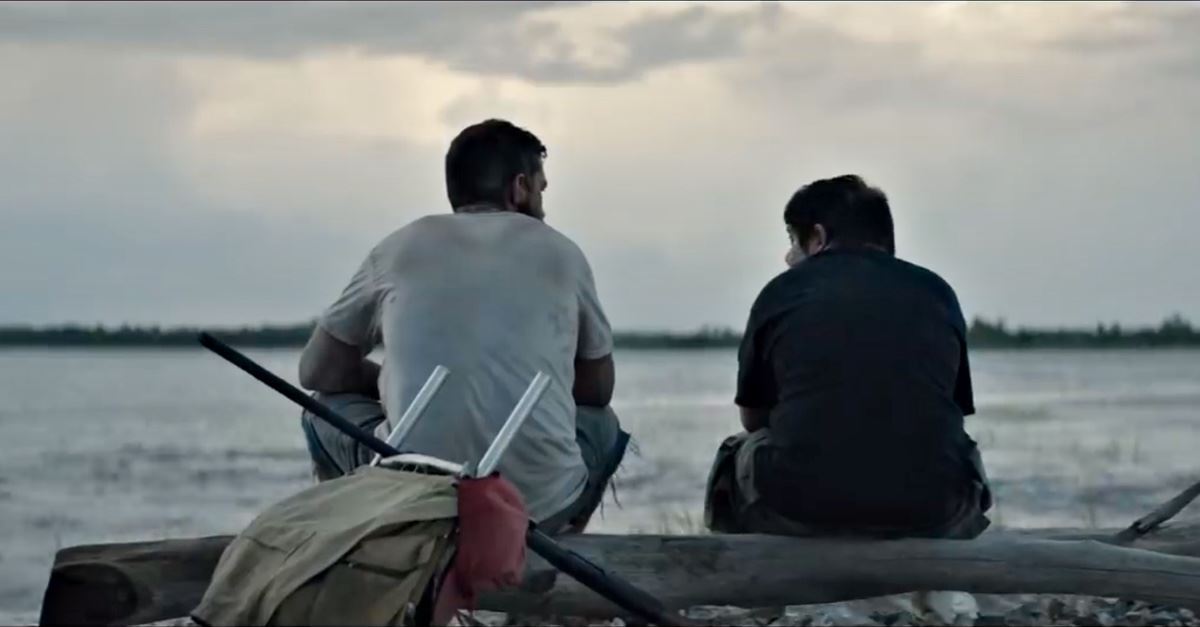 #16.  The Peanut Butter Falcon.  A beautiful story of life.  A boy with Down's Syndrome, who is being treated at a residential nursing home escapes with a plan to head south and join a professional wrestling school.  Along the way, he meets Shia LaBeouf and they bond. LaBeouf dedicates himself to helping the boy reach his goals.  It is a wonderful movie that not enough people saw.  It makes dreams come true.
#15.  Dolemite in My Name.  Eddie Murphy returned to this Netflix film that told the story of a blaxploitation actor from the 70s named Rudy Ray Moore.  Moore was determined to reach the success level he wanted and recreated his life several times to accommodate his desires.
#14.  Crawl.  I did not expect that this story of killer alligators in a flooded Florida town would be as compelling and thrilling as it was.  I know that I was white knuckling the seat arms as I watched this film.  It got perhaps more fear out of me than any other film this year.
#13.  Fighting With My Family.  The life story of WWE superstar Paige.  Paige and her brother Zac had tried to get a try out with the WWE.  They were from a pro wrestling family and when Paige was taken but Zac was left behind, the jealousy began to creep through.  Florence Pugh started her great year off with this awesome film that was another one that not enough people saw.
#12.  Captain Marvel.  I have said this before, but I will say it again.  I don;t care about the online haters who were butt hurt by something Brie Larson said out of context or because it is a female led movie, I loved Captain Marvel and I enjoyed the film.  Some of the comments were borderline stupid, and they did not affect my opinion.  Brie Larson was great.  The de-aging on Samuel L. Jackson was astounding (Clark Gregg, not so much).  I loved Goose the not-exactly-a-cat.  Captain Marvel was not a perfect movie, but the flaws were minor and did not effect my enjoyment.
#11.  Klaus.  A total surprise.  I loved this retelling of the Santa Claus story in the best animated movie of the year.  The animation was original and looked fabulous.  The story was surprisingly emotional and heart warming.
#10.  Blinded by the Light.  I found this movie just completely entertaining and full of life.  I have never been a huge Bruce Springsteen fan but I found myself swept up in the magic of the lyrics and the connections made by the music.  Great movie.
#9.  Shazam! The DC Comics film really hit it out of the park.  The story was fun and the story of the relationship between Billy Batson and Freddy Freeman.  Asher Angel and Jack Dylan Grazer are wonderful with their roles.  It was a lot of fun and filled with excitement.
#8.  Rocketman.  A musical about the life of Elton John.  The music is fantastic and Taron Egerton does a remarkable job in portraying the pop star.  There is a close look at his life, warts and all.  I found this completely fun and I loved the way they used the music in the film.  Very creative.
#7.  Marriage Story.  This did not sound like the type of movie I was going to love, but I was wrong about that.  Marriage Story was an amazing experience and it contained two Oscar worthy performances from Adam Driver and Scarlett Johansson.  There is one scene on particular that is totally out of this world.  You'll know it when you see it.
#6.  Joker.  Tom Phillips' Joker is a powerful look at how life and its innate cruelties can lead a man to slip into madness.  This movie is more about Arthur than it is about the Joker, and that is exciting.  The film is disturbing and dark, but really can be uplifting as well.
#5.  Spider-Man: Far From Home.  The first Marvel film after Endgame, Spider-Man: Far From Home dealt with the after effect of Thanos, especially in connection with Tony Stark.  We also get Peter Parker on a European vacation with his class that brings him into contact with Mysterio.  The post credit scene completely changed the movie becoming one of the most impactful post credit scenes since the appearance of Thanos at the end of the Avengers.  Tom Holland continues to give us the best Spider-Man in movie's history.
#4.  Doctor Sleep.  The sequel to The Shining sees a grown up Dan Torrance who was still having issues dealing with the ghosts of his past.  However, Danny discovered others who shared the "shining" ability he had and this lead him into a dangerous struggle to help.  This one did not do well in the box office, but it was a fantastic movie.  Ewan McGregor was wonderful as Danny and young Kyliegh Curran was amazing.
#3.  Knives Out.  Rian Johnson's fantastic murder mystery is filled with awesome characters and twists and turns.  It was another film that told you what happened only to pull the rug out from under you.  And it did it so deftly that you loved going for the ride.  Chris Evans playing a total jerk was a nice change of pace.  Lead actress Ana de Armas has a bright future ahead of her.  Enjoyed every second of this movie.
#2.  Jojo Rabbit.  Taika Waititi brought us a spoof movie that changed into a heart wrenching/ deeply moving story of love and acceptance.  Roman Griffin Davis gives a remarkably nuanced performance for a young boy, dealing with his fascination with Adolf Hitler and his own instincts which tell him the hate is not right.  Scarlett Johansson is utterly wondrous as the boy's mother.  As the film goes along, it switches tones and rips out your heart.  I actually gasped when it happened.  Taika Waititi balances everything masterfully and gives us something unexpected.
#1. Avengers: Endgame.  If you read the Top 100 of the Decade, you would know what was going to be my number one here, since I had it at number one on that list too.  No movie this year affected me more than Endgame.  I cried every time I saw it, but I did not just cry at the sad parts.  I cried with utter joy too.  When Cap used Mjolnir, the "on-your-left" bit, the "Avengers Assemble" line.  I was a total mess, but in only the good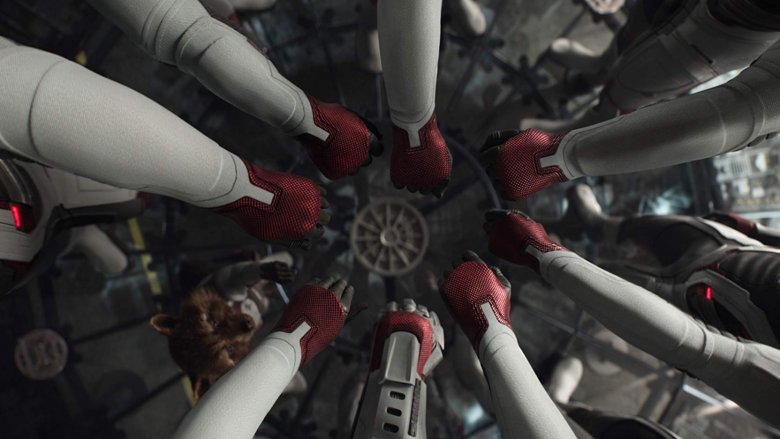 ways.  There is also so much more to this movie than some people give it credit for.  Most of this movie is a character piece that deals with these characters that we know so well over the previous 21 films in the franchise.  Bringing everything together so well showed what a magnificent job Joe and Anthony Russo did as directors and it shows how important the vision of Kevin Feige is to the success of the MCU.  I love this movie beyond anything and I cannot wait to see where Marvel Studios goes from here.