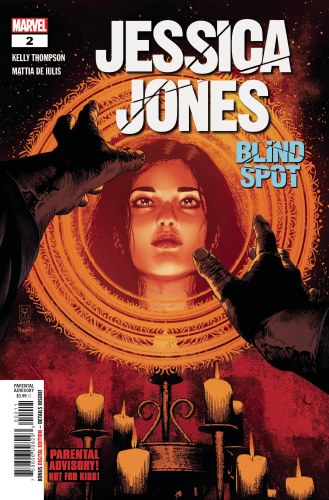 Jessica Jones: Blind Spot #2
Writer:  Kelly Thompson
Artist:  Mattia De Iulis
Cover Art:  Valerio Giangiordano & Marcio Menyz
This is my favorite book out right now.
After two issues, I love the world that they have built with Jessica Jones and the mystery of what is going on is so compelling that I really do not know what is going on.
Last issue it looked as if Jessica Jones had been shot in the head and killed.  Now, she appears to be fine, but she believes that she was dead.  But unsure why or how.
I love the guest stars, from Luke Cage to Doctor Strange and seeing how Jessica Jones interacts with them was awesome.  The voice of Jessica Jones as the books' narrator fits so perfectly.  Jones' thoughts and banter about the rest of the Marvel Universe are funny and just brilliant.
I am thoroughly entertained by the first two issues of the comic and I cannot wait to see where this story goes.  Congrats to Kelly Thompson and Angel Unzueta for this excellent comic.