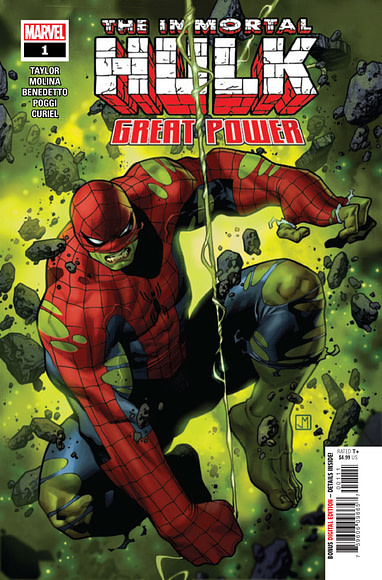 Immortal Hulk:  Great Power #1
"Great Power"
Writer:  Tom Taylor
Artist:  Jorge Molina
Cover Art:  Jorge Molina
I love Spider-man.  He is my favorite character ever.  I love the Immortal Hulk series that Marvel has been putting out the last few years.  Putting them together was always going to be a great issue.  This stand alone issue goes even further.
Why?  Because it is written by Tom Taylor, who just finished a run on one of the best Spider-Man titles ever, Friendly Neighborhood Spider-Man.  I am not sure I have ever read a writer who gets Spider-Man more than Tom does.  That shines through in this issue as well as it did in that series.  Then, throw in the Hulk goodness and you've got yourself a fantastic story.
Spider-man gets turned into the Hulk.  It is amazing.  There is an epic cameo from Loki as well, playing the basic Loki character we got in the recent Loki series.
It is kind of funny how every time Spidey turned into Hulk, his one eye piece gets broken.  There is a running joke about pants that is just laugh out loud funny and a joke that you may not think about.
I truly thought this was fun and dramatic.  I would read anything Tom Taylor writes that has Spider-Man in it.  This was great.