The world of WWE in 2020 had some highs and a bunch of lows. I will discuss my choices for best in WWE, which includes the NXT brand. I do not watch other wrestling companies so I cannot include AEW or any of the others. No offense to anyone who prefers non-WWE.
Match of the Year
By the way, I separated out the Cinematic matches from this list. They will have their own list later.
#15. "The Fiend" Brey Wyatt defeated Daniel Bryan, Royal Rumble. These two never fail. I actually believed that Daniel might beat the Fiend.
#14. Roman Reigns defeated Jey Uso, Clash of Champions. One of the best story telling matches of the year. So much emotion and great acting from the wrestlers.
#13. Drew McIntyre defeated AJ Styles and Miz, TLC. From last night. Drew McIntyre has been a huge performer this year for RAW. Miz failed in his Money in the Bank cash-in.
#12. Sasha Banks defeated Bayley, Hell in the Cell. The great feud between former friends came to a conclusion as Sasha Banks won the Smackdown Women's Championship.
#11. Timothy Thatcher defeated Matt Riddle in Fight Pit, NXT Takeover. Brutal match. This was Matt Riddle's final NXT match and holy crap. Thatcher lost teeth!
#10. Roman Reigns defeated Kevin Owens, TLC. Another one from last night. Roman Reigns and Kevin Owens are amazing storytellers and the TLC match was brutal. KO had so many challenges to overcome, and he came up just short.
#9. Women's War Games Team Candice defeated Team Shotzi, NXT Takeover: War Games. Some thought this was the best match at NXT Takeover War Games, but I disagree. It was amazing though. I have to say the use of the tool box took me out. Surprise ending too.
#8. Walter defeated Ilja Dragunov, NXT UK. Holy crap. I am not sure that I have seen two people just beat the crap out of each other like these two did. The chops were savage. It feels as close to a real fight as you are going to find.
#7. AJ Styles defeated Daniel Bryan, Finals of Intercontinental Tournament, Smackdown. Best regularly televised match of 2020 (non-PPV). Daniel Bryan and AJ Styles are masters of their work and this match was beautiful.
#6. Roman Reigns defeated Drew McIntyre, Survivor Series. What a great match. I want a longer feud between these two. It was between the two biggest stars of the year.
#5. Miz and Morrison win the Smackdown Tag Team Championship Elimination Chamber. Featured The New Day (Big E and Kofi Kingston), The Usos (Jey Uso and Jimmy Uso), Heavy Machinery (Otis and Tucker), Lucha House Party (Lince Dorado and Gran Metalik), and Dolph Ziggler & Robert Roode. Some amazing work here from some top notch tag teams.
#4. Randy Orton defeated Edge, Greatest Wrestling Match Ever. Greatest Wrestling Match Ever is #4 on my list. Promoting this match that way was always going to be a poor choice, but the match was sensational.
#3. Io Shirai defeated Charlotte Flair and Rhea Ripley for NXT Women's Championship, NXT Takeover. Io Shirai became the NXT Women's Championship in a fantastic match with Charlotte and Rhea. Shirai was flying all over the place. Top women's match of the year.
#2. Men's Royal Rumble. Drew McIntyre won the event and had one of the best moments of 2020, before the crowds went away. McIntyre's elimination of Brock Lesnar, who had been ripping through the first half of the Rumble.
#1. Men's War Games The Undisputed Era defeated Team McAfee, NXT Takeover. I thought this was so epic. The eight men put their bodies on the line, but they also told a great story about the Undisputed Era and their battle to remain in control. It was amazing.
Male Wrestler of the Year: Drew McIntyre.
Runners-Up: Roman Reigns, Adam Cole, Keith Lee, Braun Strowman, Brey Wyatt
I went back and forth between McIntyre and Reigns. I decided for Drew McIntyre as winner here because he has been there the entire year and Roman has only been here since SummerSlam. However, Roman has been so great since. The others on the list were far from the top two.
Female Wrestler of the Year: Asuka
Runners-Up: Bayley, Sasha Banks, Charlotte Flair, Io Shirai.
Asuka was the clear MVP for RAW on the women's side of the ledger during the no audience time. Her victory at Money in the Bank was great and then she stepped into the role left by Becky Lynch, who left to give birth. Bayley is a close second as she embraced that heel role and she had an amazing story with her partner and enemy Sasha Banks.
Tag Team of the Year: The Street Profits.
Runners-Up: Undisputed Era, The New Day, The Viking Raiders, Miz and Morrison
Tag Team wrestling has not been great this year, but The Street Profits have been one of the top stars of the division. Undisputed Era has been a focus on NXT all year long. The New Day split with Big E and took a new step.
Manager of the Year: Paul Heyman
Runners-Up: MVP, Pat McAvee
The manager has been a role that has seen better days. However, when the reveal of Roman Reigns being a Paul Heyman guy happened, the internet exploded. Heyman has been one of the best managers (even though he was technically an advocate.)
On the Mike: Roman Reigns.
Runners-Up: Paul Heyman, Kevin Owens, Daniel Bryan, Brey Wyatt
Roman Reigns has elevated the storyline that he has been involved in by his speaking/acting. Roman has shown that he truly is a talented dude.
Feud of the Year: Orton vs. Edge.
Runners-Up: Sasha Banks vs. Bayley, Roman Reigns vs. Jey Uso, Drew McIntyre vs. Randy Orton, Roman Reigns vs. Kevin Owens, Adam Cole vs. Pat McAvee
The one on one promo battle leading up to Wrestlemania this year was as brilliant as you are going to find. Orton and Edge showed their veteran work.
Underused: Cesaro
Runners-Up: Elias, Chad Gable, Shinsuke Nakamura
I could just start calling this the Cesaro Award. I think he is one of the winners of this every year. It is just a crime that this man cannot find himself into the main event scene.
Comeback of the Year: Edge.
No other choices here. Edge's return was unbelievable. Nine years later. He came back better than ever.
Face of the Year: Drew McIntyre.
Runners-Up: Daniel Bryan, Dominik Mysterio, Kevin Owens, Otis
Drew McIntyre was booked better than anyone this year. He may not be a specific face in peril type of wrestler, but he has been so fantastic all year.
Heel of the Year: Roman Reigns
Runners-Up: Sami Zayn, Randy Orton, Bayley, AJ Styles
Roman Reigns came back as a heel, which is what everyone always wanted, and he was absolutely brilliant at it. You wonder why this hadn't happened before this.
Storyline of the Year: Roman Reigns, Head of the Table.
Runners-Up: Sasha and Bayley break up, The Fiend and Alexa Bliss
Roman Reigns' heel turn is the best of the year and his determination to being called the head of the table truly has determined his character.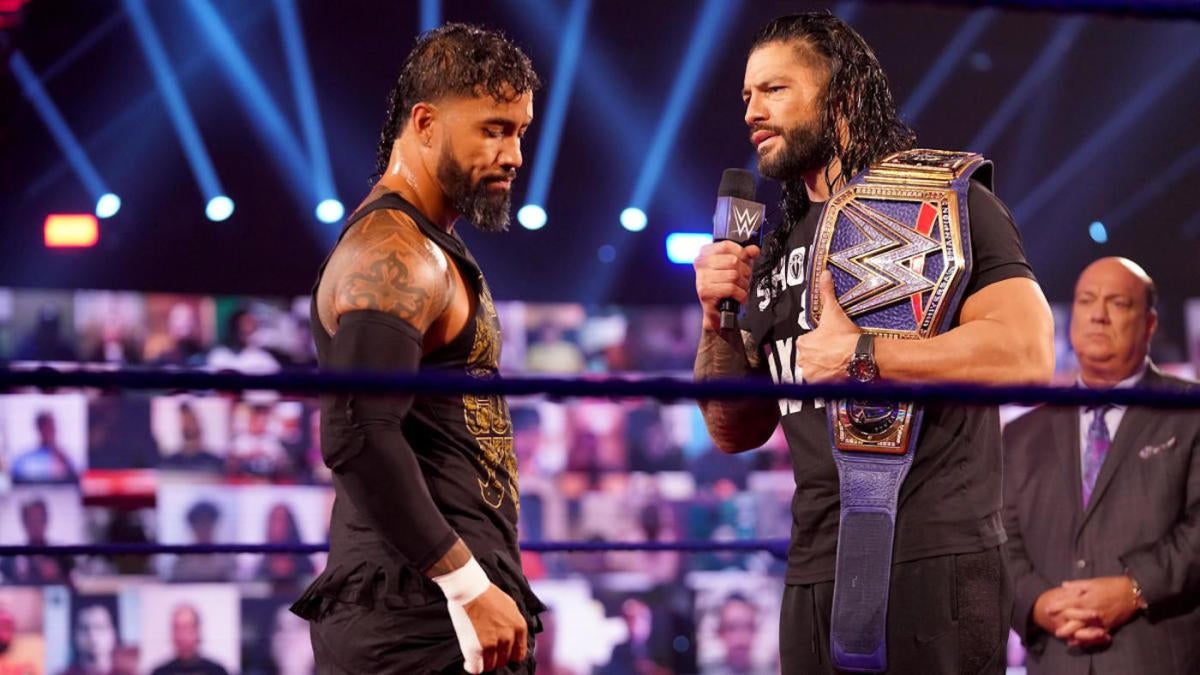 Best Match/Worst Finish: Seth Rollins vs. Rey Mysterio, Eye vs. Eye Match.
This match at Extreme Rules was really great, but that finish…woof. The fake eye hidden in Rey's hand was just ridiculous. Not the way to end this hard hitting and exciting match.
Breakout for 2021: Karrion Kross.
He was here for a bit in 2020, got injured and now is returning and Karrion Kross, whose entrance is the best in the business, is going to be huge in 2021. I do not think he will be in NXT for long before arriving on the main roster. How about Kross vs. McIntyre? Whoa.
Best Broadcaster: Samoa Joe.
Samoa Joe has been a revelation on the desk. He has made the RAW team so much better with his commentary and his humor. Though I want him back in the ring, if he cannot, then the desk is great for him.
Top 4 Cinematic Matches
#4. Gargano vs. Ciampa, One Final Beat.
#3. Firefly Funhouse Match, Brey Wyatt vs. John Cena, Wrestlemania
#2. Money in the Bank Ladder Match (on the roof).
#1. Boneyard Match, Undertaker vs. AJ Styles, Wrestlemania.
The Boneyard Match might have been the overall match of the year if I combined the lists together. AJ and Taker brought it and it looks as if it will be the final match of the Undertaker's glorious career. This was like a huge accomplishment and, apparently, a very difficult filming (as the Undertaker reveals in his exceptional documentary series, Last Ride).