SPOILERS FOR PEACEMAKER EP. 5
"Monkey Dory"
I wrote in the first review of Peacemaker that I wondered if the opening credits would get old as the series progressed. I am here to say that it, 100% DID NOT get old, and I loved it still. I have spent time watching it on YouTube too.
Last episode was my favorite of the series. This week, the episode was still great, but I did not love it as much as I did last week. It seemed to ignore the issues that Peacemaker was dealing with at the end. It started with Chris with a hangover, and Eagley trying to help his friend out (that was awesome). The depression that Chris seemed to be in just disappeared. Again, I was into the episode, but that felt a little jarring.
Once into the episode, the team went into a Butterfly stronghold, the one discovered by Leota last week, to bring it down. It was an awesome scene where Peacemaker put to good use one of the helmets he took from his father's workshop- the one with X-Ray vision. He could see the Butterflies in the people's skulls which allowed him to shoot away.
We then came across the missing gorilla from last week's news report as the gorilla attacked the group and was wrecking the shit. This was a chance for Peacemaker to finally accept John Economos, who saved them from the gorilla by using a chainsaw from behind (to the envy of Vigilante, who had held the chain saw earlier, wishing he could kill people with it). They had a confrontation in the episode over Economos's frame job on Chris's father and Chris gave a long (LONG) list of people he could have framed instead of his dad. That was both fun and excessive.
Yet, it seemed as if we had some team bonding after the successful chainsaw murder of Charlie the Gorilla.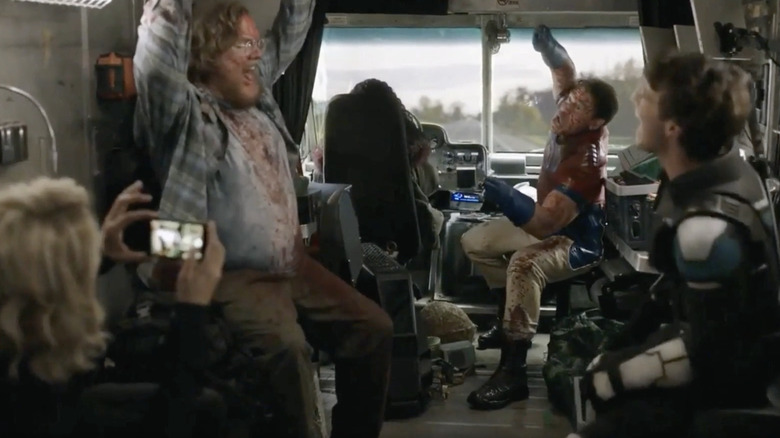 Leota, however, has been having a lot of guilt over what she has been doing during this job. Her conflict is fascinating, especially since she is the daughter of Amanda Waller. She and Peacemaker are very similar in a lot of ways and they are creating a friendship of mutual respect and connection (but Leota is still doing things that she hates).
Leota ended up back at the office where she put on Peacemaker's X-ray helmet just to mess around and she accidentally sees the Butterfly in Murn's head, leading him to chase after her out into the street.
They left off here at a "scream-out-loud" cliffhanger moment.
Episode five was great. I just think that episode 4 was SO awesome that it was never going to reach that level. This is still the series that I am currently looking forward to more than anything.