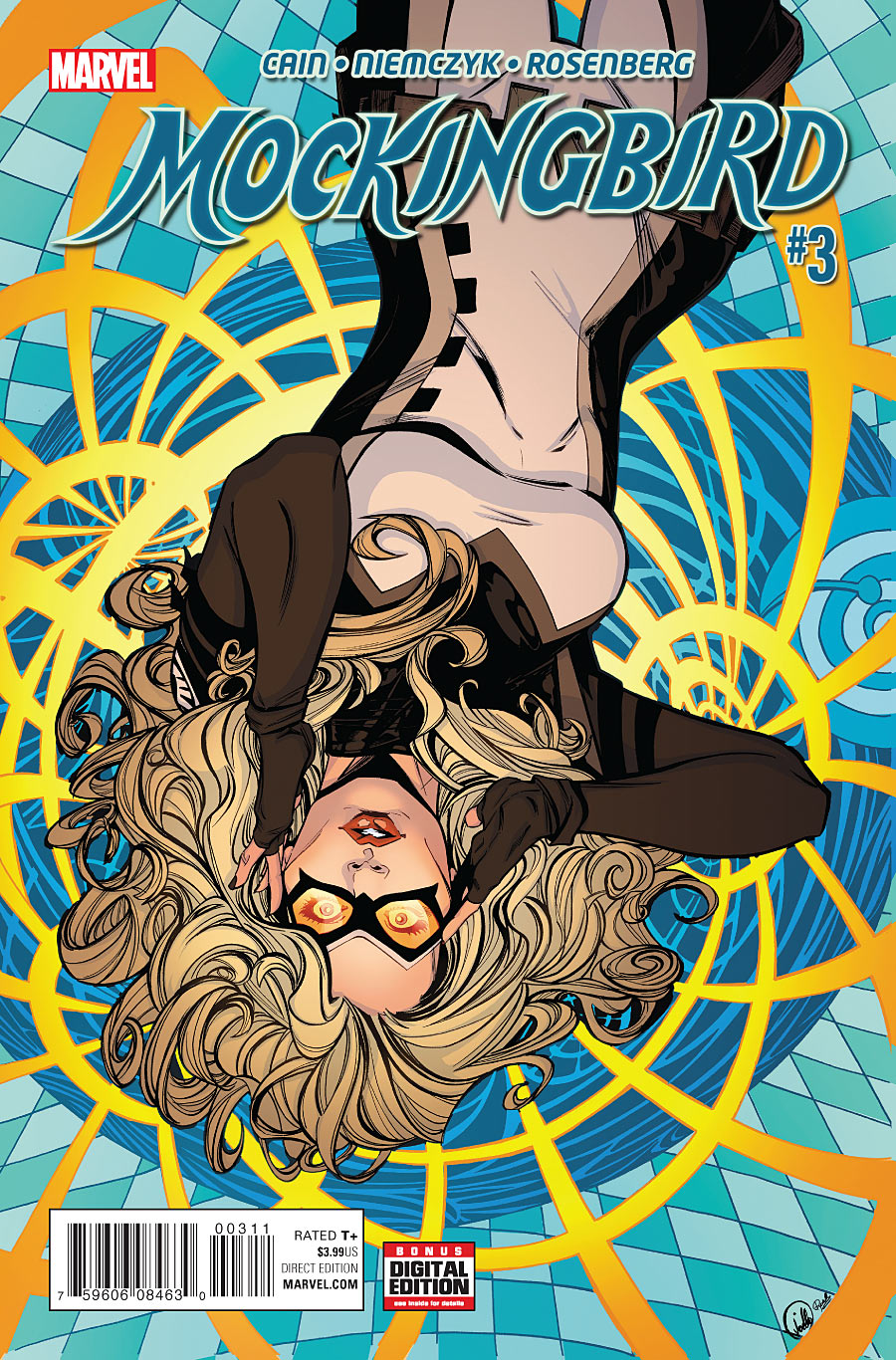 Mockingbird, aka Bobbi Morse, is one of my newest most favorite comics published by Marvel Comics.
I just picked up the first four issues of the series at Comic World this past Wednesday.  I was unaware it was being published and had missed out on #1.  I have always liked Bobbi, from the days of her marriage to Hawkeye to the newest version of her on ABC in Agents of SHIELD.
So I definitely wanted to give this a try.  Issue #4 came out this past Wednesday, and I had to pick up all four books.
How marvelous they were.
Written by Chelsea Cain, art by Kate Niemczyk and inking by Sean Parsons, Mockingbird present our heroine in a new way.  She is smart.  She is funny.  She is sarcastic.  She is very much like the character from Agents of SHIELD.
And I loved it.
In fact, number one was a very intriguing issue.  The story really did not make much sense.  Bobbi was required to come into SHIELD for a weekly medical exam, but we were not sure why or what was going on.  We saw her arrive several times in several different outfits and we saw some really strange things.
In the letters page, Chelsea referred to the issue as a "puzzle box."  The next four issues will come out and you will start to understand what you read in issue one.  It was a clever way of writing and really helped to engage me as a reader.
We also met Lance Hunter, another character from the TV show, and the chemistry on the page was as sharp as it is on screen.  Issue four saw the appearance of Clint Barton and it reminds us how great Bobbi and Clint were together all those years ago.  I don't know which one of the men I like with Bobbi better.  But either one is not needed.  Bobbi is special by herself.
I loved this series and issue five is supposed to reveal the remaining parts of the puzzle box.  I cannot wait.