Welcome back to the TV Week that Was.  Tonight is a big night on television as the Academy Awards are to be presented on ABC.  I will be watching the Oscars tonight on ABC, while live streaming the crew from Screen Junkies.  I did that last year and it was quite enjoyable so I have been excited about it since they announced that they were doing it again.
We had double sad news in the world of television today.  Bill Paxton (who may be more well known from his movie roles, but I will always remember as John Garrett on ABC's Agents of SHIELD) and Judge Joseph Wapner from The People's Court died today.  RIP to these legendary men.
This week in TV started off strong with the return of Bates Motel.  And we see that Vera Farmiga is going to still be a huge presence on the show despite her character of Norma Bates being killed in the penultimate episode of season 4.  The "spirit/delusion" that hung out in the house was great, chastising Norman for going out and leaving her alone.  The final season of Bates Motel is off to a great start.
Speaking of Agents of SHIELD, it ended its storyline arc of the LMD with the most insane episode that I have ever seen.  There were remarkable emotional moments throughtout, barely giving you a chance to process what was going on.  The confrontation between LMD Fitz and Simmons, Simmons and Daisy finding each other, the confrontation between LMD May and LMD Coulson, the fight between Daisy and LMD Mace, the use of Daisy's powers to take out Mac and Coulson, the reveal that Fitz not Daisy was the LMD, the murder of Radcliffe by Aida and, of course, the unbelievable scenes inside the Framework where our minds were blown!  Ward?  Simmons dead?  May in Hydra?  What?  Agents of Shield does not return until April and that feels like way too long of a wait.
I have not been watching The Flash as much this season as I have in the past, but I found myself back on the viewership of the show as Flash and his friends headed to Earth Two to save Harrison from Gorilla City.  Gorilla Grodd has always been one of my favorite villains in DC and the draw of this episode had me searching out the CW for Flash.  It being a two-parter did not hurt either.  Next week's episode looks tremendous so I expect to be watching it next week as well.
The standout moment from last week's The Walking Dead was definitely the reunion of Daryl and Carol in her little house just outside of the Kingdom.  I'm not sure how I feel about Daryl lying to Carol about the Saviors.  I understand why he did it, but hiding the fact that Glenn and Abraham were killed by Negan might be worse later than now.  Sure, Carol had said that if anyone else of their people suffered, she would go kill everyone and lose herself, but lies have a tendency to come out.  Will that affect their sweet friendship?  I hope not.   By the way, it was fun to see how Daryl and Shiva the tiger were seeming to bond.  I see a scene down the road where a rampaging tiger may save everybody's favorite redneck.
Oh, there was also this….Winslow the spiked zombie…
Rick held him off by letting one of those spikes get driven through his hand.  Ouch.  Comic readers wondered if this would lead to Rick losing that hand like he has done in the comics.  That is a "we'll wait and see" item.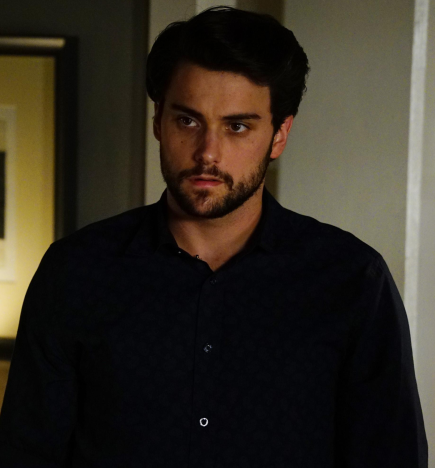 We know know who killed Wes on How to Get Away with Murder after its two hour season finale on Thursday.  I must say that the reveal of the killer, a friend of Laurel's, hired by her father, was a bit anticlimactic to me, although what led up to that reveal was tremendous.  Connor being "kidnapped" by the DA who was revealed to be working against Annalise was quite the twist.  For a while, I thought he was going to be the killer.  Peter Nowalk (Connor) and Conrad Ricamora (Oliver) delivered knockout performances.  It was also nice to see Annalise get her groove back, if only partially.  Viola Davis is tremendous in this role and I am cheering for her tonight at the Oscars for the Supporting Role she had in Fences.
I have really enjoyed the new version of The Match Game, starring Alec Baldwin.  I did not expect to like it much, despite how much I loved the original version with Gene Rayburn.  However, the show is funny, just as risque as the original and shows how much fun you can have with celebrities and liquor.  I would kind of like to have a couple of regulars among the rotating celebrity cast like the original had with Charles Nelson Reilly and Brett Sommers, but when the show gets a cast like last week's, where they clearly enjoy being together, it can really make magic.  This is a perfect replacement series for the summer or during hiatus.  I hope Match Game has a long life on ABC.
This past Friday was the 28th anniversary of Agent Dale Cooper entering Twin Peaks and in honor of the amazing news, Showtime released two posters promoting the upcoming series revival.  The show will kick off with a two parter on May 21st on Showtime.
Can't wait for this!!!!
Have a great week and happy viewing.