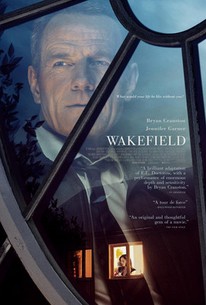 Have you ever felt trapped inside your own life?  In the film Wakefield, Bryan Cranston explores that very theme by taking a step outside and looking within.
Howard Wakefield (Bryan Cranston) is a successful businessman with a beautiful wife Diana (Jennifer Garner) and a perfect family home.  However, there are signs that not everything is right.  Howard is very jealous of any attention Diana receives from other men, but he plays it off as a game that the couple plays, ignoring the trouble within their marriage.  One evening, Howard returns home from work and finds himself in the attic of his carriage house garage, staring out a window at his house.  This view gives Howard a new insight into the life that he had.  He stays hidden in that attic for months, scavenging at night for food, as he grows more isolated by the day.
Bryan Cranston is very good in this role, carrying most of the movie with his performance and his internal monologue.  Howard Wakefield is not the most likeable character, but you can relate to him because of Cranton's excellent work.  Cranston shows you the isolation, first the figurative isolation he felt while in the marriage- a feeling that was suffocating him- and then the literal isolation he imposed upon himself in the attic.  You see how his new life of "freedom" reinvigorated him while the glances at his old life through the window maintained an anchor in case he wanted to return.
This movie was adapted by writer-director Robin Swicord from a 2008 short story by E.L. Doctorow, and Swicord does a lot with a minimal approach, depending on the skills of Cranston to carry most of the film.  Swicord avoids many of the cliches that you might expect from this, especially at the end, which was both infuriating and perfect.
Wakefield is an intricate character study of a man in midlife crisis who takes drastic action.  The performance of Bryan Cranston is the main reason to see this movie.  Some might find the film dull, but the "Rear Window"-like quality allows the audience to watch along with Howard in deciding exactly what his life is like.  You feel the isolation and the feeling of being lost from him, despite seemingly having it all.
3.9 stars