Lots of shows to talk about this week.
Mindhunter debuted on Netflix.  I love the book Mindhunter by John Douglas that this series is based on.  The focus on profiling the serial killers was something that fascinated me so when I heard that this was going to be a Netflix series, I was very excited.  In this very busy weekend, I have not been able to binge the whole series, but I made it up to about episode 7 and I have to say that I am really enjoying this.  I love the two main characters, Holden and Bill.  They are based on the real life FBI agents John Douglas and Robert Ressler.  The interviews they had with these serial killers were constantly enthralling.
We returned to Riverdale on the CW this week with a great start to the second season.  We see the result of the season one cliffhanger of Archie's father Fred being shot at Pop's.  Fred survives the supposed robbery, which is looking more and more as if it were something more than just a robbery.  The end of the episode saw the return of the masked man who had shot Fred, strangling Miss Grundy to death.  Who is this masked murderer and what is his motive?  Does he have some kind of vendetta against Archie?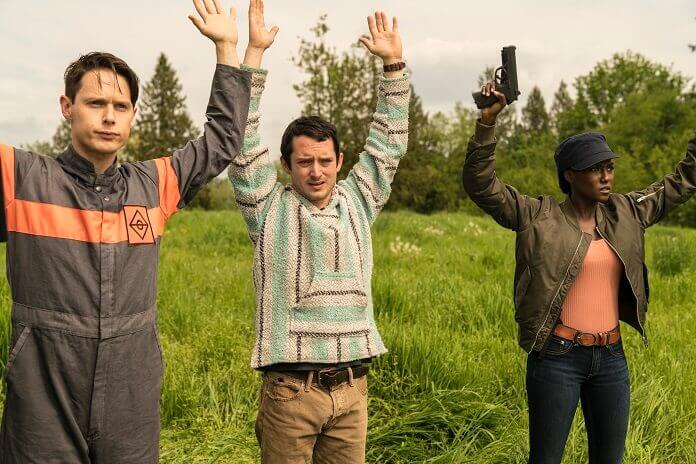 Saturday night saw the return of Dirk Gently's Holistic Detective Agency on BBC America.  Max Landis's adaptation of a Douglas Adams book is all kinds of weird, but Landis promises us that everything has a reason and that it will all make sense as the season progresses.  Meanwhile, there are some really entertaining moments with Dirk and Todd.
Mr. Robot returned Wednesday on USA Network.  After a weaker season two, the premiere episode of season three felt like it was getting back to basics.  There were several hints that the show was preparing to "reboot" and start things over, though I have no idea what that might entail.  Elliot talked about wanting to "fix" things and he seemed to believe that he could do so.  Of course, "Mr. Robot" himself is fighting against Elliot. This felt like a welcome change for the show.
The Inhumans need a reboot too.  So far, four episodes in, this show is a hot mess.  It feels as if there may be a story there somewhere, but it is lost in this series with so many dumb side stories that really serve no benefit to the story. The Karnak love story?  The Hawaiian hit squad that Gorgon had found?  Mortis is just a ridiculous villain.  Medusa is either a fish out of water or she knows exactly what the earth item is used for.  Crystal is just wooden as can be.  We even do not have the best part of the show, Lockjaw, as the poor dog got hit by a car.  This has just four more episodes left to straighten itself out.
A show that has straightened itself out is Gotham.  After two very inconsistent and cheesy seasons, last year's got so much better.  This season has continued as we got an emotional showdown with Bruce and Ra's Al Ghoul.  We also got some exciting scenes with the Penguin and the Riddler.  Gotham continues to move closer to the Dark Knight as Bruce Wayne is developing his heroic self.  So if Gotham can do it, maybe Inhumans can do it as well.
Scandal had a better second episode than the travesty of the season premiere.  Olivia Pope however continues to be a completely different character than the one who we all fell in love with.  One wonders if Olivia will eventually be saved by the returning former President Fitz Grant, who showed up on her doorstep at the end of the season.  Oh, and by the way, Olivia was making out with the reporter Curtis on the way to her apartment.  The show had an entertaining state dinner with a President of a Middle Eastern country that Mellie wants to sign a nuclear peace treaty.  We also had a loose parody of Trump with Dean Norris as a new character, a billionaire thinking about a run for political office that Cyrus took care of.  And there was a really funny moment between Mellie and Olivia talking about vibrators.  No really.
The Mayor had a pretty good second episode and may have solidified a spot on my queue for watching.  The show dealt with a city cutting music program despite the new rap mayor's promise to fund new music equipment.  Courtney tried to execute a filibuster to prevent the vote from happening.  The show depends on its cast and it does a great job being entertaining. The show has been funny and lighthearted fun.
Aaron Mahnke's podcast has transformed into a new series on Amazon called Lore.  The six episode series focuses on real life events that lead to our darkest fears and some of the legends of the world.  The first episode showed how a certain case led to the inspiration for vampires.  Again, I was only able to see the first three episodes of the series since the weekend was so packed, but it was a very chilling show.
Dodgers and Cubs are playing the National League Championship Series while the Houston Astros play the New York Yankees.  At this point, LA leads 1 game to 0 and Houston leads 2 games to 0.
Next week-  The Walking Dead returns.