Okay, here comes the hardest of the categories of television to determine.  The Top 20 Streaming Shows of 2017.  This includes series from Netflix, Hulu, Showtime, HBO, Starz, and Amazon Prime.
Here is the problem.  There is legitimately 5-6 shows on these services that could, arguably, be the number one show.  It seems like every week Netflix is putting out a new series to binge. It is tough to keep up.
So this is my list of 20 series.  It is quite possible that I have forgotten something.  For example, I did forget to include Sherlock (BBCA) on the cable list.  Sherlock happened early in 2017 and it slipped my mind, however, it was truly wonderful.  Looking at the cable list, it would probably have come in around #4 or 5.  And that wasn't even the number of shows available as is on these streaming services.  If I forget one or two, my apologies to them.
I started compiling the list by pulling out what I considered the bottom 5.  Shall we start…
#20.  Big Mouth (Netflix).  A good year for animation, this takes all the controversy and shock value of shows like South Park and Family Guy and amps it up to 11.  Very dirty and yet very funny… this is what adolescent children are really like.  And make sure you stay away from that pillow.
#19.  Castlevania (Netflix).  One of the best adaptations of a video game put together ever.  The short four episode series left the audience wanting more.  We had Dracula in the first episode and just not enough of him the rest of the way.  But Castlevania is coming back for season two so hopefully there will be further excitement coming.
#18.  House of Cards (Netflix).  Oh how the mighty have fallen.  This show was once in the top five, if not higher, but it has not aged well and it suffers from not being as wild and corrupt as the real world politics actually are.  It is too much like our current world and House of Cards is juts not the fun escapism that it once was.  Plus, you know, Kevin Spacey.
#17.  Iron Fist (Netflix).  This was the first chink of the armor of Marvel.  Up until Iron Fist, everything Marvel did was praised and loved by the masses.  Iron Fist ended that streak.  I still say that Iron Fist was not as bad as the world made it out to be, but there can be no denying that it simply did not measure up to Daredevil, Jessica Jones or Luke Cage.  I do have hope that they learn from the mistakes of season two and elevate this material, because Danny Rand deserves a huge hit.
#16.  Comrade Detective (Amazon Prime).  This was so funny.  You had what was billed as a series from the 1980s that aired in Communist Romania during the midst of the Cold War. Supposedly, this series was discovered and dubbed in English.  With the voices of Channing Tatum and Joseph Gordon-Levitt, the series promoted Communist ideals while having a seriously epic mystery story.  Comrade Detective was a wonderful surprise that few were expecting, but all enjoyed.
#15.  The Defenders (Netflix).  The Defenders was supposed to be the Avengers of the Netflix series, and it was sort of.  The show was fine, but there was just something that was missing.  It was not near as epic as it could have been. Still, we got the uniting of Luke Cage, Daredevil, Iron Fist and Jessica Jones, and the four of them together really was cool.
#14.  A Series of Unfortunate Events (Netflix).  A series from the very early part of the year, Netflix adapted the Lemony Snicket books into an awesome series with Neil Patrick Harris returning to the over the top world of villainy as Count Olaf.  Plus, the addition of the narrator, Lemony Snicket himself, as played by Patrick Warburton was a stroke of genius.  The series did deviate from the books and the Jim Carrey movie somewhat, so you can watch them all and still be surprised.
#13.  Santa Clarita Diet (Netflix).  This is extremely dark and funny.  Who would ever think that they would see Drew Barrymore chewing away on the dead body of a man?  And that it would be hilarious.  Drew gets turned into a type of a zombie and craves human flesh, but she clings to her humanity as her husband, Timothy Olyphant, desperately tries to save her.  But does she want to be saved?  How does her new form affect her family dynamic?  This was another awesome surprise from Netflix.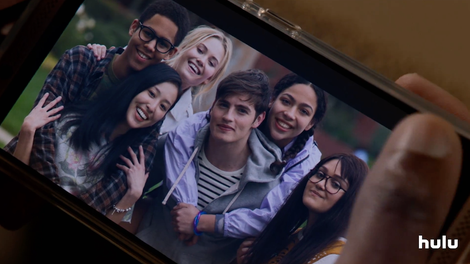 #12.  Runaways (Hulu).  Marvel television had some setbacks in 2017 (especially Iron Fist and Inhumans) but they were back on their winning ways with the adaptation of the comic series Runaways.  It has been a slow burn so far into the season (8 episodes in and they haven't run away yet), but I like how they are focusing on the characters.  And not just the characters of Chase, Molly, Gert, Karolina and Alex, but also their parents.  Their parents are not just the stereotypical evil villains.  They are real people who have made bad decisions and decisions for selfish reasons.  Plus, the show has Old Lace, the dinosaur.  Amazing!
#11.  The Keepers (Netflix).  I was so compelled by this 7-episode documentary series about this cold case from the 1960s that I could not believe it.  The series tells the story of the unsolved murder of Cathy Cesnik, a beloved nun and Catholic high school teacher in Baltimore.  But it turned into more than just a decades old murder case.  It looked at religion, the sexual misconduct by priests and other religious leaders and presents a haunting tone that sticks with you.  You cannot help but wish for more of a resolution than what you get and you will be thinking about Cathy for days after.
#10.  Orange is the New Black (Netflix).  A consistent show, OITNB had a tremendous season with the riot at the prison putting the power into the prisoners' hands.  What followed was a remarkable commentary on humanity and how these few freedoms could really affect how you are as a person.  The series left all of our main characters in a desperately precarious position as the police were on their way into the prison.  Who would live and who would die?  I guess we have to wait to find out.  Orange upped its game again this season.
#9.  American Gods (Starz).  The adaptation of the Neil Gaiman novel was startling good television despite the fact that the whole first season was nothing more than set-up for season two.  It took us the entire season to reveal that Ian McShane's character was Odin.  The show also had perhaps one of the best performances Gillian Anderson has given in quite a while as one of the present day gods who showed up as Lucy Ricardo or David Bowie.  Well see what season two has in store for us.
#8.  13 Reasons Why (Netflix).  The adaptation of a YA book turned into a sensation on Netflix.  Dylan Minnette and Katherine Langford were truly wonderful in their roles as tortured teens, one listening to the suicide tapes made by the other.  It is a tragic story that still manages to show how important life can be and how it is important to treat each other with respect and love instead of with callousness and disrespect.  There will be a season two, but I kind of wish they would have left the powerful series as a one and off.  We'll see what happens.
#7.  Mindhunter (Netflix).  I have a hard time putting this at number seven because it was so great.  Based on one of my favorite books of all time, this follows the character of Ford, an FBI agent who helps revolutionize a style of interview that would lead to the ability to profile serial killers, rapists and bombers.  The series is outstanding and includes several actors playing real life serial killers.  Mindhunter was a new way to look into the depth of the human mind.
#6.  American Vandal (Netflix).  This is one of the most original series of the year.  A spoof of the Making a Murderer type of documentary, American Vandal follows an investigation searching for the truth of who spray painted a bunch of penises on the cars of a school's faculty.  The mockumentary style is perfect for this subject matter that keeps you laughing with each and every unbelievable twist that the series throws at you.
#5.  Glow (Netflix).  Only at number five?  I never would have guessed, because this series that tells the real life story of the Gorgeous Ladies of Wrestling is some of the best television we have seen in years.  The wrestling part is so authentic that I, as a wrestling fan, had to stand up an applaud.  And the characters are so deep and amazing.  Alison Brie is the star but the real scene stealing performance was from Marc Meron as the "creative" force behind the show.  GLOW was more than a wrestling program, but it also showed what people can see in wrestling.  It is a special series.
#4.  Stranger Things 2 (Netflix). There was some concern that the second season of Netflix's Stranger Things would not live up to the first season.  Season one came out of nowhere to be a cultural phenomenon.  However, that worry quickly subsided as I think the second season actually exceeded the first, especially with the tour de force performance from Noah Schnapp.  Noah had the least amount of screen time in season one, but here he was front and center and delivered a performance that many seasoned adult actors would wish they could do.  He displayed the full range of emotions and broke your heart with his struggles to overcome the evil within him.  Stranger Things was an epic success.
#3.  The Tick (Amazon Prime).  The return of the Big Blue Super Hero known as the Tick brought the humor of a super hero spoof back to our screens once again.  Improving upon the original pilot, The Tick brought us a great adventure with our favorite arachnid themed super hero (not including a spider) and his sidekick, Arthur.  Arthur continued to be the focus of the story, and we got some answers to those nagging questions such as Is this all just in Arthur's mind? or Is the Terror dead?  The next six episodes of The Tick will drop in February and to that I say, "Spooooooooooooooooooooooon!"
#2.  The Punisher (Netflix).  Marvel TV got right back on track with the best version of the Punisher that has ever been on screen.  The show was brutally violent, filled with action, but also spent time to develop these characters.  I never thought the Punisher could be a character drama and be successful, but that is exactly what we got.  I loved every second of the series that was way more cerebral than I ever thought it could be.
#1.  Twin Peaks: The Return (Showtime).  I waited over 25 years to get this series, and it did not disappoint.  However, you absolutely had to be patient and be a fan to follow it.  I understand completely how people were getting frustrated by it.  I was too a few times.  I wanted the real Dale Cooper back.  Not Dougie Jones (though I grew to appreciate Dougie).  When Dale Cooper finally emerged from his Dougie Cooper dream-like state and proclaimed that "I am the FBI" the Twin Peaks fans everywhere exploded in joy.  It is one of the best moments of the year.  In true Twin peaks fashion, the conclusion to the 18-part series was anything but tied up
into a nice little bow.  In fact, it is like trolling its fan base.  However, if you look that the production value of the series, the humor and dialogue, the character development, the oddity, Twin Peaks was more than television.  It was like an 18 hour film that brought its fans along on a wild and somewhat satisfying ride, showing bits of what we loved and reminding us how damn good that cherry pie was.  There was also a beautiful goodbye to the Log Lady, Margaret, aka Catherine Coulson, who had died soon after the filming for the series concluded.  The scene where Margaret was on the phone with Hawk, telling him that she was going to die, was heartbreaking on the show and in real life.   Twin Peaks: The Return was some damn good television.