Game shows have always been a staple of television, and this year there were a couple that I had to see.
Top Six Game Shows
#6.  The $100,000 Pyramid.  One of my old favorites from childhood returned with Michael Strahan in the Dick Clark hosting position.  The biggest difference was the bump in the amount available to the contestants.  $100,000 is a serious chunk of change.  Celebrities were always fun as well.
#5.  Jeopardy.  The Alex Trebek quiz show is always a classic and is entertaining every time.  There are great questions and very intelligent people involved.  It always makes you feel smart when you get a question that the contestants miss.
#4.  Battle of the Network Stars.  Not really a game show, per se, but I absolutely loved the return of another childhood favorite.  The ABC competition had some flaws, but the idea is always a winner.  The show could have benefited from an audience cheering on the celebrities, but there were some real serious attempts at athleticism… and some not so much.  And there were several moments that can only be had by celebrities.
#3.  Celebrity Family Feud.  Steve Harvey is always a hoot, but if you put him on a stage with a bunch of celebrities playing the classic Family Feud game, you have gold.  The best?  When Steve Harvey's own family played the game this season… hilarity ensued.
#2. The Match Game.  Alec Baldwin led the second season of this classic game show where the contestants need to get ready to match the stars.  It is funny.  It is dirty.  It is controversial.  Some times you cannot believe what they have said.  I think Gene Reyburn, Charles Nelson Reilly and Brett Somers would be proud.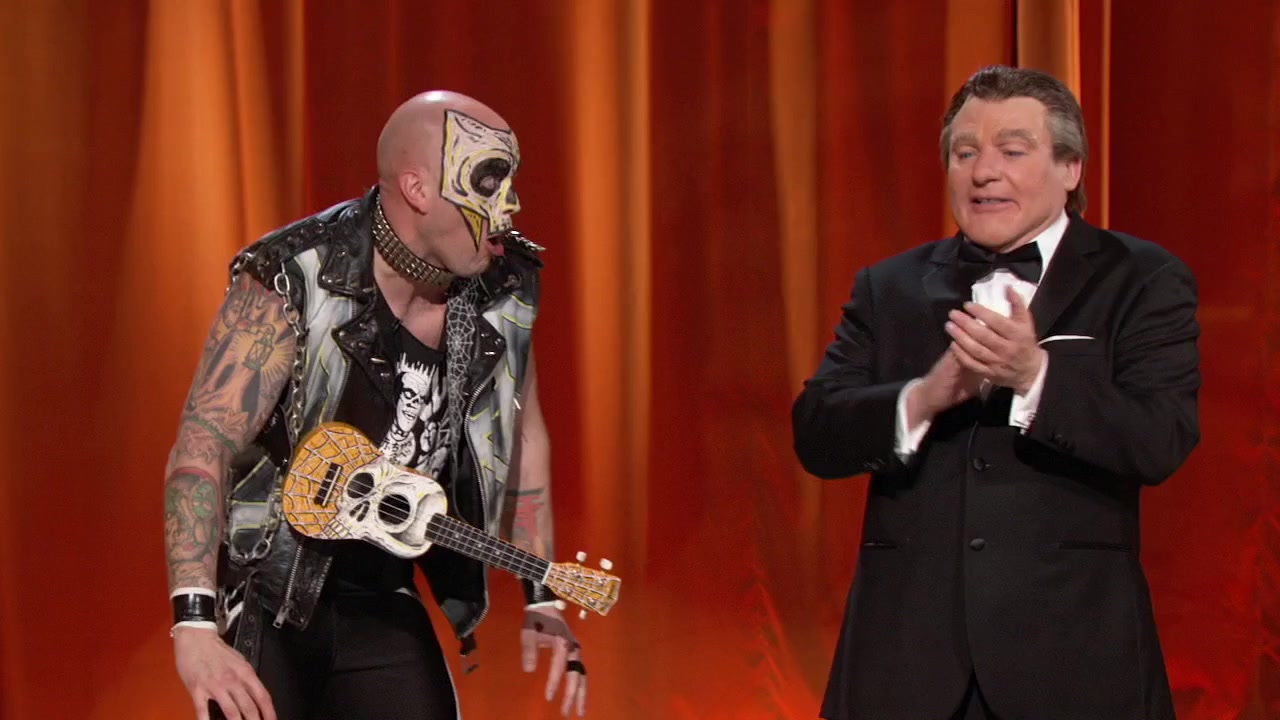 #1.  The Gong Show.  Who's a cheeky monkey? Yes, I AM!!!! With its host, "British comedian" Tommy Maitland, I never thought that this show would become so vital in my life as it did, but I absolutely LOVED the revival of the Gong Show.   Sure it is stupid.  Yes, there are some TERRIBLE acts.  Actually, the worse the acts were, the better the show turned out.  But there were some great acts too. 
I will always remember the epicness of Zombie Ballet, creepy contortionist named Liv Twisted, Uprooted among others.  There were some Thursday nights when I went to a movie premiere and I found myself speeding home with the hopes of getting there in time for the Sing a-Long.  Shaving Cream was never so popular as it was with Albert.  Each and every Thursday, I was ready
for the funsies, and The Gong Show never failed to deliver them to me.  I do not care about those people who held their noses up for this show.  They are entitled to their opinion, though in this case, their opinion receives a big gong from me.   All I needed to send me into an ultimate Geek-gasm was a special guest appearance from the Unknown Comic!