Each year, there are moments that stand out in the Geek community.  Here are the ten that jump to the front from 2017.
#10.  It rescues the summer Box Office.  The summer box office was way down.  With a very few exceptions, there were few major successes during the year.  And August was even worse.  Then, early September, a clown arrived and helped out tremendously. Stephen King's It made over $123 million during its opening weekend and wound up making just short of $700 million worldwide.  That was remarkable for an R rated horror movie.
#9.  Prince Henry and Meghan Markle get engaged.  When was our last royal wedding?  It has been a while.  What makes this one even more shocking though is the fact that Meghan Markle, an American actress, is of mixed-race.  The couple expressed about having a wedding that was not as lavish as some of the previous royal weddings.
#8.  Disney announces streaming service.  In their next step to control the world, Disney announced this year that they would be starting up their own streaming service in 2019.  At that time, the Mouse planned on removing their content from Netflix and making their own streaming service the exclusive location for their movies and shows to land.  A report indicated that the service would be comparable in price to Netflix.
#7.  And the winner is… not La La Land.  An error at this year's Oscars telecast ended with presenters Warren Beatty and Faye Dunaway receiving a envelop with the Best Actress inside.  The problem?  They were presenting Best Picture.  Beatty opened the envelope, looked confused and everyone thought he was doing a bit.  However, he did not know what to do. So he showed it to Dunaway, who saw La La Land listed (beneath the name of Best Actress winner Emma Stone) and announced them as the winner.  Chaos ensued.  Finally it took La La Land producer Jordan Horowitz holding up the card that said "Moonlight" for people to believe what had happened.  It was the most unbelievable Oscar flub of all time.
#6.  Logan is Rated R.  Following in the footsteps of Deadpool from the year before, FOX released a rated R Logan movie this year that allowed the world a chance to see Wolverine in the way we always wanted to see him.  The film was based around the Old Man Logan storyline and was a beloved film, one of the best of 2017.
#5.  Thor makes more money than Justice League.  And by a considerable amount.  Thor: Ragnarok was released in early November and did remarkably well, opening to around $120 million.  Two weeks later, Justice League, a movie with Superman, Batman, Wonder Woman, Aquaman, Flash and Cyborg in it, only opened to $94 million.  Then worldwide, Thor: Ragnarok has reached $846 million worldwide while the Justice League is slowly coming to an end somewhere around $650 million.  Almost $200 million more?  Justice League severely under-performed for WB.
#4.  Wonder Woman.  The biggest hit among the recent DC Films has been Wonder Woman and she became the first major female led super hero movie in this age of super hero movies.  Wonder Woman crossed cultural classes and became the icon that she always was meant to be.  The arrival of the film in the beginning of July signaled a change in the world, inspiring many young girls that they can be heroic as well.  The film was received extremely well by both fans and critics and it wound up making over $800 million world wide.
#3 1/2.  She is the new Doctor. I actually just thought of this one and I think it
needed to be on this list.  There was an announcement this year of the first ever female Doctor from BBC America series Doctor Who.  Jodie Whittaker was named the next Doctor to replace Peter Capaldi.
#3.  Net Neutrality repealed.  In a major news event that many people may have missed, the FCC voted 3-2 to repeal a law put in place by the Obama Administration that prohibited broadband providers from blocking websites or charging for higher-quality service or certain content.  FCC's Republican chairman, Ajit Pai, led the way in the repeal, however, there have been some who have taken opposition to this ruling.  Several states have banded together as a class action lawsuit, and there have been Congressmen who have decided to look closer at the deregulation.  Perhaps we can still have a free and open internet.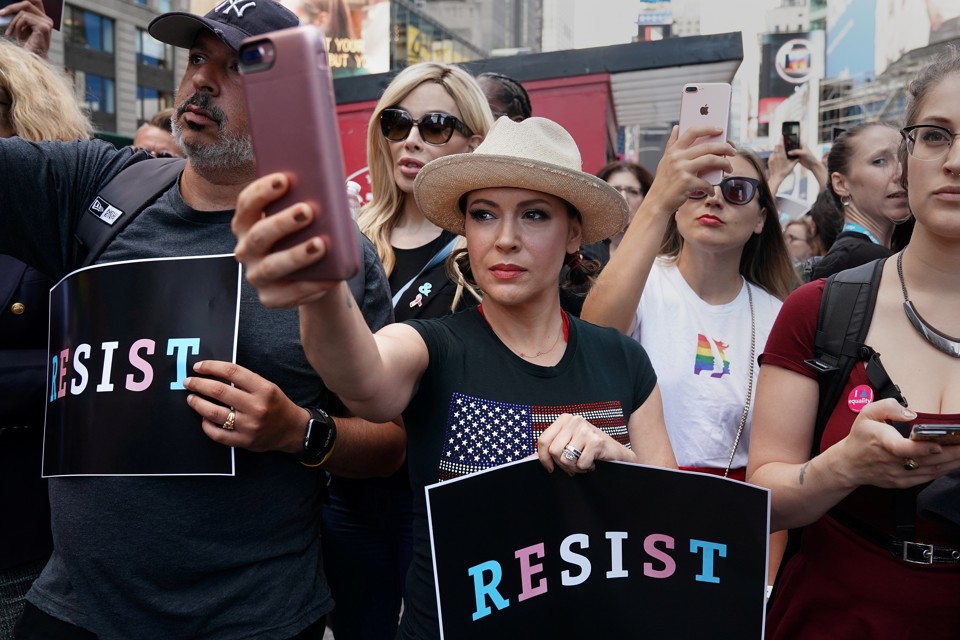 #2.  #MeToo.  This was going to be number one until that little thing happened a few weeks ago.  But the #MeToo movement brought to light the problems of sexual abuse/harassment/misconduct of powerful men and brought the victims forward to have their voices heard.  It started with the complaints against Harvey Weinstein of the Weinstein Company and it grew to include Andy Signore of Screen Junkies, Kevin Spacey, Luis C.K., John Lasseter, Jeremy Piven, Matt Lauer among many others.  It even grabbed Senator Al Franken.  This controversy has only just started.
#1.  Disney buys properties of 21st Century FOX.  In a sweeping deal, Disney has purchased several intellectual properties/rights from FOX.  This includes the rights to X-Men, Deadpool, and the Fantastic Four, essentially reuniting the Marvel characters under the Marvel Cinematic Universe.  The Marvel properties are not the only ones snatched by Disney as they also have the rights to the Simpsons, X-Files, the Alien franchise, a share in Hulu among many others.  FOX kept its news, its sports.  The TV and the movies though went to Disney.  Many Hollywood insiders are understandably concerned over the deal (because of jobs lost and having less studios to pitch ideas/scripts to), but the idea of Dr. Doom or the Silver Surfer back in the MCU overshadows those concerns for many fans.