Welcome back to the TV Week That Was.
Just got done watching the 60 Minutes interview with Stormy Daniels, the adult film star who claimed to have had sex with Donald Trump in 2006.  I am sure that everyone was watching it, as Trump seems to equal ratings.  She came off as intelligent and well spoken, but she had made several comments over the years denying the potential affair.  That is problematic for her credibility.  To be fair, she seemed to have an answer for all of the times she lied and the explanation of how a man approached her and made barely veiled threats to her in a parking ramp sounded very creepy.  I thought 60 Minutes/CNN anchor Anderson Cooper was very fair with his questioning and he laid out the story well.  Who knows if this becomes one of the biggest stories of 2018 or if it just slips into the forget it file.
It was a busy weekend so I did not get to binge the whole season, but I watched the premiere of the second season of Santa Clarita Diet on Netflix and absolutely loved it.  I was laughing the entire time, unless of course when I was covering my mouth.  The blood continued to fly freely and when Shelia came out of the basement and attacked the Serbian guy who had vomited for Abby (yes, that is what I said) and started eating him, it was laugh out loud funny.  I am excited to see the remaining nine episodes.
The X-Files season 11 came to an end this week with an awesome episode that I really hope is the series's final episode.  Gillian Anderson has stated that this was her last time playing Dana Scully and, if that is the case, then this is a beautiful send off.  The story centered around the contagion conspiracy and Mulder and Scully's son William.  Of course, we learned earlier this year that William was not Mulder's son, but was an experiment produced by the Smoking Man.  There was an emotional end as we saw William shot and killed (though not for good) by Smoking Man (who thought he was shooting Mulder), Mulder found out the truth from Scully about William, Fox shot and HOPEFULLY killed Smoking Man and Scully told Mulder that she was pregnant.  Oh, and Skinner got run over by a car.  In the end, this was an exceptional end for the series.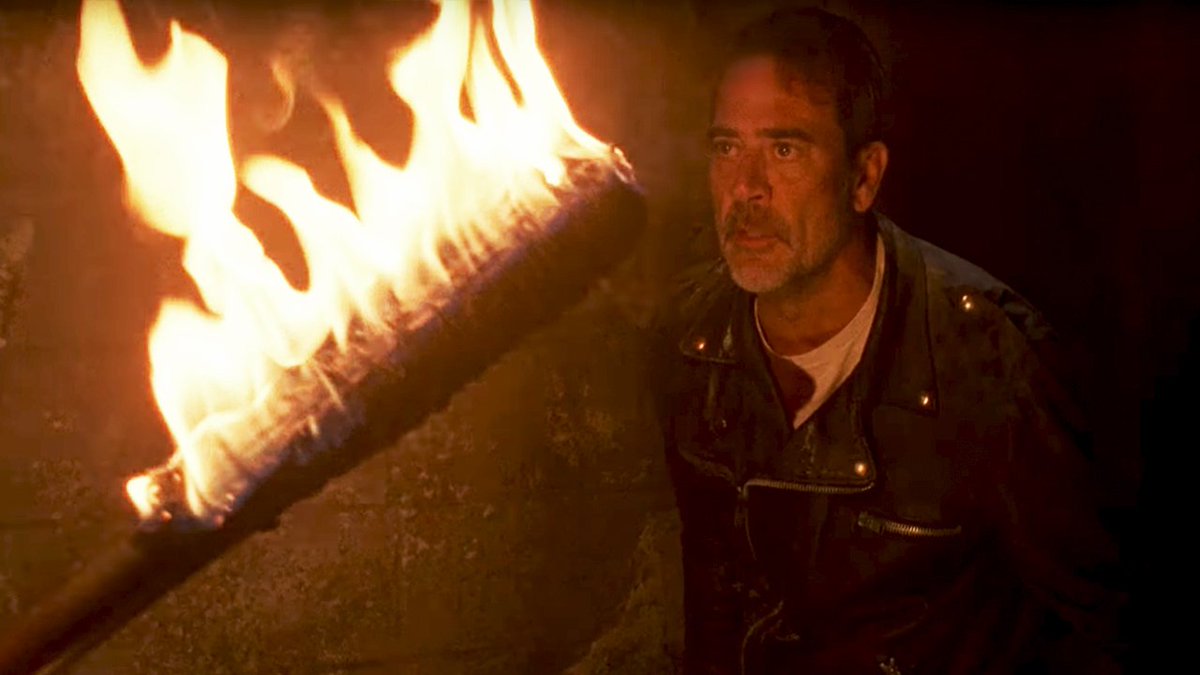 On the Walking Dead, we saw a great conflict between a grieving Rick and Negan.  Rick was able to get his hands on Lucille and he used Glenn's lighter to set the barbed wire bat on fire and used it on some Walkers.  He was unable to actually use it on Negan, but he drove Negan away in such a state that he wound up unconscious and in a car with a potentially vengeful Janis.  There was also the arrival of a new survivor named Georgie who offered the Hilltop food in exchange for records.  She also provided information to Maggie that may help them rebuild their community.  I liked this character quite a bit since this was quite the departure from other characters on the show.
Ash vs. the Evil Dead is tremendous.  Ash's battle with the little child who has a small chainsaw on his hand just like Ash was all kinds of amazing.  Who this kid really is has yet to be revealed but he has some connection to Ruby and seems to be some kind of demon.  His use of the headless dead body to hid inside while crawling and sticking his head from out of the top and "bottom" of the body was something I never thought I would ever see,  Legitimately the most original disturbing thing I have seen.  And then, Ash with the bowling balls… I may never look at bowling balls the same way again.
Agents of SHIELD pulled off what was an absolutely BRILLIANT twist during the Friday's episode.  The breach between dimensions has been around in the lighthouse for several episodes and we know that the breach had been allowing our agents' worst fears into our dimension.  They had been setting this up with flashes to past villains of the series for weeks.  So when we see Fitz from the Framework knockout Deke, we knew that it was just another fear.  We even saw two Fitzes.  Only… it was not a fear, it was the real Fitz having some sort of break.  Although even after he realized he was the problem, Fitz realized that he was doing what had to be done.  And before we knew it, he had operated on Daisy and removed her inhibitor.  I had never once considered that this was anything but a fear and the writers of Agents of SHIELD should be commended for setting up this brilliant twist so perfectly.
Gotham had a big week as well as we saw Lee shoot Sofia in the head to save Jim, who had already been shot several times by the crimelord.  Or maybe she was just doing it as revenge for the hand from last week.  Penguin and The Riddler seem to be past their previous issues and are back to buddies.  Grundy remembers he is Butch and promises that he will find his way back.  Bruce and Selina had a nice little interaction.  Bullock is on the road to forgiving Jim, but slowly.  Riddler rescued Penguin's kid friend.
That's it this week.  Looking forward to The Terror preview tonight after The Walking Dead.  Happy viewing!