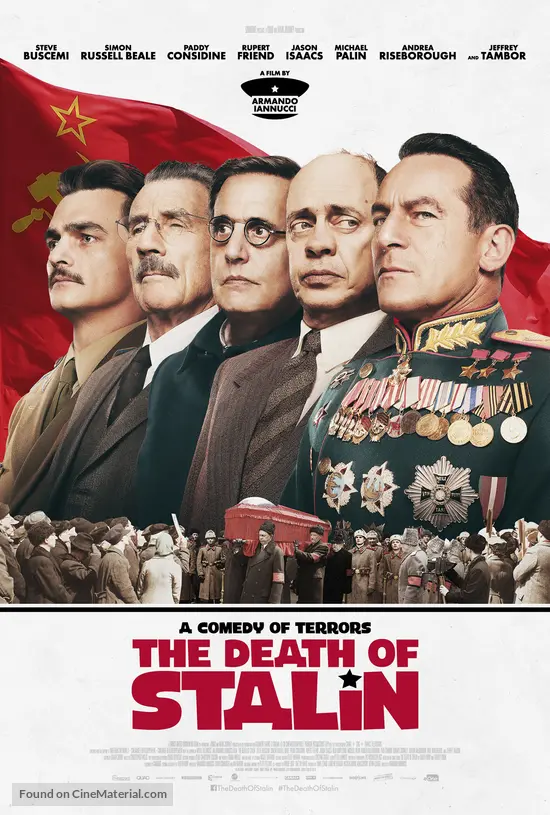 Not quite a biopic here.
More of a farce than a history lesson, The Death of Stalin is uproarious and consistently funny as you see a great comedic cast bring humor to the last days of the violent Soviet leader and the ensuing struggle for power that followed.
The great cast here included an exceptional turn from Steve Buscemi as Nikita Khrushchev.  Buscemi plays Khrushchev as a manipulator and an opportunist, taking the events surrounding the death of Stalin and morphing them into ones that would benefit him.  Jeffrey Tambor is wonderful as the wishy-washy Georgy Malenkov.  Simon Russell Beale appears as Lavrenti Beria, another member of the Council of Ministers and head of the secret police.  Khrushchev and Beria clash with one another because they both have their eyes on the head of the Soviet Union in a post-Stalin world.
It is a very dark comedy, however, as many scenes were very brutal, despite being played for comedic effect.
Clearly, the farce is not specifically concerned with details.  For example, there isn't any Russian spoke in the film.  They all just talked in English, as if they were all just naturally English speakers.  It was kind of funny at times, and I would be lying to say that it did not disrupt my viewing at least a few times.
The film did not fail to play up the seriousness of the times in the USSR, as people were being killed for reasons only familiar to Stalin and many of the normal Soviets were frightened of their leader.  The scenes where the theater owner makes the orchestra stay and re-play their concert a second time because Stalin wanted a copy was a great example of the fear the Soviet people had to endure.
Oh, and Adrian McLoughlin as Josef Stalin is a thing of beauty.  The tyrannical dictator was played much like an unruly youngster with too much time on his hands. And yet, they never backed away from showing how evil Stalin was.  It was a very nice juxtaposition of the character.
The Death of Stalin was a good time involving some of the darkest times of the world.
3.65 stars