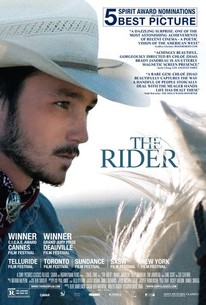 The Rider is an interesting movie that tells its story in a new and original manner, written and directed by Chloe Zhao.
We get three characters who are basically playing themselves in this film.  Brady Jandreau played Brady Blackburn, a rodeo cowboy who had a horrible head injury that causes him have to give up bronco busting.  Tim Jandreau, Brady's real life father, played Tim Blackburn, Brady's hard boiled father.  Lilly Jandreau, Brady's real life sister, played Lilly Blackburn, Brady's sister who has Asperger's Syndrome.  We also have Lane Scott who played himself as a bull rider who was in an accident and has become a paraplegic.
Because of these inexperienced actors who are playing characters that are basically themselves, the film has a distinct realness to it.  There is definitely a truth to it- especially with the relationship between Brady and Lilly.  She does not feel like she is saying lines at all.  I wonder if they allowed them to just react as brother and sister in the situation without an specific dialogue.  It certainly feels that way.
I kept thinking about the 2008 movie The Wrestler as I was watching this movie.  There is a connection between the movies.  Both characters are struggling to move on with their lives after a health issue takes away what they love to do.  There are family issues involved as well.  Both films have that real feel to the filming and has that independent touches to it.
There were some truly amazing scenes focusing on Brady's ability to train/break horses and the film allows this skill to play out.  It was some of my favorite scenes in the film.  We see how important of a relationship Brady has with the horses that he works with.
I did enjoy this movie very much.  The cinematography is beautiful and the pain of the loss of what Brady loves is something we can all relate to.  There are too many puke scenes, though (I hate those).
4 stars