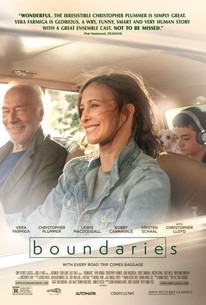 I love Vera Farmiga from Bates Motel.  I get a vibe of Norma Bates here as she and Lewis MacDougall play mother and son on a road trip film to pick up her father and deliver him to her sister.
The father is played by Christopher Plummer and is a roguish troublemaker who is using the trip to sell the remainder of his weed to his contacts along the way.
The story itself has several holes and there is something that is missing in the trip, but I thought the three main characters were likeable and interesting enough to sustain what I had wanted.
This is nowhere near a perfect film, but Plummer and Farmiga have a natural charm about them and that makes the scenes that they share on screen quite entertaining.  MacDougall, who starred in A Monster Calls, is a strong presence in the story, sharing scenes with both powerhouses without missing a beat.
Unfortunately, there just felt as if there were too many scenes missing in the movie that was already starting to feel its length.  I would have like to have seen more between the relationship with Farmiga and Plummer when she was a child instead of just hearing about it.
I think each individual character was developed well, but their connections were missing.  Farmiga was a pet rescuer and she had many dogs and cats living with her and her son.  MacDougall was a troublesome child, who got in trouble in school by drawing naked pictures of people and slapping others.  His reactions at school is inferred to have to do with they way he is treated by others students around him, but we do not really get any examples of that.
Plummer seemed like the jerk who has a heart of gold.  Someone who loves the people in his life, but is not sure how to express that or how to live his life without causing them to be hurt by his choices.  So because of that, he avoids the relationships by leaving or distancing himself.
The biggest trouble with Boundaries is that the trip in the car is something that we have seen a lot of different times and this does not carve out its own identity.  There are a lot of cliched moments in the film and a few that are so ridiculous that it is difficult to believe.
Kristen Schaal gives a wonderful performance as Farmiga's sister, free and open as she can be.  She brings a nice energy to the movie near the end and it almost makes you wish that she had been in more of it.
The charm of Farmiga, Plummer and MacDougall overcomes the weakness of the script although you can't help but wish there was a tighter story/plot for these actors to do.
3 stars