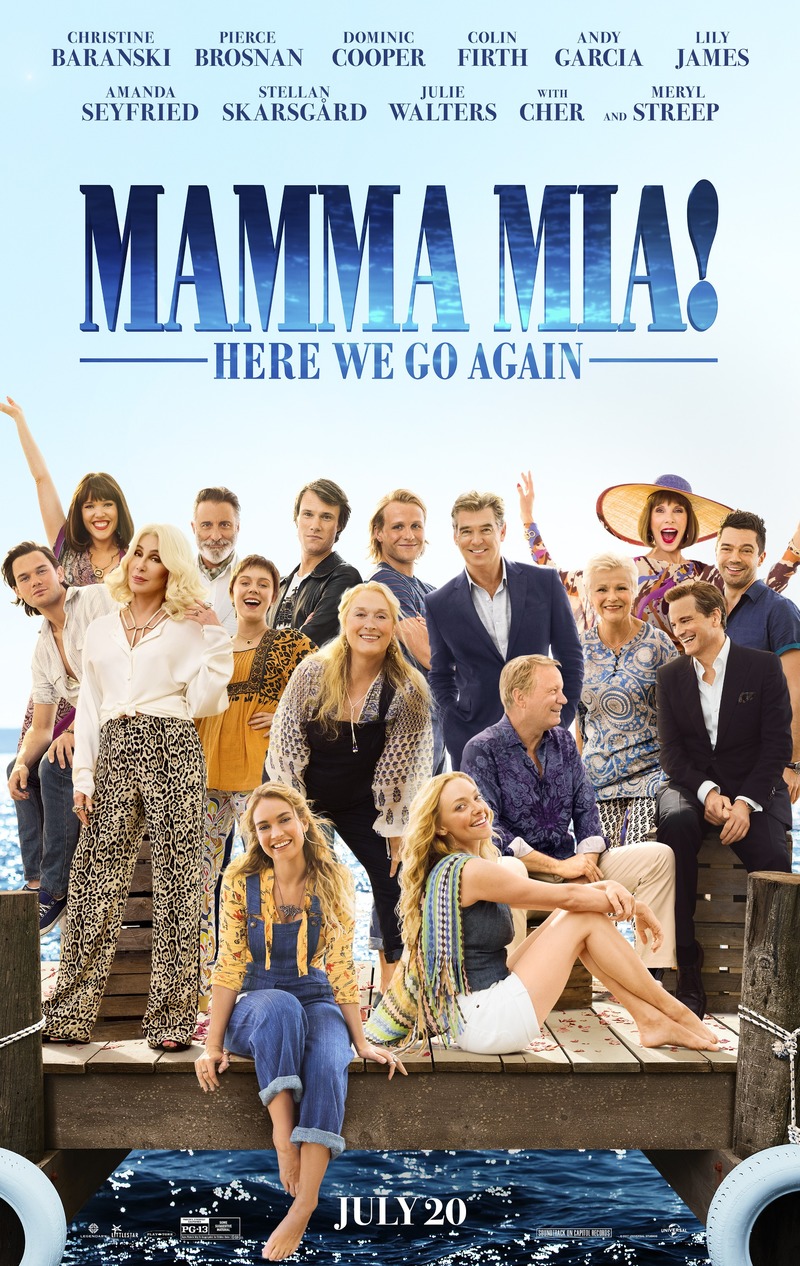 So saccharine sweet that I may have a toothache.
I watched the original Mamma Mia about a month or so ago because I knew this was coming out and I was not overly impressed.  I liked some of the music, but the film itself was not anything that appealed to me.
I had wondered how they were going to do the sequel since they used all of ABBA's hits in the original.  Was it just going to be a rehash of the same songs?  Well, there were only a few of the songs from the first film used again (Dancing Queen, Fernando, Mamma Mia) and they used a bunch of lower tiered ABBA songs.  The problem with that is the lower tiered ABBA songs were not very good.  I would go as far as to say that several of the songs involved in Here We Go Again were cringe-worthy.
The best moments were certainly the big productions, which were the songs that had been done before.  The Dancing Queen sequence was excellent.  Mamma Mia was done very well.
The story had two parts to it.  Donna's (Meryl Streep) daughter Sophie (Amanda Seyfried) has taken over the hotel on the island and is planning a huge reopening party.  The second part is the origin story of how young Donna (Lily James) found the island and how she became pregnant with Sophie.
The film cast thee young versions (Jeremy Irvine, Josh Dylan, Hugh Skinner) of the three fathers (Pierce Brosnan, Stellan Skarsgård, Colin Firth) to tell the story of how Donna met each man.
I will say that I think Lily James is a star.  There is something about her that is undeniably watchable and her very screen presence helps the film's early story tremendously.  She has that "it" factor.  Unfortunately, the material here does not give her much to do.
There is absolutely zero stakes for the movie.  There is almost no conflict there either.  A rainstorm causes some of the most trouble for the movie, but it is resolved easily.
I also enjoyed the younger versions of Tanya (Jessica Keenan Wynn) and Rosie (Alexa Davies) who do a great job of capturing young versions of Christine Baranski and Julie Walters.
It's not as if the movie was dreadful, because it is not.  It just seemed to be pretty unnecessary and lacking in anything that would be considered deep. The music was not as good as the first time (thankfully, Pierce Brosnan was kept to minimal singing) and the only parts that stood out was when they did the music from the first.  Cher's appearance was short and predictable.  You saw just about everything from Cher in the trailers (except for a couple of songs she sang).
Deep cut ABBA fans might really enjoy this, but a causal ABBA fan will find most of these songs lacking and there is not much more to the film besides the music.
2.5 stars