This week's list is an interesting one.  I liked this topic as the list was Top 10 Musicians Turned Actors.  I found this a fascinating group of performers and listening to Matt and John is always a good time.
This has to be performers who were first musicians prior to being actors, which eliminates someone like Justin Timberlake.
I am also linking up an actor to a performance in a film, so it is not a compilation of a total number of films in his/her oeuvre.
Top 10 Musicians Turned Actor
#10.  Dolly Parton, 9 to 5.  Miss Dolly was wonderful in this 80s classic comedy.  Dolly Parton was very charming and engaging in this, her first film.  She works so well with the other two lead women, Lily Tomlin and Jane Fonda and she certainly held her own with those two huge stars.
#9.  Henry Connick Jr.  Copycat.  This is one where the film itself helped make this list.  I enjoyed the film Copycat as Connick Jr. was the serial killer stalking Sigourney Weaver.  Connick Jr. was downright chilling in the film and I was always a fan of serial killers.  This film brought some real tension and anxiety for the audience.
#8. Cher, Mask.  Cher loved that boy.  The film is based on a true story of a boy with disfiguring facial deformity called craniodiaphyseal dysplasia.  Cher played the mother of this boy and she fought for her son so much.  She brings a wonderful humanity to the role and creates a believable bond with her son.
#7.  Jerry Reed, Smokey and the Bandit.  The "Snowman" has his ears on.  Smokey and the Bandit is a fun film with some great silly situations.  Jerry Reed perfectly fits in as the sidekick of the Bandit, as they travel across Tex-Arcana to bring back a load of beer.  Sure, he was a criminal, but he was charming as all get out.  And I loved the song, "East Bound and Down", sung by Reed himself.  That's a big 10-4 good buddy.
#6.  Meat Loaf, The Mighty and Rocky Horror Picture Show.  This was the one I could not decide which of the films I wanted to use so I decided to use them both.  The Mighty is the adaptation of Freak the Mighty, a book by Rodman Philbrick and he plays the rotten Iggy Lee.  In Rocky Horror, he played Eddie and was able to sing Hot Patootie before winding up as supper.  The Mighty is more of a subtle performance but Eddie is a vital part of the craziness of Rocky Horror.  Meat Loaf brings a larger than life image to both roles.
#5.  "Weird Al" Yankovic, UHF.  His almighty weirdness makes this list for his cult classic UHF film that showcased the unusual talents of Al Yankovic.  There are so many iconic moments including Gandhi 2, Wheel of Fish, Spatula City as Weird Al tries to make a success out of a fledgling television station.  There is a great supporting cast as well including Michael Richards, Victoria Jackson, Anthony Geary, Kevin McCarthy, Emo Phillips, Fran Drescher and Dr. Demento.  Weird Al may not be the greatest actor, but he will always have a place on a list here at EYG.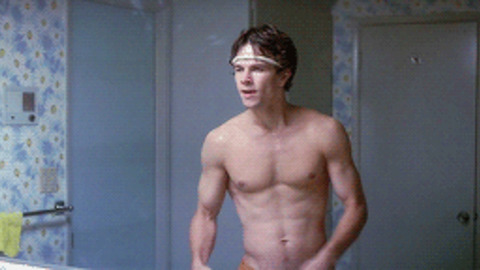 #4.  Mark Wahlberg, Boogie Nights.  This was last week's number one movie in the Mark Wahlberg's films and it is well deserved.  I'm not sure counting him as a musician is fair considering he spent a long time trying to get past the identity of Marky Mark.  Still, this is a great performance in the true story of Dirk Diggler and the world of pornography and is a definite deserving actor for this spot on the list.
#3.  Madonna, A League of Their Own.  I love this movie and Madonna does a fantastic job as "All the Way" Mae.  Her pairing with Rosie O'Donnell is one of the highlights of the movie.  She does a fantastic job in a dance number at the local bar too, showing how much skills Madonna truly does have. I do like Evita as well, but A League of Their Own is one of my favorites of all time.  Plus, we made it through the entire movie without seeing her bosoms.
#2.  Frank Sinatra, The Manchurian Candidate.  This is a fantastic performance from Frank.  Frank was the investigator trying to figure out the Russian plot to assassinate the president.  Sinatra is great here as he is conflicted by guilt over his failure to stop the brainwashed killer.  The Manchurian Candidate is almost too on spot for these days.  Angela Lansbury is just tremendous in the role of the evil mother.
#1.  Will Smith, Enemy of the State.  This is a great movie and one of the first that really showed that the Fresh Prince himself could carry himself in a big time film against a real movie star in Gene Hackman.  Will Smith showed charm and energy as the lawyer who found himself in a government conspiracy.  This is a fantastic film.  Will Smith has had a lot of great films on his resume including Men in Black, Pursuit of Happyness, Concussion, I Am Legend, Independence Day, Hancock, and I, Robot.  Still, Enemy of the State is one of the first moments where Will Smith stepped out of the comedic roles and became an action star.
Honorable Mentions:  I found several other possible choices.  I had to struggle to make that final choice (which actually turned up at #9).  I debated Courtney Love in The People vs. Larry Flynt.  I considered Queen Latifah in Girls Trip.  I have always really like Latifah, but her list of films hurt her, despite as charismatic as she is.  David Bowie in Twin Peaks: Fire Walk With Me was a wild ride, crazy and very David Lynch-ian.  Mandy Moore's voice over work in Tangled is great.  There were a couple of Barbra Streisand roles that I looked at.  Olivia Newton-John does some solid work in Grease too.