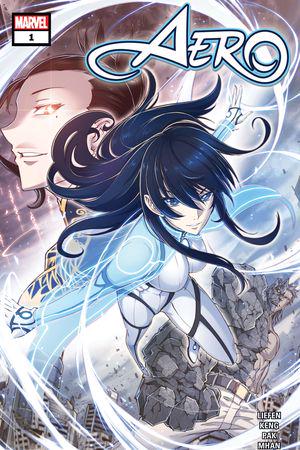 Aero#1
"Protector of the City"
Writer:  Zhou Liefen
Artist: Keng
Cover Art: Keng
"Aero & Wave: Origins & Destinies" Part One
Writer:  Greg Pak
Artist:  Pop Mhan
Aero debuted in the recent limited series The New Agents of Atlas which debuted during The War of the Realms crossover event.  That was one of the few favorites of mine during the event, so I was excited to read the new book with Aero.
Admittedly, the characterization was not top priority in The New Agents of Atlas and I did not learn a ton about Aero or any of the other new characters introduced in that series.  However, that means that there is some room for this series to give me more about this character and I did like what was here.
In fact, the set up of the first story of the book was intriguing with a building that was coming to life in Aero's city, Shanghai.  I really liked the way that first story ended too because I did not expect it and I found it interesting.
I also got to see a little bit about who this character is, though I would like even more as this series goes on.  The book uses Aero's voice as the narrator and it is able to reveal to us some of her thoughts as it progresses, which I liked.
The art is beautiful and uses lots of large imagery to tell the story.  I really enjoyed Keng and his artistry.
The second story is used to introduce to us further another of the characters we met in The New Agents of Atlas in Wave.  It is a basic origin story, but I was engaged with it.
Overall, I enjoyed this book and I expect that I will give it a chance moving forward.  I hope we learn more about Aero as we move on and continue to see such beautiful art work that has a manga feel to it.