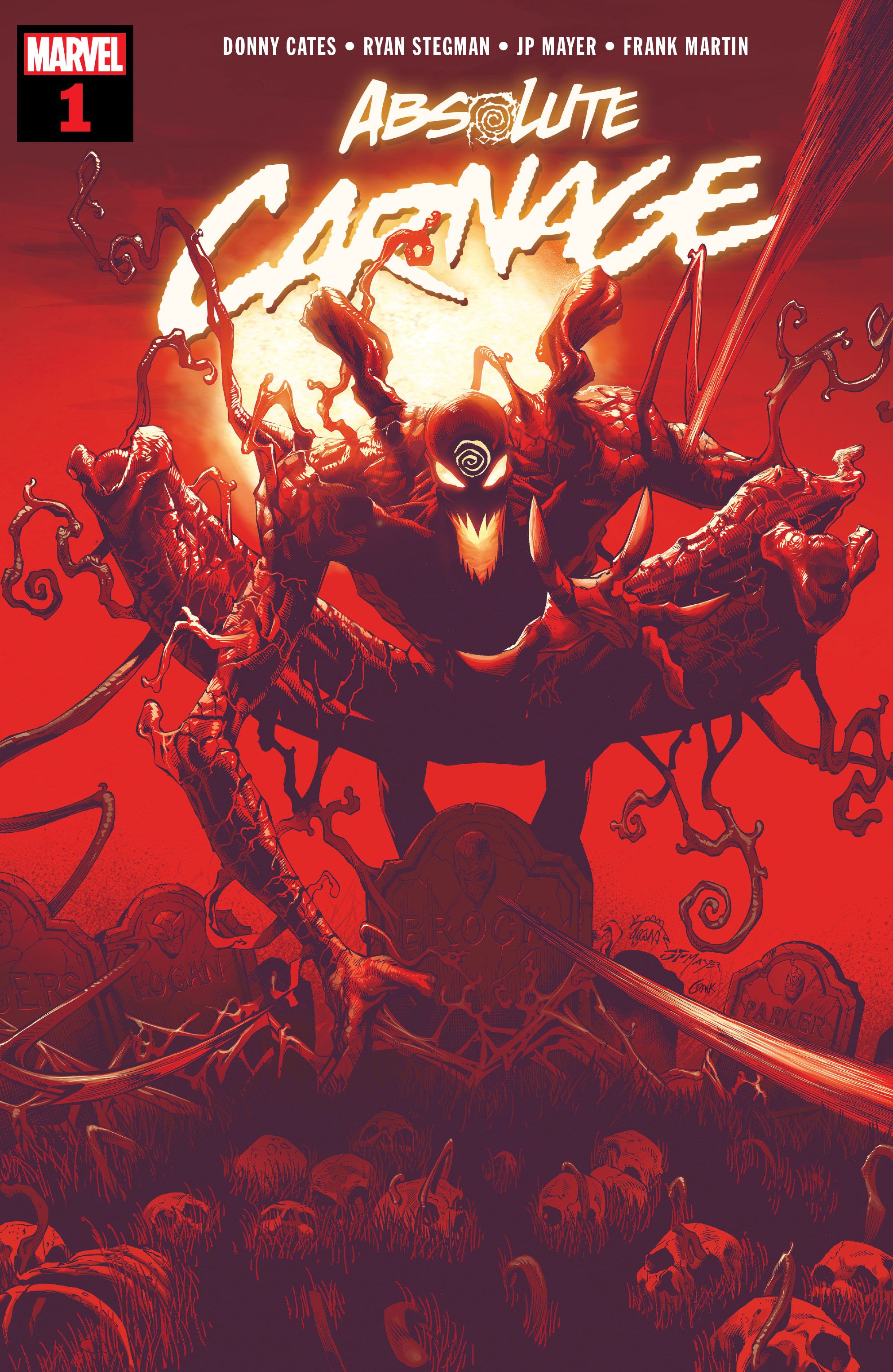 Absolute Carnage #1 (of 5)
"Chapter One: The Bleeding King"
"Chapter Two: The God Son"
"Chapter Three:  The Long Red Dark"
Writer:  Donny Cates
Artist:  Ryan Stegman
Cover Art:  Ryan Stegmen, JP Mayer & Frank Martin
I have not been looking forward to Absolute Carnage.  The last Marvel crossover was The War of the Realms and I was not a fan of that book.  I also knew that this series would be more of a focus on Venom than Spider-Man and I have not been a Venom fan for quite a while.
However, the first issue of the crossover event is as good of a first issue as I have seen in a long time.  I am completely in.  I did worry that, since I have not been following the Venom/Carnage books over the last many months, I might be lost in what was happening.  That  was not the case.
I really liked how they portrayed Eddie Brock.  There were some interesting things that they included that I found fascinating.  Spider-Man was here and I loved how he was used.  The relationship between Spidey and Eddie is unlike like any other relationships in comics.
There is some wonderful character work in the comic, but the action is not sacrificed in favor of it.
The book is gigantic, but not a page is sacrificed.  It is not an over-sized issue with two or three wasted shorts at the end.  There is no sketchbook or character design section or anything but story (there is a letter page, but that is fine).
The art from Ryan Stegman is amazing.  It is gloriously horrifying, as the book has plenty of horror aspects to it.  The red tone of the art and pages plays right into the mood the story is creating.  The techniques used here truly help set the feeling for the reader of fear and uncomfortableness.
This is a fantastic way to start this series off and it has made me very excited to see the next installment of the series.  I am still uncertain about the tons of crossover issues that go along with the 5-issue series, but this could not have been a better way to start.