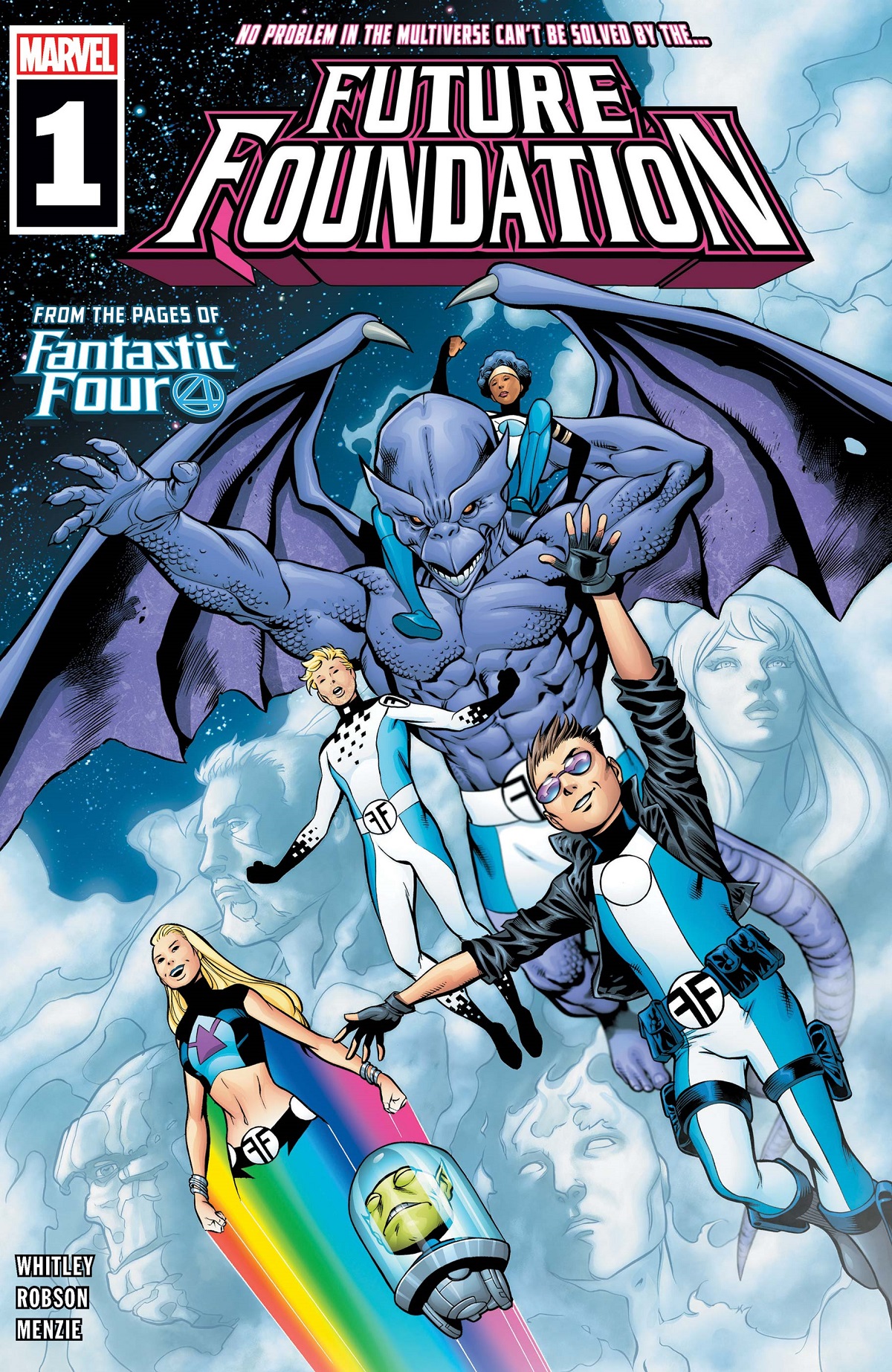 Future Foundation #1
Writer:  Jeremy Whitley
Artist:  Will Robson
Cover Art:  Carlos Pacheco, Rafael Fonteriz & Matt Yackey
New series featuring the kids from Fantastic Four, the Future Foundation, that includes two of the former members of Power Pack, Julie and Alex Power.
I was a fan of Power Pack so it was nice to see these characters once again.  There is also Dragon Man, Leech, Artie and such.  I do not know much about the Bentley-23 character (apparently a clone of The Wizard) but I did like him and his snarky attitude.
Yondu his here and he is very much the Michael Rooker version of the character as he appeared in the MCU Guardians of the Galaxy movies.  I'm not sure when that version of Yondu made it into the Marvel Universe, and I have to say that Yondu did distract me almost the entire time he was on the page.  I just remember Yondu from the 3000s with the other "original" team of Guardians and he was nothing like this.  That was okay when the movie made changes to fit into their movie, but then to make that change here is odd.  Is the other Yondu just gone?  I'm not sure, but it sure seems as if this is our Yondu moving forward.
The comic also featured a lot of dialogue and I believe that makes sense because these characters are intended to be smart ones put together because of their minds.  The dialogue was fine.  I might encourage some more action in the book as it moves along.
The art has a definite younger feel to it.  It feels like a cartoon in several places and perhaps even over-the-top.  It is better than most of the "kids" comic art, but it reminds me of it, for sure.
Future Foundation is a book that I am giving a chance because I like the characters, especially those from Power Pack.  I hope to learn more about several of the members of the Future Foundation as the series moves on.