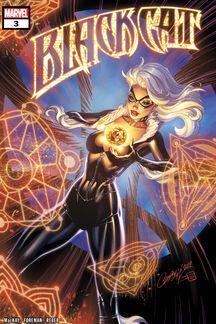 Black Cat #3
"Holiest of Holies Part 2"
Writer:  Jed MacKay
Artist:  Travel Foreman
Flashback artist:  Michael Dowling
Cover Art:  J. Scott Campbell & Sabine Rich
Three issues in, I have found the new Black Cat series from Marvel to be very entertaining and a fun read.
In issue #3, Felicia Hardy heads into Dr. Strange's Sanctum Sanctorum to try and push off her newest problem, Xander the Merciless, off on Dr. Strange.  However, Dr. Strange was not home and all Felicia found was Bats, Dr. Strange's ghost dog.
There were some great jokes in the story.  One in particular that found Bats mistaking Felicia for Silver Sable.  It was a fast-paced, enjoyable and engaging story.
Last issue, they had a short story at the end dealing with Silver Fox and Dracula.  This time, this was handled as a flashback during the story.  I liked that too.
Black Cat #3 was a lot of fun and I enjoyed reading it.