It is time for another Re-List (Re-List… re re re Re-List.  BUZZ BUZZ BUZZ)
This week's Re-List features the topic of Top 10 DreamWorks Animation Movies.  This was an interesting list this week, chosen by Andrew Nally, with lists by Brandon Munroe, & Thomas Drufke.  John and Matt are on video since the COVID-19 virus is out there and they are streaming from their own homes.
I liked this topic and when I did a little research, there are some great animated films that are in this studio's oeuvre.
There are a couple of major franchises that I either have not watched or did not like.  Prince of Egypt is one that I have not seen as of this moment.  I know Matt and John had comments about that on this week's episode.
I also chose to only include one film from a franchise/trilogy.  I will pick my favorite of the series, though there would be others from that franchise that could be in the top ten.
#10.  Penguins of Madagascar.  This is the fact.  I have never seen any of the full Madagascar movies and I have not been a fan of them.  However, I did enjoy this little spin-off from a few years ago.  It was cute and clever and I liked the different penguin characters.  Putting them in a spy style movie was a fun way to go.
#9.  Turbo.  A very fast snail.  A snail that had dreams of winning the Indianapolis 500 auto race, which is a real challenge, since he is only a snail.  Ryan Reynolds voices Turbo, the snail with the big time dreams.  The story may be for kids, but it won't cause parents to wish they were somewhere else.
#8.  Puss in Boots.  This may be a cheat from my one-in-the-franchise rule I set down at the beginning, but I consider this a spin-off from the Shrek series into its own franchise.  Puss in Boots, voiced by Antonio Banderas, was the breakout character in Shrek 2 and his own animated film was fun and funny.
#7.  Abominable.  This was just released and it was a sweet movie.  It may not have been the greatest film I have ever seen, but it was solid.  The film tried to bring the magic of Disney to this movie as they tried to return a lost yeti to its home in the Himalayas.  Though it may come up just a tad short, it is still a good time and has beautiful animation.
#6.  Mr. Peabody & Sherman.  This one hit all the right notes for me when I first saw it.  I grew up with Mr. Peabody and the Way-Back Machine.  I loved those animated shorts as a child so the nostalgia brought this one home for me.  In retrospect, I may have over judged this at the initial viewing, but I still had a good time with it.
#5.  Megamind.  This one surprised me.  I really enjoyed this film, that featured the tale of the villainous Megamind and what happened when he finally is able to defeat his ultimate enemy, Metro Man.  It tells the story about what a villain does when there is no hero to do battle with him.  Will Farrell does a solid job as the voice of Megamind.
#4.  Monsters vs. Aliens.  I loved this movie.  It is such a silly film, but I find it absolutely hilarious.  When Susan become a giant, she is taken to be with the other monsters used by the government.  This film has that old style 1950's monster movie feel to it and includes an absolutely off the chart appearance by Stephen Colbert as the President of the United States.  The monsters are charming and clever, they have a great chemistry among them and they are designed in honor of the old monster characters on which they are based.
#3. Shrek.  This is the original film.  I found this film just about as wonderful as you can imagine.  Mike Myers and Eddie Murphy are amazing together as Shrek and Donkey, Cameron Diaz does not make Princess Fiona just a damsel in distress and John Lithgow does an unbelievable job as Lord Farquad, one of the most clever villains to come around.  The film weaves such an intelligent script in with the fantastic animation.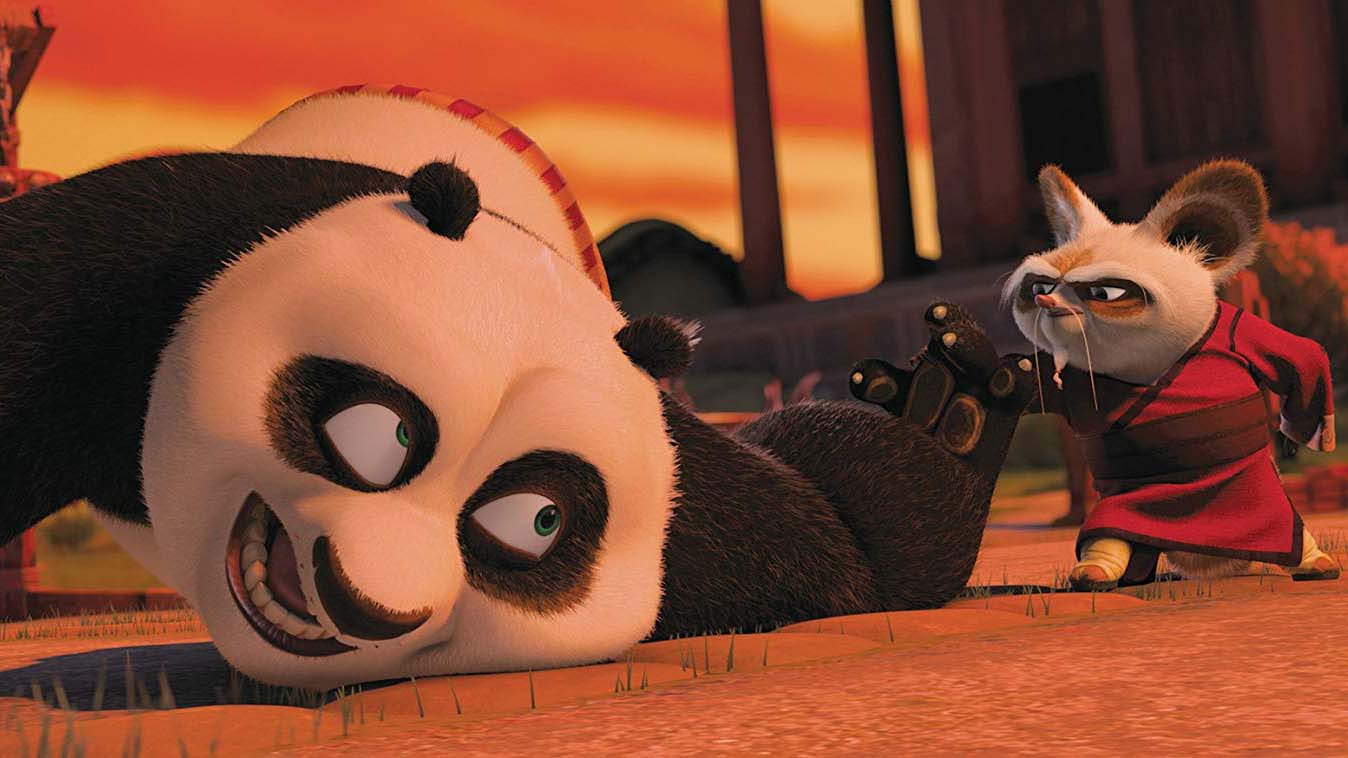 #2.  Kung Fu Panda.  This is a tough one to choose, since all three of these films are really well done, but I chose the first one again.  The story of a panda fighting against all odds to become the Dragon Warrior.  And the battle with the villainous snow leopard Tai Lung is the best of the series.  Po shows that, though hard work and effort, you can accomplish anything.  The voice cast of Jack Black, Dustin Hoffman, Angelina Jolie, Jackie Chan, Lucy Liu, Seth Rogan, and Ian McShane is wonderful.
#1.  How to Train Your Dragon 2.  One of the best animated trilogies of all time.  I chose number two because it is the one that beings the most emotion to me.  The death of Hiccup's father, killed by a mind controlled Toothless, is one of the most powerful and painful moments in any animated movie.  You also get the return of the long-believed deceased mother of Hiccup (voiced by Cate Blanchett).  It is a beautiful story with animation that cannot help but amaze you.
Honorable Mentions:  A few to mention.  Home was an average film, but it has a great voice performance from Jim Parsons.  Antz was the first one of the studios' animation division.  Chicken Run is one that stuck out to me.  Of course all of the other films in the Shrek, Kung Fu Panda, How to Train Your Dragon franchises.