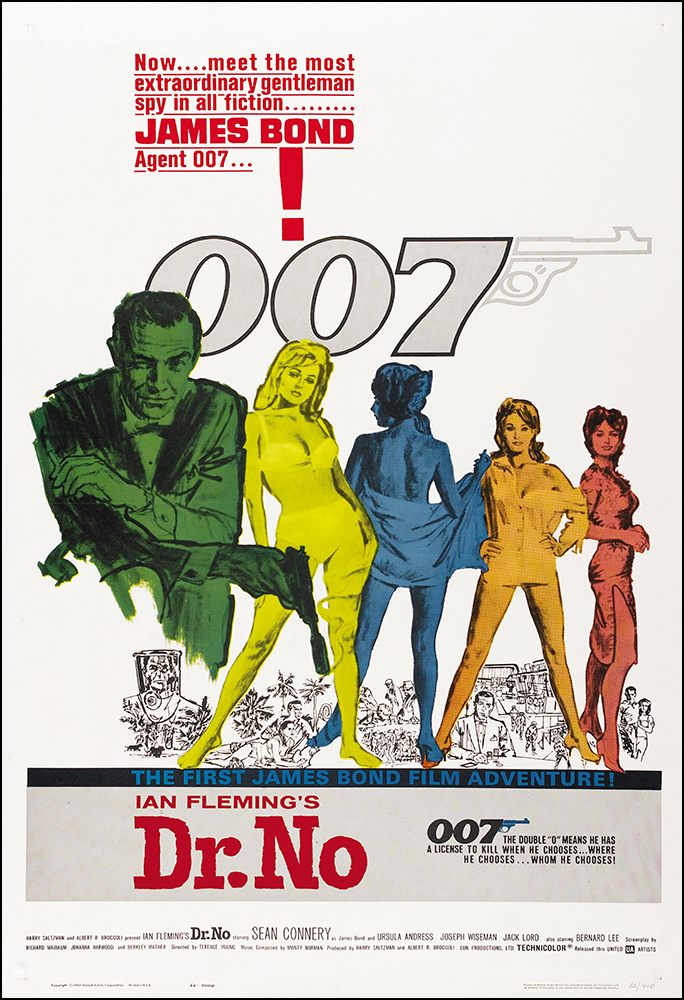 April 2020 was supposed to see the release of the 25th installment in the James Bond franchise, No Time to Die.  For that achievement, I had hoped to watch the previous Bond movies in preparation.  However, time had caught up with me and, unfortunately, that was something that was not going to happen.
However, with the outbreak of COVID-19 worldwide, the Universal movie was pushed back from its April release date until November 12th, and with the school closed, I suddenly have quite a bit of time to go through the Bond franchise, enough time where I do not even have to binge it.
Which means that I am starting off on Amazon Prime with Dr. No, the 1962 film that started it all, based on the novelized hero from Ian Fleming.
I actually do not think that I had ever seen Dr. No before as this was unfamiliar to me.  The adventures of James Bond (Sean Connery) kick off with his battle with Dr. No (Joseph Wiseman) on his nuclear island.  The very first Bond girl is here as well as we meet Honey Ryder (Ursula Andress) upon that island.
The film starts with a series of spy movie scenes, including one tense scene with a giant tarantula spider.  The first half of this movie was fun, with Bond moving from one bedroom to another.  The second half of the movie turned more into the sci-fi type action thriller you might see from this franchise.
Lots of the typical Bond fare was here, but it was considerably lower key than in future installments.  I have to say, Bond certainly made his way around with the women too.  He probably could not get away with that in today's society.
Sean Connery is fantastic as James Bond and you can see here why some people place him at the top of the James Bond list.  He is charming and likable while still being a dangerous man.
Dr. No begins the trend of the over-the-top Bond villain that we see consistently over the years.  Dr. No was fine for what he was, but the best thing that Dr. No would do was name drop the organization Spectre, which becomes a huge recurring enemy for Bond.
There are plenty of moments that make you wonder what people are thinking and why they do not just shoot Bond or Honey when they have the chance.  That credibility is stretched throughout the entire franchise, a franchise that certainly requires some suspension of disbelief.  The viewer is willing to do this because you are having such a good time with the character of Bond that you forgive the conveniences of the spy's life.
I was also surprised to see original Hawaii 5-0 star Jack Lord as CIA agent Felix Leiter.  I was not expecting that familiar of a face to pop up in the movie.
Dr. No was fun and exciting, providing an entertaining escape for the viewer and helped plant the seeds for the future of the Bond series.  A definite good start.