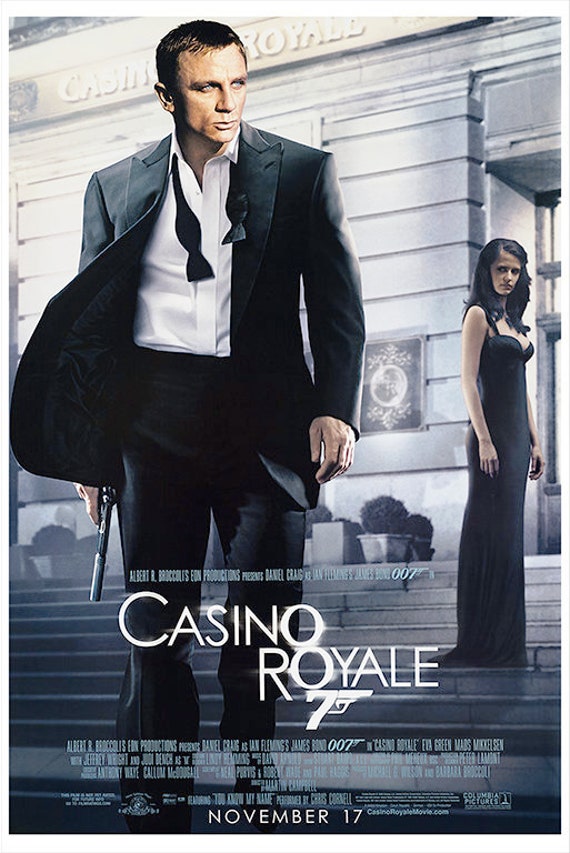 Wow.
I had not seen Casino Royale for quite a long time.  It may have been since it was released.  I remember really liking the movie at the time, but, now on re-watch, this thing was simply brilliant.
Daniel Craig took over from Pierce Brosnan and brought with him an all new Bond, unlike any before him.  The closest Bond to Craig before this would be Timothy Dalton, but there is still no comparison.  I might go as far as to say that this is the single best performance by any Bond actor in the entire 40+ year franchise.
This whole film felt like a reboot of the franchise, despite the fact that M was still here and still being played by Judi Dench.  However, in the film, it started with the promotion of James Bond to Double O status.  The cold open flashback in black and white was beautiful and set the stage for the new version of 007 we would be getting.
This was an all-new Bond.  A gritty, dirty, hard-hitting and violent Bond that embraced the violence.  All other Bonds felt as if they were somehow slightly above the violence, even when he was killing people.  The very aura of Bond is different.
And if the black and white beginning wasn't cool enough, the movie moved right into what is one of the greatest chase scenes in movie history with an utterly amazing parkour style chase that had scene after scene of just jaw-dropping stunts.  The best part of this chase was that it was real and look as if it could be done.  Compare this to the chase scene in Die Another Day with the speedboats.  That was ridiculous.  This was epic.
Casino Royale also showed us some of the most anxiety-ridden poker scenes you are going to see.  The tension in those poker hands were just as distressing as any of the action scenes.
Mads Mikkelsen was the perfect foil for Bond in these poker scene.  Playing Le Chiffre, Mikkelsen kept the audience off balance the entire time.  You knew that Le Chiffre was not just after the money.  We knew that he was in danger during the whole time, which kind of mitigated the steps he took.  Well, sort of.
The whole poisoning/heart attack scene with Bond was unbelievably remarkable.  This showed us what our new Bond was going to be like.
Then the end of the film was unlike other Bond films.  He did not wind up sleeping with the Bond girl as the credits rolled.  It turned the Bond formula on its head and revitalized the entire franchise.
After the last couple of Bond films, Casino Royale was completely welcome.  It was serious and violent.  It was great performances all around and boy was this fantastic.