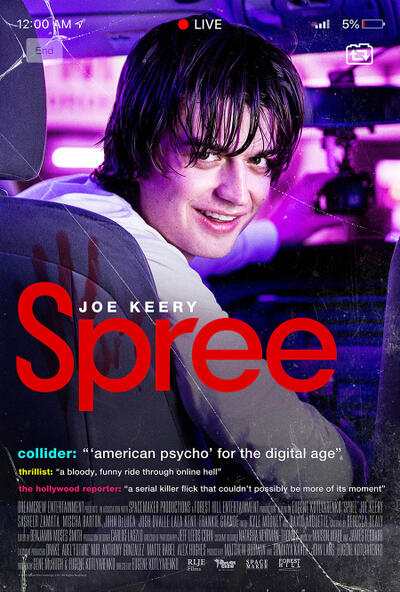 This film makes you wonder how long it will be until this is no longer fiction and something like this actually occurs in the real world.
Spree is the story of a 23-year old Spree rideshare driver named Kurt Kunkle (Joe Keery) who is desperately seeking attention for his online blog, Kurt's World.  He comes up with a deadly plan to make his livestream go viral.
The film looks at the world of online blogging and how these videos seem to be getting worse with every bad idea.  The toxic behavior online continues to grow more negative as the personalities find more horrible things to do, all in the name of followers and internet fame.
Kurt becomes a multiple murderer, escalating quickly as he records his progressively worsening acts,  However, these murders do not appear to be increasing his online status, pushing Kurt to go even further.
Kurt becomes obsessed with stand-up comedian Jesse Adams (Sasheer Zamata), who is much better at the entire social media world than he is.  Kurt is searching for someone to partner with to become an online success, but other people can see the instability he is suffering from, although they may not quite see the level he is at.
Joe Keery (from Stranger Things fame) is our lead character here, and he had a believable level of crazy.  He has had a bad childhood, his parents splitting.  His father (David Arquette) verbally abusive and self-centered.
This film is a dark, comedic satire of the online world which sounded very familiar to the world that I have watched.  The idea that the internet could host such brazenly violence without being noticed is a scary concept.
Most of the characters here are basic, lacking much depth.  However, Kurt has some interesting moments and Jesse complements him well.  Both Keery and Zamata stand out in their performances.
The film is shot almost completely through camera phones, other recording devices etc, much like films such as Unfriended and Searching.  This creates a hectic environment that never ends and it displays the information overload of today's society.  Spree is a violent and bloody film that can be hard to watch.  It is also darkly funny and ironic.  You may hate this, but you may also see too much of the current world in it.
3 stars