2020 was a tough year for comic books and comic book retailers. The virus caused plenty of trouble for specialty shops and caused the comic companies to close down for a stretch in the early half of the year.
Still, there were some really great books out when they were able to be published.
I now have to make a list of both Top 10 Marvel books and Top 10 Non-Marvel books. I used to collect only Marvel, but I expanded my comic reading out more the last year or so.
Non-Marvel Top 10
#10. Batman/Superman (DC). This is one that I have currently stopped collecting, but I actually enjoyed in parts this year.
#9. Plunge (DC). A mini series that jumped into the new trend of horror comics. Plunge started really strong, but kind of weakened as the series continued. It was hurt by the time off.
#8. Lois Lane (DC). I enjoyed this series even though it did not feel as if it were telling one complete story. There were decent issues with the reporter and I liked the use of Superman here.
#7. Stillwater (Skybound). Chip Zdarsky is the reason I gave this comic a try. This is still newish, but the Twin Peaks vibe intrigues me.
#6. Family Tree (Image). This one is a really great story with some surprising moments. I did not expect teh book to go where it went but I was happily along for the ride.
#5. Strange Adventures (DC) Tom King has been amazing. Who would have guessed that a DC book featuring Adam Strange would make a list like this?
#4. The Department of Truth. (Image) I have really enjoyed the first few issues of this mind blowing series. This is the first of two books from writer James Tynion IV. One of the most creative comics of the year and it should only move up the list as it develops.
#3. The Death of Nancy Drew (Dynamite). Another surprise, this series, co-starring the Hardy Boys with Nancy Drew, brought back memories of reading these mystery stories as a kid. This was pulpy fun.
#2. Spy Island. (Dark Horse). I love Chelsea Cain. Her run on Mockingbird may be my favorite run of comics ever. Spy Island gave me feels of that comic. Plus, there was a bunch of wild adventures with Nora Freud and I wish it had been more than just 4 issues.
#1. Something is Killing the Children (Boom). Here is the second James Tynion IV book and it is the book that is the biggest reason I have expanded my comics collected out from just Marvel. This is consistently the best book I read every month. It is horror comics perfection.
Marvel
#10. The Magnificent Ms. Marvel. Another comic that was hurt by the lay off, Ms. Marvel was going to be vital in the Outlawed storyline which is only now picking up. However, Ms. Marvel is some of the best teen hero comics available.
#9. Atlantis Attacks. Another issue hurt by the layoff, but it came straight out of the Agents of Atlas series that I was enjoying and these new characters were fun to read. Plus, you can't go wrong with Namor.
#8. Dr. Strange Surgeon Supreme. Marvel seems to have a tendency to cancel books I really enjoy. I was loving this new take on Stephen Strange. Unfortunately, it did not last very long.
#7. Miles Morales: Spider-Man. Miles has been very solid all year long and he has faced some serious trouble (especially in the most recent issue- no spoilers, but tragedy struck). Miles is beginning to take his place in the Marvel Universe.
#6. Thor. The God of Thunder got a bit of a reboot this year and spent the first part of the year messing around with Galactus in some of the best looking and most shocking issues of the year.
#5. Dr. Doom. Another Marvel book that is destined for cancellation, I have really found the political thriller aspect of Dr. Doom to be fascinating.
#4. Jessica Jones: Blind Spot. One of my favorite series from the very beginning of the year. Jessica Jones is such a well written and fantastic character developing book. Kelly Thompson brought the goods being the first writer besides Bendis to write a Jessica Jones series.
#3. The Amazing Spider-Man. Always near the top of this list for me, Amazing Spider-Man is currently as good as it can be with the Sin-Eater stuff, Amazing Spider-Man #850, Amazing Spider-Man #50 and the return of Harry Osborn as you have never seen him before. Plus, there is MJ. Love this book.
#2. The Immortal Hulk. Honestly, there was a stretch of issues early in the year that dropped the quality down a tad. That meant that it may not have been the absolutely best comic that week. The Immortal Hulk has reupped its awesomeness as the book builds toward the end of the run of Al Ewing in issue 50 in 2021.
#1. Daredevil. Chip Zdarsky has made Daredevil one of the greatest Marvel books every week. He tore down the character of Daredevil this year, and really looked at Matt Murdock and his internal struggle. And it was epic. Issue 25 was just released and was fabulous. I reviewed issues 18, 20, 21 this year (as well as 25). There is so much brilliance on display here that you never know what might be next.
Honorary Mention (Non-Marvel): Far Sector, We Only Find Them When They're Dead, Undiscovered Country, Sea of Stars, Bang, James Bond
Honorary Mention (Marvel): Hawkeye: Freefall, Ghost-Spider, Maestro, Agents of Wakanda, Ravencroft, Empyre, Black Widow, Avengers, Star
Special Mention of individual issues:
Captain Marvel #17. Love this issue. It have Carol in a card game. It is a wonderful stand alone issue. Something we should do more often.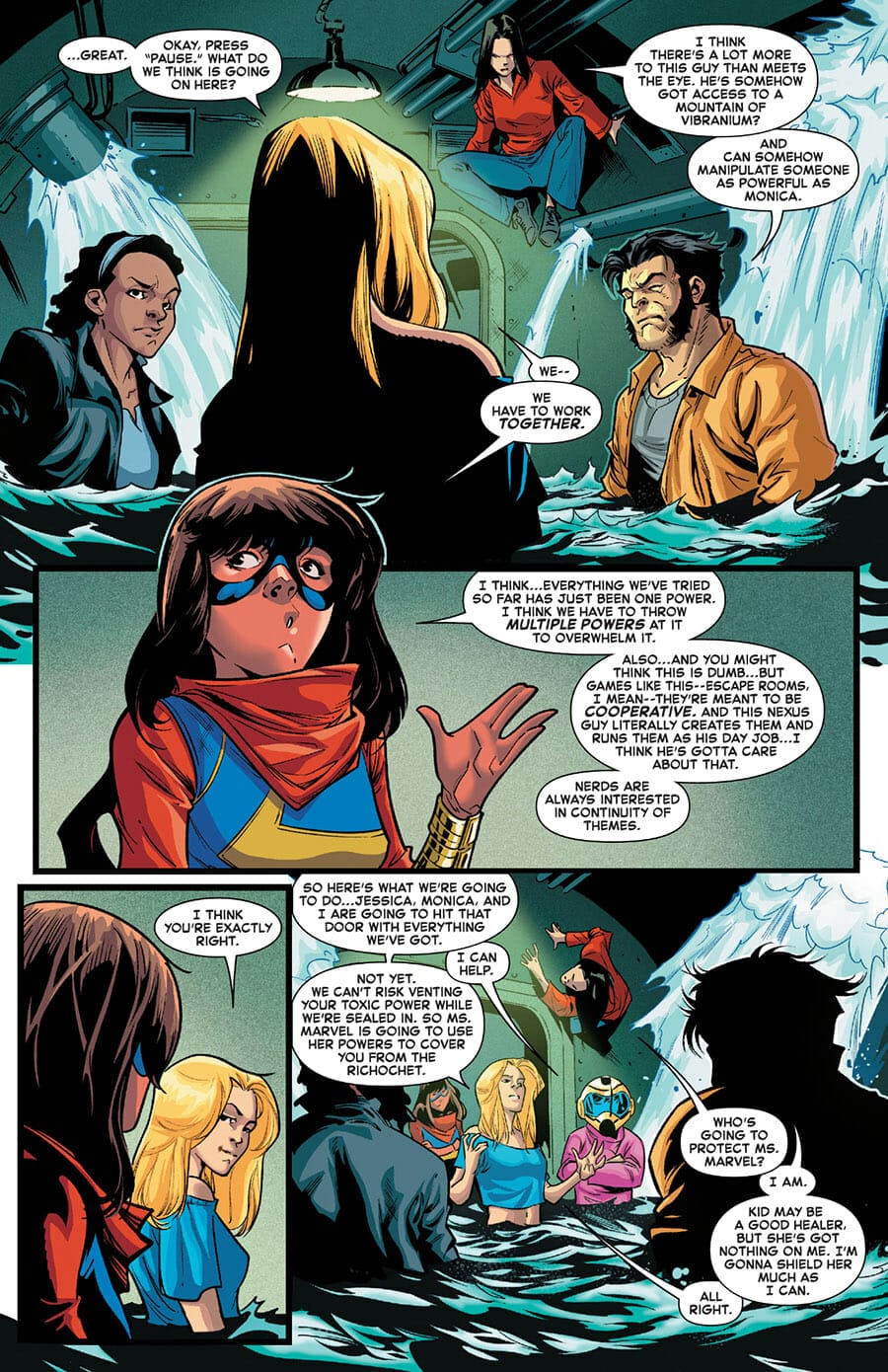 Immortal Hulk, Great Power #1. A team up with Immortal Hulk and Spidey written by Tom Taylor. I think Taylor is the perfect Spider-Man writer. This was awesome.