February 9, 2023
Welcome to a very special edition of the Comic Catch-Up. It has been one that I have been waiting impatiently for since I began this on EYG, but I wanted to wait for the perfect time. At first, I thought that perfect time would be on a weekend. I was looking at perhaps my birthday or President's Day, but Mother Nature decided to provide me with the opportunity today with a snow day from school. This gave me the whole day to complete my reading. It turned out that I did not need near as much time as I thought.
Today, I caught up with one of the best books that is on the market over the last few years and its excellent spin-off, from the mind of James Tynion IV, Something is Killing the Children and House of Slaughter.
These books are published by Boom Studios! and that was not the comic company that I read. In fact, I read almost zero independent comics at the time this began. It was a bit of a twist of fate that I started to read Something is Killing the Children.
While it is usually my friend Todd at Comic World and Games who makes me read these non-Marvel books, this time it was the store owner Ben who was at fault. I was at the shop one Wednesday getting my weekly pull list and Ben said he had a couple remaining copies of this horror comic and he insisted that I sit down and read it. He even said that I did not have to buy it if I did not like it. I like horror, but, at that time, I have not often read many horror comic books so I would have never picked up Something is Killing the Children without Ben's efforts.
That first issue was magnificent. I was immediately enthralled by the story and the spooky art that fit beautifully. So I bought the book, not knowing how valuable that issue would eventually become as the series immediately became a sensation.
I have been very lucky with a complete set of both of these series so far and I have been excited about catching up with them. I had decided that I would sit down and do Something is Killing the Children in one day, unlike some of the other books I am doing, one issue at a time. That is why I was looking for a longer time period to read, but the book reads very quickly. So much of the storytelling involved in these issues are visual, with the art telling even more of the story than many of the other comics available that I found I flew through the book.
Because of that, I grabbed House of Slaughter as well and decided to read that as well. It was a little more densely packed that its parent book, but that actually gave it its own identity and not just being the same thing with a different title.
So, here are the books that I read this morning.
Something is Killing the Children
#16-20. "Me and My Monster" Parts 1-5
Written by James Tynion IV
Illustrated by Werther Dell'edera
This was the next major arc of the book after the initial storyline in Archer's Peak where we were introduced to Erica Slaughter, monster hunter. This five issue arc took a look back in the past of Erica Slaughter and we found out how she wound up in the House of Slaughter and met the important people in her life. These issues shined a light on the House of Slaughter, giving us some more specific details of the mysterious entity and the rules that Erica seemed to be breaking all the time.
As I mentioned before, these books were easy reads, though still extremely complex and deep. The art does an amazing job of creating the tone of the series and also presenting several important details for the story. This is aperfect example of the old rule, "Show, Don't Tell."
#21-25.  "The Road to Tribulation" Part One – Five
Written by: James Tynion IV
Illustrated by Werther Dell'edera 
This arc goes back to the present day to see the next adventure of monster hunter Erica Slaughter, now on her own, out of the House of Slaughter.  We are introduced to a new young child, named Gabi.  She has a troublesome childhood and a special type of monster, one that Erica knows little about, is in this new town and killing children.  We also have a major death in the series that will affect Erica dramatically.  We gain a new villain who is out to kill Erica Slaughter too.  
#26-28.  "The Girl and the Hurricane" Parts One-Three
Written by: James Tynion IV
Illustrated by Werther Dell'edera
The next story arc for Something is Killing the Children is "The Girl and the Hurricane" and it is now in its third issue.  We now take the details and characters we were introduced in the previous arc and expanded upon it.  Erica is made to look like the serial killer murdering the children instead of the monsters.  The merciless Cutter, who we were introduced to in the previous arc, and made her a major problem for Erica.  Where the last issue left off, we see Erica in a real problem situation and we get a glimpse of how warped Cutter actually is.  I am excited to see how this arc wraps up moving forward.  
Something is Killing the Children is a consistently brilliant story that is an easy read, yet is more than what it seems.  The story is remarkably creative and the characters pop off the page.  
House of Slaughter
#1-5.  "The Butcher's Mark" Part One-Five
Story by James Tynion IV and Tate Brombal
Script by Tate Brombal
Illustrated by Chris Shehan
I had a thought that maybe the House of Slaughter may not be as good as Something is Killing the Children.  I expected a step down.  To be fair, the best part of Something is Killing the Children is Erica, and Erica is not in this book much.  However, it is absolutely an exceptional book that works in the manner it is intended.  House of Slaughter helps to increase the world of its parent book and expands on a group of characters that you have been introduced to in prior books.  In this first arc of House of Slaughter, we spend a great deal of time with Aaron, the character we met in Somebody is Killing the Children arc "Road to Tribulation."  This arc is especially solid because of the relationship that the book sets up with Aaron and the new recruit, Jace.  
#6-10   "Scarlet" Part One-Five
Story by James Tynion IV & Sam Johns
Script by Sam Johns
Illustrated by Letizia Cadonici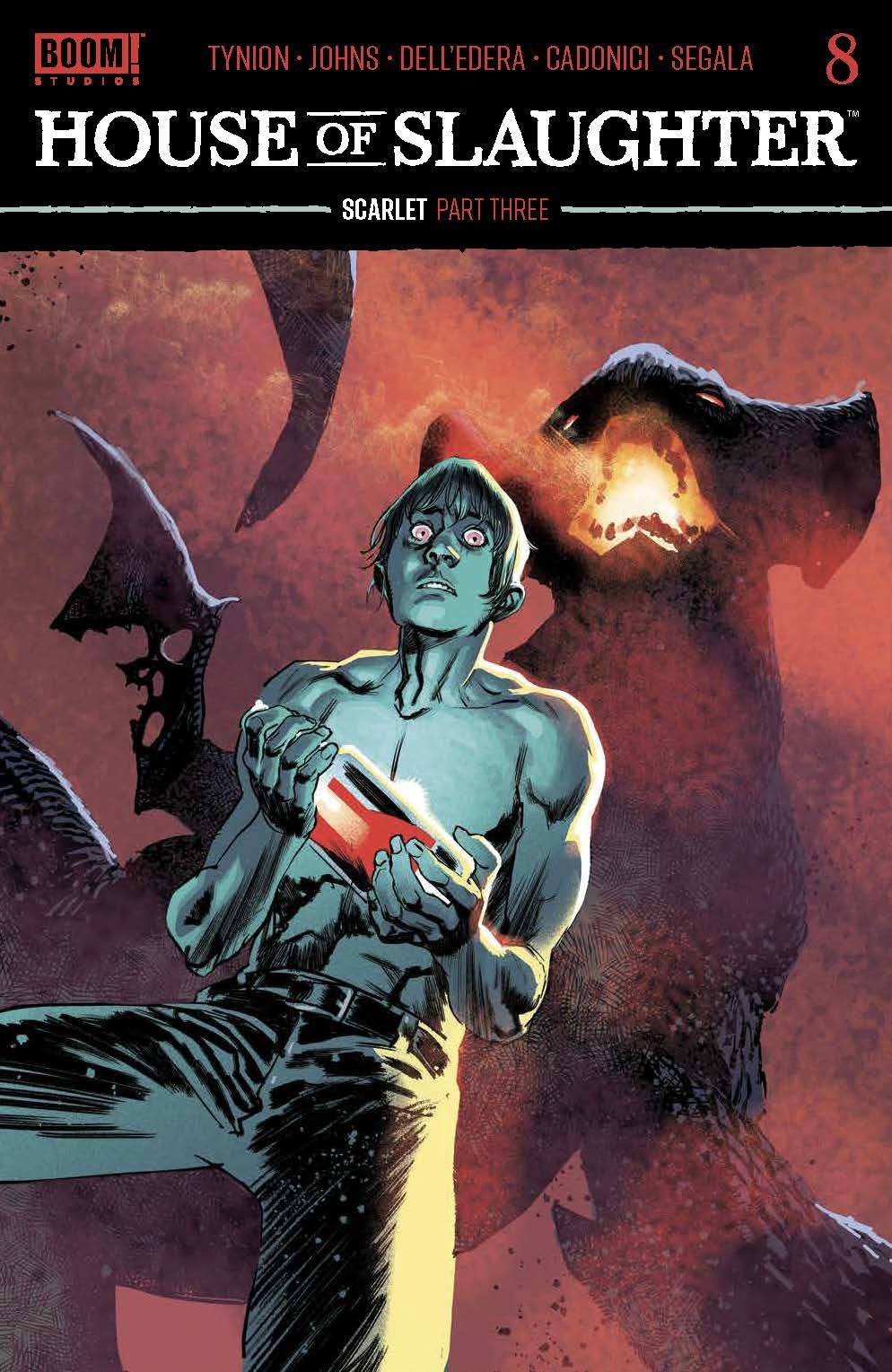 We get a brand new arc starting in #6 featuring a character named Edwin, who is a Scarlet mask and he is sent to attempt to prevent a certain children's camp from willing a monster into existence with their words and thoughts after a woman washes up on the shore of the lake missing eyeballs.  I will say that I had a little bit of trouble getting into the new character, but by the end of the arc, I thought this was excellent and very creative.  
House of Slaughter #11.  "The Butcher's Return" Part One
Written by Tate Brombal
Illustrated by Antonio Fuso
Then, the most recent issue of House of Slaughter started the third arc of the series and this one is called "The Butcher's Return" which featured the continuation of the story of Jace and the children he has been saving.  It is a nice return to a character that was huge in a previous arc of the series.  
Book of Slaughter #1.  
Written by James Tynion IV
Illustrated by Werther Dell'edera
Book of Slaughter follows Maxine Slaughter's progression from white mask to black mask and we learn a ton of specifics of the mythology of the House of Slaughter when Maxine reads through the Book of Slaughter.  This did not feel like an awesome story, but it was fine to lay out the important facts of the history.
The Boom Studios! two series are some of the best and most engaging books available across the comic book community and I am officially caught up with them.