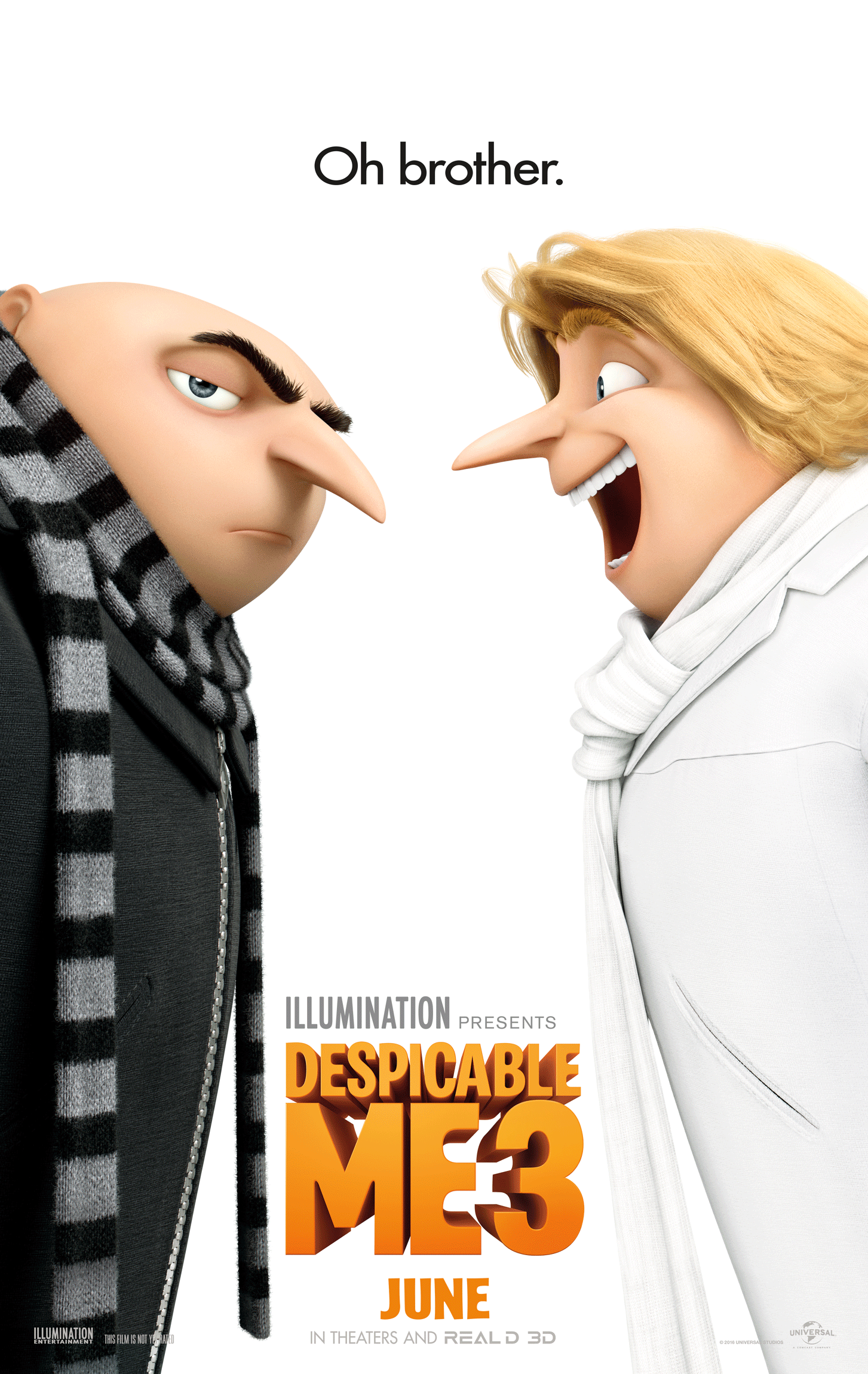 For a third movie in an animated film series (fourth if you include the Minions), Despicable Me 3 is pretty okay.  I wouldn't go much more than that though.
In the new film, Gru (Steve Carell) and Lucy (Kristen Wiig) get fired from the Anti-Villain League when they fail to capture villainous Balthazar Bratt (Trey Parker).  However, Gru is about to learn that he had a long-lost twin brother, Dru (also Steve Carell) and head off to meet him.  His brother wants Gru to join him in the family business, villainy.
There are a lot of other plotlines here in this movie as we have the Minions' going to prision, the machinations of Balthazar Bratt, Lucy trying to become a mom to Gru's girls, Agnes's search for a unicorn etc.
My favorite part of the film was the villain.  Balthazar Bratt was a former child actor who starred as a villainous child on a TV show that had been canceled, and how Bratt could not understand why the show wasn't an award winner.  Bratt's character was designed with an eighties motif so he is break dancing to 80s music, had weapons like a Rubik's Cube that explodes or expanding bubble gum.  The film does overuse the Bratt catch phrase from his TV show, "I've Been A Bad Boy."  The first couple time that I heard them use it, I thought that was clever, but they used it way too many times.  Other than that, I liked the villain quite a bit.
The film's humor is okay, but never really created that great laugh.  Even the kids in my theater were not laugh a ton at the film.  The Minions were pretty funny here.  They are used considerably better than they were in their own stand alone movie.  These characters are much better as secondary characters, like they are in the Despicable Me films.  I enjoyed the Minion song that we had, and their trip to prison was enjoyable as well.  They did not have much to do with the main story of the film, though.
I must say that I felt like I had already seen much of this movie.  Much like that Minion movie, I had seen so many large chunks of the film from the trailers and promotional materials that it felt like much of the film was a repeat.  I think that is a problems that Illumination Entertainment has to work out.
There is nothing but surface to these stories.  There is really no depth in any of the stories or the characters.  Gru, who usually develops the most among these films, really does not have much of an arc.  There is more of an arc for the twin brother Dru than there is for Gru.
There is a lot of familiarity for the movie as well.  Despicable Me 3 certainly is not groundbreaking in its presentation.  It is decent, and pretty solid for a kids' movie.  I was not bored by it, but I did not find myself engrossed in the film either.  I really liked Trey Parker's villainous Balthazar Bratt and the final act was fun.  It just feels like a movie that never invests in the story enough to make anything that was memorable.  Not the worst time at the movies I had ever had, but I'm not sure that I will remember anything other than Balthazar Bratt by the end of the year.
3 stars