I like trying to guess the topics for each week by what will be coming out that following weekend.  Some weeks I am close and other weeks I am nowhere near.  This week, with the release of The Equalizer 2, I was pretty certain that the topic for the Top 10 Show would be Top 10 Denzel Washington Movies.  I did not remember John and Matt doing that topic before and it worked with the Equalizer 2 and, sure enough, that was it.
I do like the summer schedule for me because it allows me to look at a few of the movies that I may have missed that I could add to the Top 10.  Last week, after I finished listening to Matt & John, I went to watch Cape Fear, which wound up at number one on last week's list.  This week I watched two Denzel movies, and one of them did end up in the top ten while the second one, Man on Fire, ended up just outside.
Top 10 Denzel Washington movies.
#10.  Fences.  This is a film that was adapted from a play and it was a real performance film.  What I mean about that is Fences, the movie, was not as good of a movie as the performances within the film.  However, between Denzel and Viola Davis, what a pair of powerhouse performances they were.  The dialogue was out of this world and it was carried off by this duo as well as you could imagine.  The film felt too much like a play, but you won't ever see a better dual lead performances than what Denzel and Viola gave you in Fences.
#9.  Inside Man.  This is one of the films I watched today because it was recommended by the Top 10 Show.  Denzel is a police detective who is part of the hostage negotiation crew that ends up heading to a bank robbery that has resulted in hostages being taken.  The thing i… strange things are happening and Denzel does not quite understand what is going on.  This film has some touches of noir to it, and it is a heist film, sort of.  I liked the blend of genres within the movie and the mystery of exactly what was going on was a great addition.  And Denzel was sporting one awesome hat.  LOST's Miles, Ken Leung appeared as well.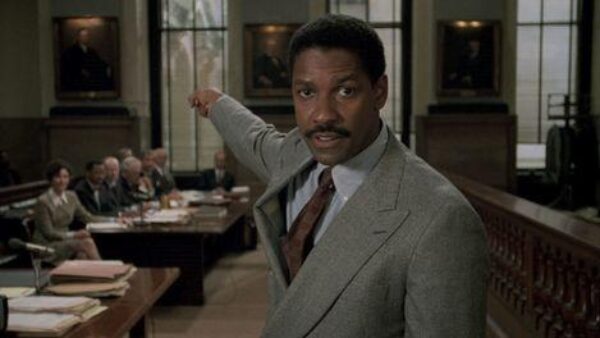 #8.  Philadelphia.  Denzel played opposite Tom Hanks in one of Hanks' Oscar winning roles, but you would not have had the same strength of performance without Denzel's support. The film, which was one of the first dramatizations of AIDS/HIV in movies dealt as much with the reactions to the disease as the disease itself.  The prejudices that came along with the insidiousness of AIDS was fully on display here and brought a real topic to the screen.
#7.  Fallen.  I had forgotten about this, but as I was looking over Denzel's IMDB page, I noticed the film.  Reading the synopsis, I remembered watching the movie and enjoying it quite a bit.  The film features Denzel as a detective investigating a series of murders that he believed were copycat killings.  The killer was basic the killings on a serial killer that Denzel had witnessed be put to death.  However, there is more than just a copycat killer happening here as there is a supernatural aspect to this thriller.  John Goodman appears with Denzel and does his typically great job.
#6.  Flight.  Flight is the story of a pilot whose plane suffered a mechanical failure during a flight and the pilot, William "Whip" Whitaker Sr., crash lands his plane without any loss of life.  However, instead of celebrating the achievement, there are a myriad of questions about how it happened and why it happened.  Seems as though Whip may have  been drinking.  Another great performance from Denzel Washington and a strong film directed by Robert Zemeckis.
#5.  Training Day.  You do not often see Denzel Washington play this type of character, a cop who is crooked and downright corrupt.  He has been assigned a rookie cop to train, played by Ethan Hawke.  Denzel played the evil man with a ton of gusto and wound up receiving his first Academy Award for the role, though many people believed that he was given this award as a replacement for another one that he should have won.
#4.  Malcolm X.  Honestly, I have only seen this movie once and it was years ago when I was younger.  I only include it on this list because it is usually recognized as Denzel's greatest performance.  I do not remember  a lot from Malcolm X, but it has been said that he completely transcended into this role, practically becoming the Black Panther Party co-founder.  This is another Spike Lee film on this list (the other being Inside Man).  It is a very long film and maybe one day I will rewatch it with a different perspective.
#3. Crimson Tide.  I love this movie with Denzel as the second in command of a nuclear sub to the captain Gene Hackman.  The sub had received orders to launch their nuclear payload, and everything was tense from that point on.  I remember being so filled with anxiety the entire time as Denzel wanted to double check the orders before proceeding and Hackman was ready to follow them immediately.  This conflict was real and sharp between the two men of principle.
#2.  Unstoppable.  I never thought this was going to be a movie that I enjoyed as much as I did.  Chris Pine and Denzel on a runaway train?  There was no way that was going to work.  However, I have to say, I was on the edge of my seat the entire time.  I loved this movie and I was right with them as these two men tried to do their best to stop this train from causing all kinds of death.  Just the heroic nature of the movie really pulled me in and I found it thrilling.
#1.  Remember the Titans.  This is most likely my favorite football movie ever.  I loved the scenes of the football playing matched up with the story of the racial tensions within the team and the city, this was more than just your typical sports movie.  Denzel does a great job as the head coach, even though at times it seems as if this guy was just too hard.  The message of the movie was a fantastic one- if you work together, you can accomplish anything.  This is a movie of inspiration, of dedication and of teamwork, as well as one of overcoming obstacles.
Honorary Mentions:  Man on Fire, Bone Collector, The Equalizer, 2 Guns, The Book of Eli, The Magnificent 7