This week's Top 10 Show is featuring the Top 10 Police Comedies, in honor of the release of this weekend's The Happytime Murders.
Some of the lower films on this list are films that I feel are okay, but not great.  Comedies can be difficult because what is funny is so subjective that what one person thinks is funny can be completely unfunny to others.  For example, one of the films that could have made this list, Super Troopers, is a film that I find stupid.
And it has to be police, not private eyes, FBI, spies etc.  Police officers/cops.
Top 10 Police Comedies.
#10.  Police Academy.  Most of the sequels were terrible and really went too far, but the original Police Academy was a funny movie with Steve Guttenberg.  Sound effect star Michael Winslow was always remarkably entertaining too.  It is not a great movie by any stretch but it is a funny movie and movies that make me laugh can cover the flaws.  And Police Academy covered its flaws well.
#9.  Dragnet.  Tom Hanks and Dan Aykroyd star in the movie remake of an older television program from the 1950s.  Aykroyd played Joe Friday, the uptight no-nonsense police officer who teams with new partner Pep Streebeck, a smart alack free-wheeling cop.  Together they have to investigate a weird cult in order to save the virgin Connie Swail.  It was funny and the pairing of Aykroyd and Hanks was very solid with strong chemistry.  The film is not great, but it was entertaining enough.
#8.  22 Jump Street.  I am one of those people who did not like 21 Jump Street.  Yes, everyone else seemed to love that movie, but I did not.  However, I found the sequel to the film considerably more entertaining.  I especially loved the ending compilation for Jump Streets #23 on.  There was some serious creativity in this section.  Then, when Channing Tatum found out that Jonah Hill had sex with Ice T's (their captain) daughter, the scene is as funny as anything on this list.
#7.  Running Scared.  This film may not be as much of a comedy as some of the others on this list, but with Billy Crystal in the film, the dialogue is well written and the humor is natural.  The combination of Billy Crystal and Gregory Hines was great as they were hoping to retire from the street cops and retire to Florida.
#6.  Zootopia. Judy Hopps is a police officer, and she became the first police officer that is a rabbit.  She meets up with the fox Nick Wilde to attempt to solve a mysterious case in Zootopia.  There is a lot in Zootopia that is aimed at adults.  There is some drug jokes that are very funny and would have gone over the heads of the kids in the audience.  Disney had another winner with Zootopia.
#5,  The Heat.  Melissa McCarthy and Sandra Bullock are fantastic together.  Melissa McCarthy is a foul-mouthed, unlikable police detective and Sandra Bullock is a by the book investigator who is exceptional.  Together, this odd couple provide a ton of laughs as they work together to solve their case.  The comedy in this movie is one of the best of McCarthy's career.  Paul Feig directed The Heat.  He worked on several films with McCarthy.
#4.  A Shot in the Dark.  Inspector Clouseau, played by EYG Hall of Famer Peter Sellers, is in his prime in this, the second Pink Panther movie. Clouseau is convinced that the beautiful maid, whom everybody else believed is guilty of murder, is innocent and he is determined to solve the case… despite the opposition of his own captain.  Peter Sellers is a gifted comedic performer and his slapstick performances here are as great as you will ever see.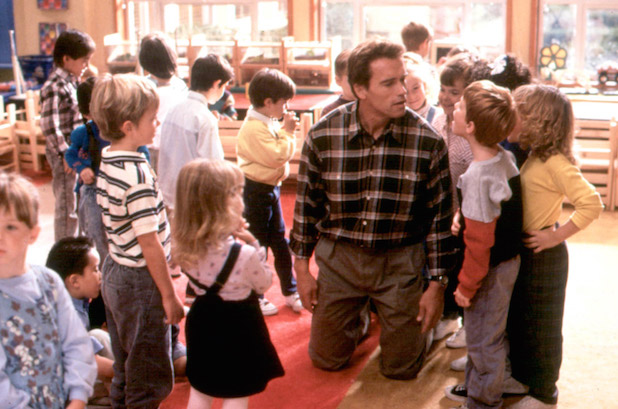 #3.  Kindergarten Cop.  This is one of the most unlikely successful Arnold Schwarzenegger movies you are going to find.  When his partner gets sick, Arnold must go undercover as a kindergarten teacher to find the son of a killer who is hiding from his father.  The interactions with Arnold and the kids in the school were wonderful and was one of the films that helped me choose the profession of teacher.  The ending was also great and I can remember wondering how this was going to work out. And I still use the line "It's not a tumor" in every day life.
#2.  Naked Gun: From the Files of Police Squad.  Based on a short lived ABC television show, Naked Gun was a unbelievably funny film.  Leslie Nielsen plays Frank Drebin, a police officer who has to go to huge extremes to try and stop a mysterious crime from happening.  A mysterious crime that happens to involve Reggie Jackson.  Frank as the umpire in the baseball game is just amazingly funny.  The film also featured OJ Simpson, Ricardo Montalban and Priscilla Presley.
#1. Beverly Hills Cop.  Eddie Murphy and one of the films that sent him into the stratosphere.  Eddie Murphy played Axel Foley and he went to Beverly Hills to investigate the murder of one of his closest friends in Detroit.  Murphy was the fish out of water type of character as he watched the weirdness of California everywhere.  He met the two police officers, Rosewood and Taggart, whom Axel could not understand.  Beverly Hills Cop works as a comedy, an action movie, a buddy cop movie.  Axel Foley is quick witted and smart alack cop and he is really on a roll.  Eddie Murphy becomes a massive star from this.  Plus, cameo from Weird Al is always a great thing.
Honorary Mention:  48 Hours, The Naked Gun: 33 1/3: The Final Insult, Beverly Hills Cop 2, Naked Gun 2 1/2: The Smell of Fear.